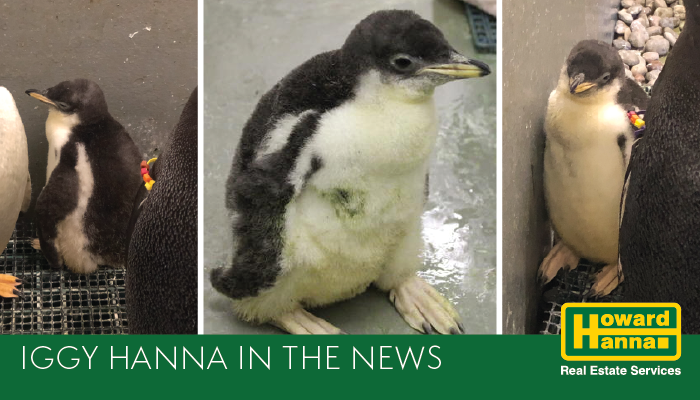 Iggy Hanna may be only a month old, but he's already a star! Yesterday, we announced that we sponsored the Gentoo penguin chick's name, naming it "Iggy" – it's short for "Igloo"! The baby penguin is already making waves and has been featured in several media outlets and across social media.
Iggy's naming was covered by KDKA in print and video. They explain, "The adorable baby penguin was officially named on Tuesday. He will be called "Iggy." Iggy hatched a little over a month ago and the little one's parents are by its side at all times." You can read the full article and watch a video interview with penguin keeper Jessica Ries on their website.
WTAE explains how baby penguin chicks learn to swim, saying, "When they are about 2 months old, they will shed their baby feathers and grow feathers that are warm and waterproof. When they get their adult feathers they can learn how to swim. Before the little penguin takes a dive into the big pool, keepers will introduce it to water using a shallow baby pool."
KDKA Radio also covered the big event, and explains how penguins are parented.
Officials say the chick's mom Prince and dad Mambo do a great job taking care of the baby.

"One parent will regurgitate food for the baby to eat. Then while one parent snuggles with the chick to keep it warm, the other parent stands guard to keep the baby safe and away from other curious penguins."
We're so excited that Iggy Hanna got such a great welcome to the world! Stay tuned to our Facebook, Instagram, and Twitter for additional photos and videos of Baby Iggy.