Smart Business Highlights Helen Hanna Casey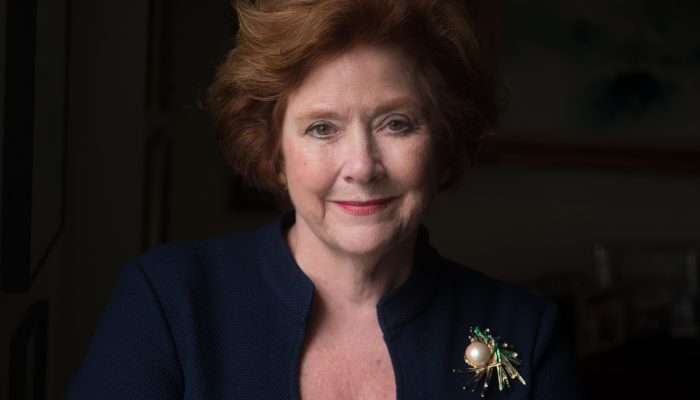 At 97, Howard W. Hanna Jr. comes to the office to give out spreadsheets and memos, but his three children run the U.S.'s third-largest real estate company: Howard W. "Hoddy" Hanna III, chair of Hanna Holdings Inc., and Helen Hanna Casey, CEO, and Annie Hanna Cestra, executive vice president and COO, of Howard Hanna Real Estate Services.
Six children from the three families represent the third generation. But Hanna Casey says the fourth generation may require more structure.
"You stumble, you plan, you improvise and then you execute, as each generation goes on," she says.
Hanna Casey and her siblings were licensed in real estate at 18. They went to college first and then worked their way toward joining the business. It was unusual for daughters to be involved, but Hanna Casey believes the balance is good and it continues today.
"I don't think anybody thought the word succession. That wasn't something you were thinking about or planning about," Hanna Casey says. "We came in. We went to work. We built a business with our dad."
Her parents allowed them to plan that future. That's why the third generation is now planning for the fourth generation, which has 18 people so far. Both generations span about 20 years.
"I don't think we, as my generation, can dictate what our grandchildren do," she says.
Hanna Casey and her siblings had rules for their children. You had to be licensed and educated. You had to work hard and accept Howard Hanna's mission statement. Your parent couldn't determine your compensation.
"You have to prepare to understand what a senior job is, to know how to do it. I don't think it comes naturally because of your name," she says.
But one consultant in the 1970s reminded them Howard Hanna is a family business; that's what it does best.
"It kills my sister that I call my father 'daddy' at the office at 68 years old, but I do," Hanna Casey says. "We've always run it as an operation where we're familial."
Let your children understand early, she says. You can't suddenly start talking about the business.
"We can say it's good not to have the conversations at dinner, but you also can't freeze out the rest of your family and expect that your children are going to be prepared and your grandchildren are going to be prepared," Hanna Casey says.
Read the full story here.