Squirrel Hill business leaders work to negotiate a different normal after Tree of Life shootings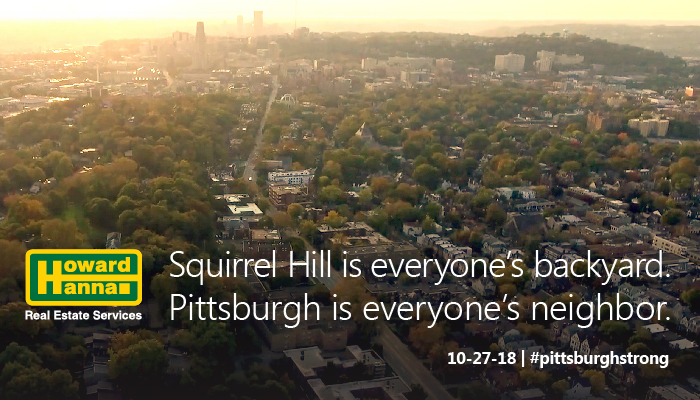 The Pittsburgh Business Times reached out to CEO Helen Hanna Casey as Squirrel Hill is home to a Howard Hanna Real Estate office – located just six blocks from the Tree of Life synagogue.  The Howard Hanna Shadyside office is just over a mile in the other direction.  "Many of our families, friends, neighbors, colleagues and clients are touched personally by this horrific act.  Our hearts are with them," said Helen in an email she sent Sunday to the entire company.  "Many of you have reached out to ask about the safety of members of the Howard Hanna team and we thank you for your kind messages.  It shows the strength of the bonds between us.  Squirrel Hill is everyone's back yard and Pittsburgh is everyone's neighborhood."
Jeff Cohen could tell that his sense of normal was about to change forever on Saturday morning when he watched through the window of his deli as a parade of police cars hit speeds he'd never seen before on Murray Avenue in Squirrel Hill.
"I knew something was bad," said Cohen, a long-time resident and business owner in Squirrel Hill. "I've never seen cars drive like that in Squirrel Hill. Never."
Cohen, owner of two Smallman Street Deli locations in the Strip District and Squirrel Hill, watched what turned out to be a concerted public safety response to an attack on the Tree of Life synagogue by a gunman who shot and killed 11, injuring 6 others. The injured included four policemen who rushed in to stop a mass shooting that the Anti Defamation League later characterized as the deadliest attract on the Jewish community in the history of the U.S.
The lethal attack by gunman Robert Bowers, who expressed deeply anti-semitic messages on social media, has left Squirrel Hill negotiating the changes both incurred from damage and still to come.
As he works to process what happened, Cohen is uncertain about what's next.
"Do I think things will go back to normal?" said Cohen who has donated meals to police and visiting media and expects to do so again. "I'm not sure what normal will be, to be honest with you."
He's far from alone.
In Pittsburgh, the shootings came along a stretch of Squirrel Hill that's dense with members of the city's leadership, including the county executive, editors and publishers of local newspapers, and CEOs of publicly traded banks, among others.
It's an echoing refrain in the aftermath of Saturday's deadly shootings how many of them live only a short distance from Tree of Life, providing a kind of impromptu measure of a neighborhood so widely celebrated as close-knit.
Izzy Rudolph, president of McKnight Realty Partners, is one of many local business leaders who lives two blocks from the synagogue.
He said he took the morning off to work with the city and county to make sure the Yeshiva School his children attend in the neighborhood has police protection, a heightened concern from just last Friday.
He sees a greater need for broader efforts to provide more protection in his community as he noted is common for Jewish populations in other countries throughout the world.
Rudolph emphasized how historic roots of anti-semitism are far deeper than one lone actor, as Bowers appears to have been.
"It's very easy to say that he was a lone wolf, and we removed him and mitigated the threat. But that's not correct," Rudolph said. "His views were expressed online and were not shocking enough that anybody did anything about it."
Helen Hanna Casey, CEO of Howard Hanna Real Estate Services, is one of the many Pittsburgh executives who today dealt with a detoured commute, since her street — a block and a half from Tree of Life — has been closed for the week as investigators scour what's become an enlarged crime scene and as national media figures set up locations for what's become an international story.
She said her company opted to host what she called a "gathering of reflection" at Mansions of Fifth instead of a regular Monday morning meeting, bringing more than 80 agents together in what she described as a "cathartic" meeting of prayers and singing. She said her company plans to announce a fund to support the Tree of Life recovery today.
"It's terrible to live in fear, isn't it?" said Hanna Casey, emphasizing the shooting was "in Pittsburgh's backyard," not just that of Squirrel Hill's.
Gail Klingensmith noted just how close to home the shootings hit for her and her partner Pam Cohen, who opened their first Pamela's Diner near the corner of Forbes and Murray 30 years ago and currently operate it with their companion NU Modern Jewish Bistro.
Cohen was a cousin by marriage to two of the victims who died in the shootings and noted many others were regulars; Klingensmith added sales from both restaurants for this weekend were donated to Tree of Life.
"It's just going to get worse as this sinks in what really happened for these people," Klingensmith said.
When balancing the decision to close out of a feeling of respect for what happened versus being open to keep serving the community, Klingensmith said Pamela's has remained open to serve as a source of comfort to a community that can really use it right now.
"When people say comfort food, in essence, that's what our business has always been about," she said. "If we can provide one shred of comfort to somebody, I hope we're doing it."