10 Best Last-Minute Real Estate Halloween Costumes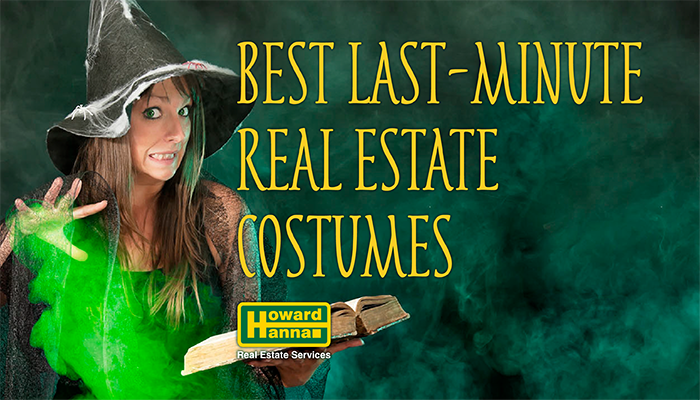 With Halloween only seven days away, the question on everybody's mind is: What will you dress up as for the spooky holiday?
Maybe you've been planning this moment for the last eight months, or maybe you've been so absorbed with your career as a real estate agent you haven't had any time to think about the best candy-filled holiday of the year. Either way, we've compiled a helpful list of real estate costumes sure to get you a laugh—or maybe even win a spot in a costume contest! You never know until you try!
Without further ado, here are 10 Real Estate Costumes to try out this year (or next year, no judgment!):
Real Estate For Sale Yard Sign
What better way to say "I'm a real estate agent who can sell your home!" than by dressing up as your own yard sign? None! All you need is a white outfit (to act as the yard sign stick), a bit of string (to hold up the sign), and a green poster. Design the poster as needed with the Howard Hanna logo, your name, and so forth. Once complete, hang the green poster with string off of one of your arms, holding your arm straight out the entire night, or hold it up whenever someone walks by.
Home Inspector

This costume might frighten people away, but Halloween isn't just about the treats, it's also about the tricks! For this one, all you need is: a clipboard, a name tag that says "HOME INSPECTOR," a ruler or tape measure, and a clean suit. If you want to be extra creative, feel free to throw some soot on your suit like you just finished inspecting a chimney. (Howard Hanna is not liable for ruined suits.)
Home Happens Here.™ Characters
Sure to be a crowd favorite, any one of our Howard Hanna Home Happens Here.™ commercial characters is a perfect, quick and easy, last-minute DIY real estate costume! Depending on which character you decide to go as, you'll need different clothes. This costume is great with a group of friends, family, or unwilling children and small animals (preferably your own).For the little girl, you'll need: a yellow backpack with a monkey keychain (yes, that backpack has a monkey keychain, it just happens not to be visible during the commercial; we know, we bought that backpack), a green striped dress, high-topped sneakers, and a cardboard box that says "BEDROOM."

For the little boy, you'll need: a yellow polo shirt, green shorts, and to hold your arms out in the "airplane pose" all night long.

For the lady in the kitchen couple, you'll need: a yellow dress with white flowers and a pair of green high heels to hold the entire night. Be sure to walk around barefoot. (No, really, don't walk around barefoot. That's extremely dangerous, especially on Halloween. For some Halloween safety tips, check out our Halloween Home Safety Tips blog here.)

For the gentlemen in the kitchen couple, you'll need: a wooden spoon, a green apron, a white button-down, and a pair of khakis.
Dog Or T. Rex Trying To Sell A Home
Is the For Sale Yard Sign not selling it for you? That's okay, we've got one even better: Dress up as a dog or a tyrannosaurus that's trying to sell a home! This costume is a little bit advanced, so we recommend it only if you have the extra time to spare. First, you'll need a dog or T. Rex costume. We suggest grabbing something from your local Halloween or Dollar Tree store.From there, you'll need to fix a bow-tie or Professional Looking Glasses™ to the costume, grab a clipboard, and a name badge that says "PROF REX ESTATE AGENT" or "REAL ESTATE PUPPY".
House
What do you mean, "IMPOSSIBLE!"? Nothing's impossible on Halloween, especially becoming one with your inner dream home!Honestly, this is (can be) the easiest costume. All you need is a house! You can be fancy and make a 3D house out of cardboard boxes, being sure to cut holes out for your legs, arms, and head, or you can be lazy and cut a silhouette of a house out of cardboard, paint the silhouette your favorite color, and hold it up throughout the night.

We recommend attaching some balloons for a classic Up (2009 movie) look.
Oven, Fireplace, Any Household Appliance Really
No, do not unplug your household appliance and carry it around all night. For starters, refrigerators are heavier than they look (trust us, we tried). For lasters, if it rains, we are not liable if you get electrocuted.Okay, now that the disclaimers are out of the way, this is an excellent DIY costume to do as a group or family! One person could be a refrigerator, another could be the microwave, another the oven, another the dishwasher, etc. But this is also an advanced costume in that it requires a bit more glue, tape, cutting, and assembling than the others. Just a bit more.

For some cool DIY cardboard appliance costumes, check out this tutorial by American Home Shield, or pick your favorite appliance and Google "DIY [insert your preferred appliance here] costume!"
Mortgage Payment Calculator
A Mortgage Payment Calculator (also known as a Mortgage Loan Calculator) is an easy online tool to generate a roughly estimated amortization schedule for your current mortgage, and to see how much interest you could pay over the years. Not sure what one looks like? Check out our Howard Hanna Mortgage Loan Calculator here for some ideas! For this costume, you could purchase a pre-made regular calculator or remote control costume and customize it to be a mortgage payment calculator, or you could grab a large cardboard box, cut out leg, arm, and head holes, seal the box shut, print out a giant version of the online calculator, and glue or tape it to the front of the box. Easy peasy!
Unreliable Landlord
(This costume is too scary for pictures.)More frightful than the Home Inspector costume, but guaranteed to get you a few chuckles from some disgruntled renters, this costume is a great opener! Those disgruntled renters? Perfect chance to convince them that owning their own home is the way to go—and that you, as a real estate agent, can help them get there!

Like with the Home Inspector costume, you'll need a name badge that says "UNRELIABLE LANDLORD," but from there, you can get really creative. Want to do a drunken unreliable landlord? Carry around empty bottles! Want do to an unreliable landlord that never seems to answer the phone? Carry a phone around that constantly rings, but ignore it! Go wild with your imagination!
Home Photographer
Do you have a fancy camera that you've been dying to use to photograph homes? Are you an experienced photographer? Are you a fan of Instagram? Say no more: a Home Photographer costume is perfect for you! For this costume, all you'll need is a camera, a hat (preferably a fedora) with a white slip labeled "HOME PHOTOGRAPHER," and shoes that are easy to walk around in whatever the terrain. Think paparazzi for houses!
Sunday Showcase Of Homes Episode
If you've never seen one of our Howard Hanna Sunday Showcase of Homes episodes, you're in for a treat! This television series airs each Sunday and showcases various homes in the area that are hosting an open house later that same day.For this costume, you'll need a cardboard cutout of a television labeled with Sunday Showcase of Homes (feel free to get creative with your cutout!). Our Showcase of Homes episodes now feature the agent's picture along with the home, so you won't need any hat or make-up to hide your face. You'll just need a picture of a house – or a toy house – to hold up! For convenience, you may want to fix the house picture to the cardboard television cutout. That way all you need to hold up is the television cutout around your face.
Do you have an awesome real estate costume idea that isn't included above? Share it in the comments below! We look forward to seeing all the creative costumes you have this year. Happy Halloween!