30 Under 30 Award Winner Sean Anthony on Achieving Goals & Selling Homes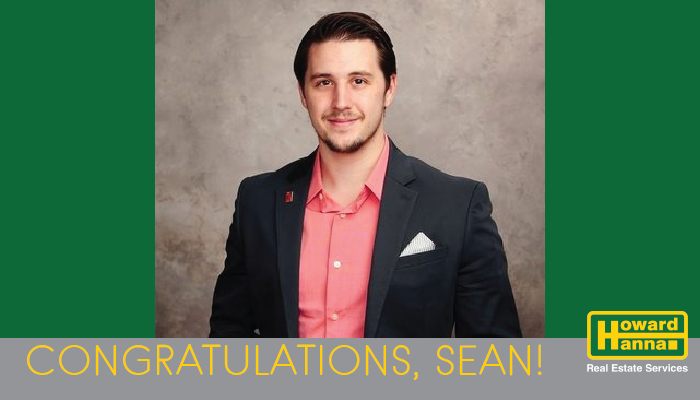 Things haven't always been easy for Sean Anthony, a REALTOR at Howard Hanna Realty Pioneers in Towanda, PA, who was recently named to REALTOR Magazine's 30 Under 30. He hails from an area called "The Valley" with three small cities and just 23,000 people. But it's that very same community that motivates Sean to do what he does best – help other people achieve their goals.
Some of Sean's first memories revolve around growing up in a trailer and moving into his childhood home, a two-story brick house. He remembers needing to get into a car and drive long distances to do simple things like taking pictures with Santa. To take his real estate licensing exam, he had to drive three hours away.
"Rough and Long Days"
He was happy to make the drive, though. Sean's first job was as a student loan debt collector. Sean says, "I was really frustrated with this job because I worked so hard and was always awarded with "Top Producer," but I felt like I had hit the glass ceiling."
So, inspired by his uncle, he decided to get licensed as a real estate agent. For three months, three times a week, Sean worked eight hour days, followed by a lengthy drive and three hours of evening classes. "Those were some rough and long days," Sean admits.
Sean's odyssey to becoming licensed as a real estate agent didn't end there – he wound up failing the first time he took the test by a single point. On his second attempt, he had the same results. "I was just wondering why. Maybe this wasn't meant to be," says Sean, "But then I had a call with a great friend of mine, and he kept saying to me, 'Sean, nothing great in life comes easy, this is a test. You have to find a way around this wall, and it all starts with your mind."
Rising Up
Inspired by his friend, Sean took the test a third time. "I felt an energy that I've never felt before, almost like it was meant to be – a greater energy helping me focus to an extent I've never thought I was capable of before." He passed with flying colors. "I broke into tears!" says Sean.
He keeps his successful test results above his desk as a reminder. "When times get tough, it's just life testing your abilities to grow," Sean explains.
Within two days, Sean had left his unfulfilling job. He had $99.30 in his checking account. He remembers looking in his rear view mirror and thinking, "What did I just do?"
The very next day, Sean knocked on doors – 98 of them. He asked each person, "I know this sounds crazy, but have you ever thought about selling your home?" Many slammed the door. Some didn't answer. But that day, he found three leads. His first sale was a referral from one of those people.
Sean explains, "If you're asking yourself 'what if' over and over in your head, jump. Jump and build your plane on the way down. Money will figure itself out."
Finding Motivation
Sean cites his family as a major motivation for him. His parents and other family members helped him out with gas money to get to showings early on. He's paid his parents back by paying off their mortgages and by spending as much time with them as he can.
He also cites his girlfriend, Stephanie Haley, as his rock. He says, "She believed in my vision from day one." Stephanie eventually quit her job to join Sean, assisting with paperwork while Sean met with buyers and sellers.
Finally, his community inspires him! "I love this little town and I have huge plans to make our community flourish," says Sean. His passion for his community shines through everything he does. Sean, thinking back to his days of driving miles away to do something simple like seeing Santa, started an Evening with Santa event, bringing the big guy himself to Sayre, PA. Sean also started a popular online TV show, #communityconnect, that tells the stories of local business owners.
In fact, creating this TV show and running every aspect of it has given Sean a new hobby in videography. While he now works with professionals on some aspects of the show, he learned that he enjoys storytelling through video. When he's not selling homes, Sean also enjoys shark diving, golfing, flag football, and traveling.
Living the Dream
Sean catalogs all of his adventures (in real estate and otherwise!) across social media. He explains that people interested in building their social media presence should "focus on smiling and delivering your positive energy out to the world." He says, "Who cares if you do a live video and mess up? Laugh about it live and keep talking, people don't relate to perfection!"
Sean's recent inauguration into REALTOR Magazine's 30 Under 30 is a longstanding goal for him. "It was always a dream of mine to be part of such a prestigious list with other amazing REALTORs across the nation. I would like to use this accolade as a platform to show other young REALTORs how they can do this, too!"
Finally, Sean says, it's important for real estate agents to find great mentors. His good friends, mentors, and brokers, Thomas Saveri and Raul Azpiazu, have helped him navigate the early stages of becoming a young businessman. He credits them with opening doors for him, providing training, life advice, and help with personal growth.
Ultimately, says Sean, "We have one life, and regret is painful. You can make more money but you can't make more time. Focus on helping others achieve their goals before yours."
As he explains, when you love what you do, you're willing to make the sacrifice. Sean says, "When I'm out showing homes, I feel like I'm a part of something bigger than myself, something with a meaning: helping another person achieve their goals. I felt like a superhero helping my clients!"
You can find Sean on his website, Instagram, Facebook, and Twitter.