4 Projects to Increase the Value of Your Home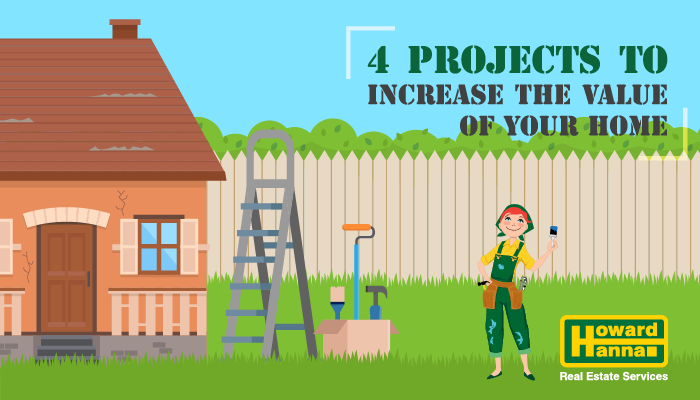 4 ways to increase the value of your home this year, from simple and inexpensive to complex and upscale
Whether you're planning to sell your home this year or you simply want to improve its value, there are a lot of tasks you can tackle. Whether you opt for something as simple as routine carpet cleaning or as complex as a kitchen renovation, any home improvement project can use a good plan. Before you leap into value-add home improvements, it's worth taking the time to understand exactly what you're getting into.
Clean Up Your House
Potential Cost: $0 (DIY) to $675 (Staging Cost) to $2,500 (Pro De-Cluttering Services)
Potential Home Value Increase: 1% to 5%
If you're selling or plan to sell your house, staging is key. According to the 2015 National Association of REALTORS® (NAR) study on the effects of Home Staging, 32% of buyer's agents and 37% of seller's agents stated that staged homes increased the dollar value buyers were willing to offer by 1% to 5%. In the same study, 81% of buyers found it "easier to visualize the property as their future home" when it was staged.
An instrumental aspect of staging is a clean and de-cluttered house. If you're not selling your home, cleaning still helps lift your mood each day (coming home to a clean dwelling), provides structure, organization, and balance for the whole family (particularly for children), and makes it easier to navigate from the couch to the kitchen without tripping over and stubbing a toe on various wires, piles of mail, or leftover toys.
When tackling this home improvement project:
Replace the Entry Door or the Garage Door
Potential Cost: $1,335 (Entry Door) to $1,652 (Garage Door)
Potential ROI: 91.10% of cost (Steel Entry Door) to 91.50% of cost (Garage Door)
According to this 2016 remodeling study on the cost of remodels versus the value the projects returned, replacing a garage door cost $1,652 and its resale value was $1,512, meaning a cost recoupment of 91.10% upon selling the home. Replacing the entry door with a steel door provided a similar return on investment (ROI): costing $1,335 and having a resale value of $1,217. In contrast, adding a bathroom to the home had a ROI of only 56.20% and cost $42,233.
So if you're working on a tight budget (in terms of time and money) and want to add value to your home, go for something simple like replacing the garage door or front door.
When tackling this home improvement project:
Improve Your Curb Appeal
Potential Cost: $120 (New Grass Seed) to $9,450 (New Wood Deck)
Potential ROI: 100% to 400% of cost (dependent on specific landscaping project)
Perhaps the most cost-effective and beneficial home improvement project, seeding a lawn was estimated to cost $120 by landscape professionals in the 2016 NAR Remodeling Impact: Outdoor Features study and to increase the value of the home by 417% of the cost to seed the lawn ($500). Other landscaping projects that enhance the home's curb appeal offer a similar return on investment.
Improving the curb appeal of your home can be as simple as a green and trimmed lawn and new address numbers, or as complex as a new walkway, new patio, new wood deck, new flowering shrubs, and additional trees! In our blog How Do I Improve My Home's Curb Appeal, we went over how adding a mailbox, outdoor lighting, and decorative planters can create a warm welcome for guests and potential homebuyers.
According to the NAR remodeling study, implementing a standard lawn care program (which consists of "six applications of fertilizer and weed control on 5,000 square feet of lawn") is another simple and highly effective project, costing only $330 and having a ROI of $1,000 (303% of the cost)!
When tackling this home improvement project:
Home Maintenance
Potential Cost: 1% to 4% of a home's value (annual cost)
Potential ROI: Being able to sell your home without a home inspection determining that repairs are needed
One of the most important projects for any home is home maintenance: confirming that your home is always in tip-top shape. According to U.S. News and World Report, home maintenance and repair costs typically average 1% to 4% of the home's value each year.
While making sure that your roof doesn't leak, that the gas light on your oven works, that the filter in your refrigerator isn't broken, and other home repair needs are in good order may not sound like the most enjoyable way to improve the value of your home, these things are essential to ensuring you can sell your home when the time comes.
After a buyer makes a bid on a home and a seller accepts the bid, the home will enter the Contingent/Under Contract stage. During this phase, a home inspector will visit to evaluate the condition of the home and verify that nothing is broken. If anything is broken – a roof leak, a faulty fireplace, a suspicious hot water heater – the buyer will find out from the home inspector and can request that the seller repair the damage. If the seller refuses to repair the damage, the buyer can back out of the agreement and claim they don't want your house anymore.
Save yourself a headache. Take care of your home.
Looking for other simple repairs you can make to help sell your home?
When tackling this home improvement project:
Finally, enjoy and cherish your newly improved home!
Looking to improve the energy efficiency of your home this year? Try these energy-saving home tips today and reap the rewards!