4 Reasons to Buy a Home Before the Summer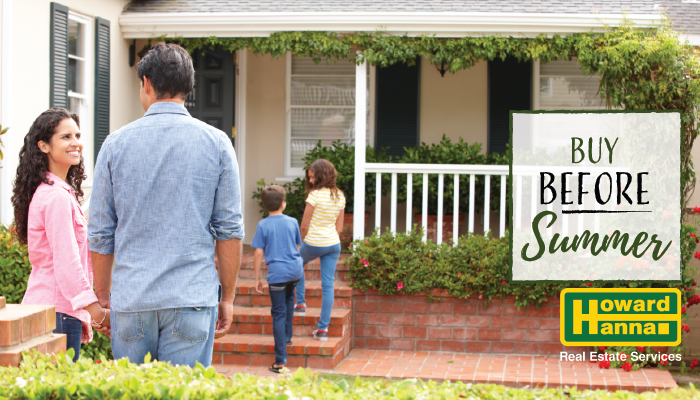 Are you waiting for warmer weather to grace us before you start looking to buy a home? Many people decide to purchase a home in spring or summer so that they can be settled in before fall and back-to-school happen.
But before you kick up your feet and relax, we have a few compelling reasons you might want to start your home search now and not later:
Take Advantage of Low Rates
When mortgage rates are low, it may benefit you to buy sooner and lock in a lower rate. Paying lower interest throughout the life of your mortgage is a money-saving move, and may make it worth purchasing sooner rather than later.
Gaining pre-approval for a mortgage and using a program like Howard Hanna's Lock and Shop helps you get an edge over other buyers. Lock and Shop lets you take advantage of today's mortgage rates while you shop for your next home.
Moving Costs & Timelines
It's a simple fact of life that when more people are moving, costs go up. Movers that may have tons of availability in March are suddenly booked for weeks come June. You may even be able to negotiate a better deal if you're moving in the offseason!
Start getting ready for a move today with these 14 tips for moving into a new home!
Get Settled In
If you're moving to an entirely new city, moving in the spring instead of waiting until summer can help you and your family settle in. Not only will you have the entire summer to learn more about your new neighborhood, but kids will also have plenty of time to adjust to the move before school starts again in the fall.
Great Deals Abound
Purchasing a home during the height of house hunting season puts you in competition for listings. Starting your hunt early means you can take advantage of great homes that are already on the market. You'll face less competition and may even be able to get a great deal on a home that might otherwise cost more money.
Whether it's finding a better deal or setting yourself up for a stress-free move, there are plenty of compelling reasons to beat the rush and buy a home when it's still a little colder out.
Not convinced? Learn what you need to do now if you're planning on buying a home this spring.
Or, if you're ready to take the plunge, here's what you need to know about the financial side of buying a new home! Then, start figuring out how much home you can afford.