5 Best Colors to Paint Your Bedroom for a Good Night's Rest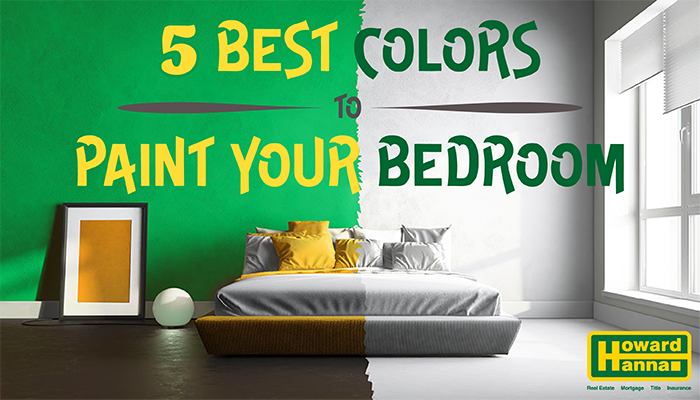 5 Best Colors to Paint Your Bedroom for a Good Night's Rest
In our last blog, Painting Joy Into Your Home: How Colors Influence Your Mood, we went over the psychological effects of each color and which ones are best for which rooms in your house, depending on what you want to accomplish. But what about the most personal space in the entire home – your bedroom? How can you ensure that you'll get a good night's rest and wake up refreshed in the morning? Or, how can you spice up your love life with the use of color? In this guide, we'll be going over how to create those effects with certain colors.
Remember that, in the end, the best colors to paint your bedroom are the ones that make you the happiest. There are no hard and fast rules on which colors should or should not be used, except to use the ones you'll enjoy the most.
Ceilings
Being one sixth of the room's surface, ceilings are just as important to paint as the four walls holding them up. As with walls, ceilings that are painted lighter colors give the impression that the room is taller, airier, and more open, whereas ceilings that are painted darker colors create an intimate environment and the sense that the ceiling is lower or closer.
Blue

: #1 Best Color for a Good Night's Rest

In 2013, Travelodge, a hotel chain in Britain, conducted a study with 2,000 Britons to see how the color of the bedroom affected their rest. Overwhelmingly, Britons who slept in a bedroom with blue décor received the best sleep at an average of 7 hours and 52 minutes per night.
Why?
Blue is generally associated with calmness and is known to reduce blood pressure and heart rate – both of which help an individual get to sleep faster, sleep longer, and sleep more restfully. This is likely why medical companies have a tendency to use blue as their primary color scheme (to help patients get a restful night's sleep), or in their logo, and why the caduceus is frequently depicted in blue.
On the flip side, certain shades of blue are often said to be chilling and to stifle social interactions. If you're worried that sleeping in a blue bedroom may make you wake up depressed, fear not! In the Travelodge study, "more than half of the people with blue bedrooms said they regularly wake up feeling happy."
Yellow

: #2 Best Color for a Good Night's Rest

The second best color to paint a bedroom for a good night's rest is also one of Howard Hanna's signature colors: yellow! According to the study, Britons who slept in bedrooms with yellow décor got an average of 7 hours and 40 minutes of sleep.
Why?
Yellow is associated with sunshine, happiness, and joy and is known to "stimulate the nervous system which aids in relaxation." On a chemical level, dim red, orange, and yellow lights help people get to sleep by encouraging the natural circadian rhythm of "Oh, the sun is gone? Let's sleep!" Bright blue lights have the opposite effect by suppressing the production of melatonin, a hormone that induces sleep.
On the other hand, too much or too intense a shade of yellow can cause people to become frustrated and lose their temper. So although yellow is a happy color, opt for a shade of yellow that is muted, or use it as an accent color in conjunction with other colors in the bedroom.
IMPORTANT: Yellow bedrooms frequently make babies cry. For this reason, avoid painting children's bedrooms yellow. If you want to keep them calm, try using pink. See below for why.
Green

: #3 Best Color for a Good Night's Rest

The third best color to paint your bedroom for a good night's rest according to the Travelodge study is also a Howard Hanna color: green! Britons who slept in bedrooms with green décor got 7 hours and 36 minutes of sleep on average.
Why?
Green is another cool color that is typically associated with nature, good health and good luck, tranquility, and fertility. Green is created by mixing blue and yellow together (the best of both worlds); for this reason, green can have a calming effect similar to that of blue by reducing blood pressure and heart rate. Generally, green is believed to help people relax and relieve stress – both of which are essential for a good night's rest.
If you're torn between blue and green, the good news is that you can create a color palette with both of them. You can go for something more natural and beach-themed by adding in light brown, or for something more tropical by adding in elements of yellow-green.
Caramel Brown

: #1 Best Color for a Spicy Love Life

According to the Travelodge study, the best color for increasing romantic activity is luxurious caramel! On average, couples with caramel décor in their bedrooms made love three times per week. The study compared this to couples who slept in bedrooms with passionate red décor; those couples only made love once a week.
Why?
Maybe you've heard recently about the effects of dark chocolate on the brain. Dark chocolate contains phenylethylamine, a compound that is called the "love drug" because "it creates a brain buzz similar to being in love," according to BeBrainFit. In addition, eating dark chocolate is known to release serotonin, a neurotransmitter that induces happiness and positive moods. Culturally, we may naturally associate the rich caramel color with chocolate and, by extension, happiness, joy, love, and passion. So when surrounded by similarly colored décor, we may act as though we've just eaten a big glob of chocolate and are in the mood for love. If luxurious caramel décor isn't your cup of tea, try eating some dark chocolate instead! Just maybe not right before you go to sleep.
Pink

: #1 Best Color to Calm Children Down

Been dying to paint your kid's room pink? Now you have the perfect reason: the Pink Effect!

In the 1979, Dr. Alexander Schauss, director of the American Institute for Biosocial Research in Tacoma Washington, convinced the directors of a Naval correctional institute in Seattle to paint some of their prison cells a specific shade of pink: Baker-Miller Pink, or P-618. Afterward, the Navy reported "no incidents of erratic or hostile behavior during the initial phase of confinement." Just being exposed to pink for 15 minutes was enough time to reduce aggressive behavior.

Similarly, in 1982, the San Bernardino County Probation Department in California had an 8-foot by 4-foot cell painted entirely pink. When children in detention became violent, they were placed inside the pink room and within 10 minutes would "relax, stop yelling and banging and often fall asleep," as reported by Paul E. Boccumini, director of clinical services for the department.

Since then, pink's ability to calm people has been dubbed the "Pink Effect." Painting your child's room pink may help to reduce aggressive and temperamental behaviors.

It's no coincidence that at Howard Hanna Real Estate Services, our signature colors are green and gold: they're also among the two best colors for a good night's rest and a bright and cheery morning!

If you're looking to buy or sell your house, Howard Hanna can help. With our one-stop shopping, we offer real estate services, mortgage services, title and escrow services, and insurance services, taking the worry out of moving by walking you through your entire home buying or selling experience. Home Happens Here.® is our ultimate goal: to help you achieve your dream home.

To find out more about our real estate services, check out our website at HowardHanna.com.