5 Tips for Living in Your Home While It's On the Market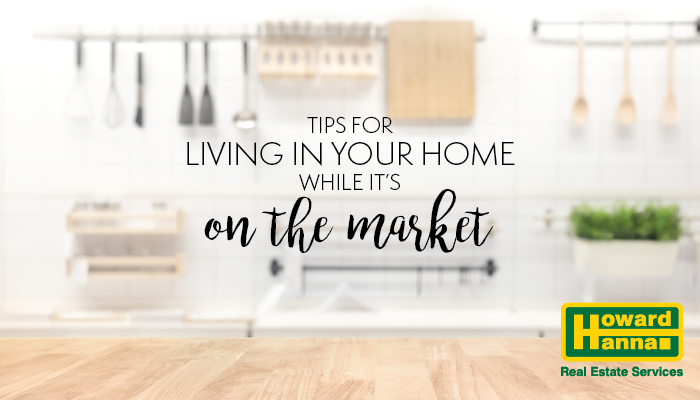 We get it: You have to live somewhere. If buying a new home before you sell yours just isn't an option, you'll likely be staying in your home while it's on the market. We know you know to deep clean your home and to consider staging your home to sell, but what about the actual day-to-day details of living in a home that's on the market? How can you keep your sanity and avoid totally disrupting your life?
We've got some tips that will help you continue to live in your home – even if you have strangers coming in to fully inspect all the nooks and crannies every few days.
Make It Easy to Clean
When it comes to getting your home ready to show, you want to make cleaning up after yourself as easy as possible.
Make baskets, bins, and decorative boxes your new best friends. You can easily hide items that would otherwise clutter up your space inside, and buyers are less likely to look inside a decorative-seeming basket than in a closet.

Trays can also be a handy way to group items for easy removal – TV remotes, books, and other living room paraphernalia can be quickly moved.

For day-to-day living, a plastic bathroom tote for each member of your family can help keep toiletries from cluttering up the space. Store your toothbrush, toothpaste, and other bathroom items inside, and quickly stash under the sink before a showing.

Consider using a spare towel over your sink or makeup space to keep counters clean when getting ready in the morning.

Do meal prep atop large cutting boards, and consider nixing greasy, spattering foods from your dinner repertoire unless you

know

you'll have time to wipe up afterward.
Pretend You Don't Live There
A mental shift can help you keep your home cleaner. Pretend that you're a guest and want to keep things sparkling clean for your hosts. Wash dishes as you use them, keep the beds made right after getting up, and wipe up any small spills as they happen.
By erasing traces of your presence as you go, rather than waiting until a showing to clean up, you'll be better able to quickly make your getaway.
Stow It Away
When your agent calls with a showing, you may have very little time to clean up and get ready. So, don't!
Designate a space – a plastic bin, a hamper, or a spare suitcase works well – and simply sweep any messy piles or cluttered items into it. Stash it in your car and leave. You can sort out the clutter later.
Be a Good Friend
Do you have friends, family, or neighbors who would be willing to host you, your kids, and/or your pets for short periods of time with little notice? Probably not, if you keep swinging by without telling them.
Check with your inner circle when you're putting your home on the market to see who might be amenable to surprise drop-ins – and who would might need some additional notice.
Make a Game Plan
Selling your home isn't the time to wing it. Instead, come up with a game plan in advance for how you'll clean up and get out of your home.
Whether you opt to do a five-minute sweep through each room, or you have a specific checklist of items to clean up, you'll feel better – and retain your sanity – if you know what to do when the call arrives.
Get Ready, Get Out!
Living your life while your home is on the market can certainly be a challenge. With some preparation and a few smart choices, you can survive living in a for-sale home – and make the transition to your new place.
Don't want to live in a house while it's being shown? Learn more about our Buy Before You Sell program, designed to help you purchase a new home before you sell your existing property.