6 Real-Life Stories of Success About Find It First™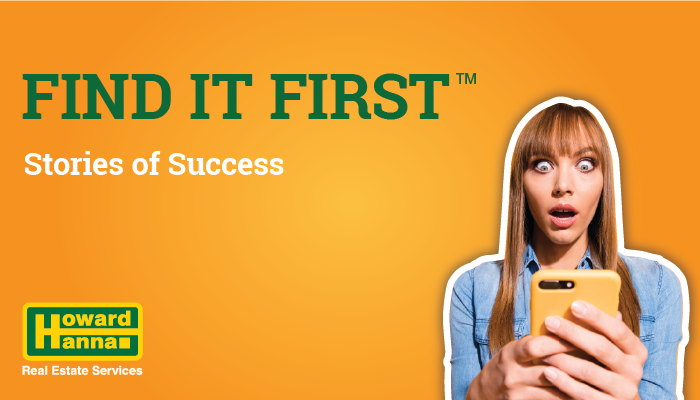 The one question everyone is asking about Howard Hanna's exclusive new Find It First™ program is "Does it work?" The answer is "Yes!"
Since the Find It First™ program was launched in Ohio, its momentum has rapidly grown across the market, and stories of success have been rolling in on a daily basis. Here's what Find It First™ is doing for home buyers, sellers, and Howard Hanna agents – and what it could be doing for you:
Quick, Full-Price Sales
"After one of our agents placed her listing on Find It First™, it sold in just a few days…for full list price at full commission, as an in-house transaction!"

– Rebekah Rouser, Poland
Easy and Fast Real Estate Marketing
"Find It First™ could also be coined Find It Fast. One of our clients couldn't believe how easy the process was and how fast the results were. She is thrilled with the fact that her home went under contract quickly. For her, it meant no open houses, no more cleaning or getting the home ready for pictures, etc. She loved the pre-marketing concept, and we love the opportunity to sell our listing fast. It's a win-win for both sides!"

– Diane Eichler, Akron
Pre-Marketing for Homes
"Our clients love the fact that we can pre-market the property without all of the rules and conditions mandated by the MLS."

– Maureen Todaro, Akron
Stand Out in the Market
"I had a FSBO appointment a day after the Find It First™ program was introduced. As my appointment went on, I felt like I wasn't going to be able to secure the listing since the homeowners were so adamant about selling it themselves – we seemed to be at a stalemate. I then decided to mention the Find It First™ program, and the tables were immediately turned. They were so thrilled to hear about a program that would allow us to 'control the market' in a way, and we couldn't have gotten the papers out more quickly to sign. Find It First™ was such a helpful tool in securing my listing, and I am so excited to offer it to my future clients."

– Zachary McHenry, Green-Uniontown
Same-Day Offers
"One of our newest agents was so excited to secure a Find It First™ listing after talking with the sellers about the program. We did the first open house together on June 30, and had five groups of people come through. He had sign-ups on every corner, and even walked the neighborhood and invited the neighbors. A couple came in with their three children, and looked around for a long time. They told us they loved the home and had an agent. By the end of the day, we had an offer, and acceptance by July 1."

– Cynthia Householder, Green-Uniontown
Highly Visible Marketing
"The Howard Hanna Find It First™ program really helped us quickly sell our client's home. The program gave the client the option to opt out of the MLS, while still keeping a visible marketing presence online and using yard signage. Because of the presence on HowardHanna.com/FindItFirst, we received several calls, as well as a walk-in during the opportune time. One of those calls resulted in the current accepted offer."

– Lisa Krizan & Erika Raeth, Hudson
Whether you're a home seller who wants to make an expedient sale, a buyer who wants to find the hottest houses faster than anybody else, or a Howard Hanna agent who wants to stand out from the crowd, the Find It First™ program is here to help! We recently launched the program in Pennsylvania and Michigan, as well as New York State, to help even more people Find It First™.