9 Ways Howard Hanna Helps Real Estate Agents Succeed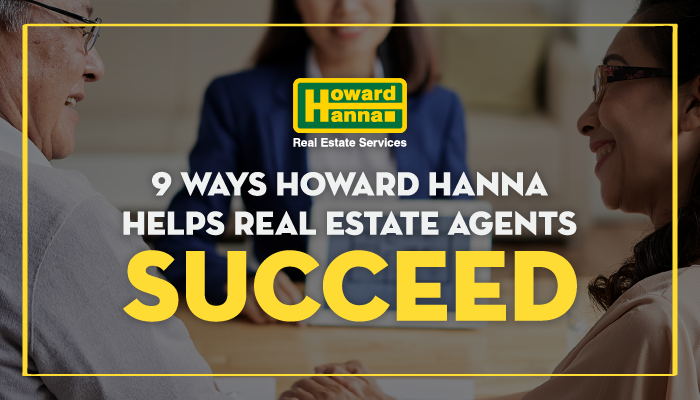 When it comes to being a real estate agent, it can be a hard knock life—but it doesn't have to be!
Real estate agents are responsible for a wide range of tasks, ranging from cataloging administrative paperwork to successfully completing major real estate transactions. Depending on which real estate company an agent joins, various resources such as access to high-quality and customizable marketing materials, training, a large and dependable referral network, the support of a strong real estate brand, and tailored benefit programs can go a long way in helping to establish a reliable career in real estate.
Without further ado, here are some ways that Howard Hanna Real Estate Services helps ensure its first-time and long-time real estate agents not only survive in the dog-eats-dog world of real estate, but succeed.
1. Best Real Estate Training for New Agents
Fast Start Real Estate Training
Throughout the year, Howard Hanna offers a four-week "Fast Start" training program that introduces new real estate agents to all aspects of the residential real estate business. The program focuses on prospecting, listing, and being able to speak comfortably and confidently about our programs to both buyers and sellers.
Agents develop their business foundation while attending these sessions, enhancing their understanding and honing their ability to help clients reach their goals. At the end of Fast Start, our new agents are more mentally agile and prepared to dive deeper into the topics covered in our Next Steps workshops and other classes that follow.
Jump Start Real Estate Training
Howard Hanna also offers "Jump Start" training, a one-full-day orientation class to enhance new agents' understanding of why Howard Hanna is the best place to build a successful, profitable real estate career. Working for Howard Hanna starts off with this dynamic and exciting new real estate agent orientation session. You'll hear from top leaders and executives at Howard Hanna to learn how to succeed in real estate.
2. Build Your Network with Real Estate Referrals
With over 11,000 sales associates and employees and over 300 offices across eight states, the referrals never end. At the 2018 Leading Real Estate Companies of the World® Annual Conference in Las Vegas, Howard Hanna's Relocation & Business Development department was recognized as the Top 3rd Broker in the entire broker network, closing the most outgoing referrals during 2017.
As a real estate agent, one referral can lead to two more referrals when that client recommends you to their friends and family, and then four referrals, and eight, and so on. Referrals can make or break a real estate career and at Howard Hanna, we know that, which is why we encourage our real estate agents to develop a strong network and support one another with interoffice and outgoing referrals.
3. Rapid Response Program
With our Rapid Response Program, Howard Hanna is able to monitor, track, and warmly transfer directly to our real estate agents leads originating from our website. These leads are clients looking to buy and sell homes. Today.
The real estate industry receives over 55 million online real estate leads each year, but of those leads, 48% never receive a response. Those are lost clients. As a real estate agent, an unanswered lead means a lost deal. Howard Hanna ensures such an opportunity is never lost by reaching out to that lead within the first 15 crucial minutes they send in an inquiry and transferring them directly to a real estate agent—to you.
Our Rapid Response Program creates more leads, more listings, more buyers, and more sales for our real estate agents.
4. Marketing & Advertising Tools for New Real Estate Agents
Our elite marketing team develops and produces effective work that connects the Howard Hanna brand to people through multi-generational program development, deployment, and management. These initiatives include advertising, direct mail, video, promotions, strategic partnerships, and branded content that capture the attention of consumers and drive them to react.
For our real estate agents, that means customized marketing assets that can be utilized to leverage both their individual brand and the Howard Hanna brand.
Sunday Showcase of Homes
The Sunday Showcase of Homes is one of the many unique marketing services that set us apart. Our television program provides a convenient home shopping experience for potential home buyers to see homes from the comfort of their living rooms.
Each episode features dozens of homes for sale throughout our market areas, making it easy for buyers to see properties in a variety of locations, styles, and price ranges. This service is available at no cost to current home sellers whose properties are listed through Howard Hanna.
Our Sunday Showcase of Homes airs in the following markets: Cleveland, Erie, Harrisburg, Pittsburgh, and Rochester.
Homes of Distinction
An exclusive Howard Hanna program, Homes of Distinction provides our agents with the tools and support needed to market and sell luxury residences. We train our agents to become Homes of Distinction Specialists, experts on listing and selling high-end homes, so that they're prepared every step of the way. Through affiliations with Luxury Portfolio International®, we also enable our agents to promote exquisite, estate-caliber properties to the most affluent buyers worldwide.
5. Free Real Estate Training Opportunities & Hanna U.
Howard Hanna Convention
Every two years, Howard Hanna hosts a companywide, two-day Convention filled with inspirational industry speakers, thought-provoking workshops, announcements about new Howard Hanna technology, tantalizing classes, and more—all at no cost to our agents. Our Convention also offers our agents a chance to network and celebrate with big-league parties. Our biennial event is real estate's best celebration, honoring our agents' success!
Hanna U
Hanna U is our online university housing hundreds of training videos, webinars, and classes to provide our real estate agents with every level of expertise, from simple tips to sophisticated techniques. Hanna U is constantly updated with fresh content to help you learn how to succeed as a REALTOR®.
In addition, our agents are able to jump into state-approved, online continuing education, offered through The CE Shop and schools in our agents' markets, whenever they want it. Agents are even able to earn advanced designations from our partners at Leading RE, as Sales & Marketing Specialists, Service Experts, and Relocation Specialists!
Classes range from 5 to 25 minutes, addressing dozens of subjects – from prospecting to listing and sales presentations to getting powerful results from online marketing. Best of all, Hanna U is accessible 24/7 and FREE.
6. Incentive/Rewards Programs
Income Advantage
Howard Hanna ensures that our agents can focus on what they do best: helping home buyers and sellers achieve their goals. Our exclusive Income Advantage program reinforces their earnings so they can have the security they need.
Our agents can receive a steady check each month based on commission and referral income. Howard Hanna invests in our agents, so they can alleviate stress and put their complete focus on what's most important, serving their clients!
Secure Advantage
We help our agents protect their income, health, and future, with a program that offers peace of mind through comprehensive insurance and savings plans. Agents can choose from a menu of options, according to their needs.
7. Cutting Edge Real Estate Technology
One of the things that makes Howard Hanna great is that we are always evolving, always looking to improve ourselves, and always looking to up our game. This means providing our real estate agents with the most up-to-date, cutting-edge tools so they can continue to be the best in the business.
In 2018, we even launched a variety of real estate technology tools for our Howard Hanna agents, including:
Open2Close – A new, sophisticated and simple-to-use mobile application for real estate agents, which provides a better way for our agents to engage with clients
RealScout – A unique and powerful closing tool for buyer and listing agents, which offers an in-depth collaborative property search experience
Engage CRM – Available in most Howard Hanna markets, this robust real estate CRM helps agents to maintain and nurture relationships with their leads & clients
We also offer additional real estate technology, such as:
HowardHanna.com
Our website is ranked the #1 broker website in the United States and receives more than one million visits per month. With over a quarter of a million listings, people trust us and our agents to help them find their new home.
In addition to your agent profile on HowardHanna.com, you also get a free website. Customers can search all the same listings that they can search on HowardHanna.com, but on your agent website – whether or not they're your listings – and you get the leads!
Hanna HomeFinder
Hanna HomeFinder is our customized email program that lets our agents communicate directly with highly interested prospective homebuyers, who tell us what they're looking for in a new home.
8. One-Stop Shopping
Howard Hanna enables its real estate agents to walk home buyers and sellers through the entire home buying and selling process, from start to finish, with the help of our exclusive marketing and loan programs. An expansive team of HannaFinancial professionals supports our real estate agents throughout this process.
Howard Hanna Mortgage Services
As the third-largest real estate mortgage company in the United States,* Howard Hanna Mortgage Services offers a complete selection of mortgage loan programs with a wide variety of national and local investors. Our efficient process expedites home sales and helps buyers find financing products more easily. Howard Hanna's mortgage subsidiary has many convenient branch locations.
Barristers Title and Escrow
With offices in five states, Barristers Title and Escrow Services strives to meet the needs of our clients at the lowest cost through the efforts of our dedicated team of industry professionals. At Barristers Title and Escrow, our legal expertise has made us a national leader in title insurance, and in the intricacies of the home buying and selling experience. Whether we're searching public records and issuing policies to protect homeowners, or working with agents to finalize closings, our full-service agency is here to expedite the process.
Howard Hanna Insurance Services
Our insurance agents are the coverage experts for more than just real estate. Howard Hanna Insurance Services provides the best service by designing a customized insurance plan and comparing major insurance carriers to find buyers and sellers the most competitive rates and coverage. This full-service insurance agent is dedicated to the needs of homebuyers, sellers, and agents, providing home, auto, umbrella, life, and other risk management products.
9. The Howard Hanna Brand
Howard Hanna Real Estate Services is the 3rd largest real estate company in America, the #1 privately owned broker in the nation, and the largest home seller in Pennsylvania, Ohio, and New York. Our real estate agents are backed by that brand power every day. Howard Hanna agents benefit from the power of our distinctive green & gold branding, corporate advertising campaigns, and more.
Interested in becoming a real estate agent or joining Howard Hanna Real Estate Services? Check out our Hanna Careers here page for more information!
Or, if you're trying to figure out if a career in real estate is right for you, take our 15-minute real estate career assessment! It's quick and will help you decide if becoming a real estate agent makes sense for you. You'll also get a free report that explores your personal and work styles.
* REAL Trends 500, ranked by mortgage closings for 2018, REAL Trends Magazine, May 2019.