Starter Home vs. Forever Home: What Kind of House Should I Buy?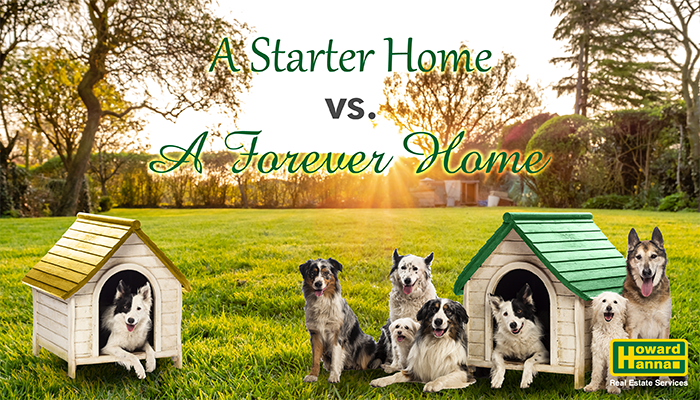 Starter Home vs. Forever Home
As you begin your home buying process, you may have heard the terms "starter home" and "forever home" thrown around in conjunction with the question, "What type of home are you looking to buy or live in?"
It can be hard to answer this question when you don't even know what starter and forever houses are, so we'll be providing definitions for each term, talking more about what it is (and isn't!), and give you a list of questions to ask yourself to help make your decisions simpler.
STARTER HOME; noun
Definitions:
"A small house or flat that is suitable for people who are buying their first home." – Cambridge Dictionary
"A relatively small, economical house or condominium that meets the requirements of young people buying their first home." – Google
"A starter home is typically a small, single-family house with one or two bedrooms. It might be a fixer-upper, although not necessarily. The starter home usually is purchased with a small down payment and a mortgage loan." – Bankrate
"A starter home or starter house is a house that is usually the first which a person or family can afford to purchase…. In the real estate industry the term commonly denotes small one- or two-bedroom houses, often older homes but sometimes low-cost new developments." – Wikipedia
What is a Starter Home?
Most real estate experts use the term "starter home" to indicate that a house is a buyer's first and that they will live in it temporarily. This means that the buyer intends to buy another house in another location at a later date when their particular needs have changed. For example, they've started a family and require a fenced-in backyard or a specific school district, etc. A starter house is one that you'll be able to live in for a few years – possibly even a decade! – but that you may wind up leaving behind as you outgrow the space or your needs change.
Starter houses can have different features and amounts of space, but typically starter homes may have less square footage or fewer rooms. That's because people buying starter homes may not have as many individuals living in their home. They might not have kids or older family members that need to live with them.
It's important to note that starter homes don't necessarily mean a "fixer-upper" that's going to require a ton of work just to be habitable. Your small starter house or condo may be perfectly lovely and have nice amenities – it's just not where you envision living forever.
Should I Buy a Starter Home?
If you don't know where you'll be in the next five years, or if you want to change careers somewhere down the line, or if you currently live in a different state from your parents and eventually want to move back into the same city as them—or the opposite!—then a starter home as your first house may be the right choice for you. It all depends on your particular needs.
Some questions to ask yourself before you make the decision:
Do I intend to have children within the next five years and need space for them to live? Do I want to move my children when they're five years old or do I want them to grow up in a single house?
Do I intend to switch careers or industries within the next five years?
Do I want to live somewhere close to downtown where people only live in their homes for five years or less?
Do I want a dog? (If you don't like children, this is a good alternative to the children question!) Do I want to have more dogs in the future? Will I need more space for the dogs?
Am I just buying a house in order to have a lower rent? (Renting apartments is more expensive in the long term than buying a house.)
Do I need to live somewhere more stable than renting an apartment, and I'm ready to upgrade to a house?
Am I planning to rent this home out when I move on, or will I sell it?
Can I afford a larger home or down payment, or am I better off purchasing a home now and saving up for a larger home down the road?
Are you buying your first home? Read our guide to purchasing your first house!
FOREVER HOME; noun
Definitions:
"A word used by pet breeders or shelter operators to describe a loving home where the pet can be adopted to live out the rest of his or her days." – Urban Dictionary
"A house or condominium to love forever" – Realty Times
What is a Forever Home?
"Forever homes" don't have as many definitions as "starter homes" because the meaning is implied in the name: it's a house that lasts forever. It's a house that you will never, ever, ever, ever, ever in a bajillion years move out of.
It used to be that there was no differentiator between the two: the first house you built with your own two hands on your first plot of land in America was your house, and your children's house, and your children's children's house, forever. Because you built it.
But with technological advancements and globalization, it's easier for people to move around, and so we have the two different terms: a house in a neighborhood where you intend to stay in for a long time and raise your children ("forever home") versus a house where you are staying for a shorter period of time and that you will likely move out of ("starter home").
Because our needs are forever changing and we don't actually know for certain what we will need more than ten years down the line, a "forever home" can also mean, more loosely, "a house you live in for more than ten years." So not really "forever," but close enough.
Why a Forever Home?
There are many reasons to get a "forever home": you intend to stay in the area for more than 10 years and raise children there, you don't experience extreme bouts of wanderlust encouraging you to uproot to another country, the neighborhood where you want to live is absolutely perfect and you know you'll never want to leave it, you don't want to deal with the headache (or heartache) of buying another home after this and are perfectly content to get one house and be done with it, you want to build the house that will meet your particular needs, etc.
Endless reasons.
Some questions to ask yourself before you make the final decision are:
Are you in the process of getting married and having children, and therefore your decision-making may be clouded by emotion?
Do you want to build the perfect house?
Do you want to live in a family-friendly neighborhood where people stay with their homes for more than 10 years?
Do you intend to live in the area for more than 10 years?
Do you have a stable job that you enjoy, and couldn't possibly see yourself doing anything else?
Do you want more dogs? Do you want your dogs to have dogs?
Do you want your children to be able to come live with you in your old age when they have children themselves?
If you're still not sure whether or not a "starter home" or a "forever home" is the right home for you, consult with your Howard Hanna real estate agent. They're experts in the industry and have years of experience in helping new and old home buyers purchase the perfect home for their needs! Or, cut to the chase and use our advanced property search to find the starter or forever house that's right for you. You can even create a Hanna HomeFinder account to be notified via email when the perfect home for you hits the market.
Buying a home doesn't have to be stressful or headache-inducing. At Howard Hanna Real Estate Services, our goal is to help you make Home Happen Here. With our one-stop shopping, we offer real estate services, mortgage services, title and escrow services, and insurance services, taking the worry out of moving by guiding you through your entire home buying or selling experience. If you're moving to a new area, our global and local Howard Hanna Relocation Services can also assist you with the relocation process.