Add Value to Your Home with Spring Cleaning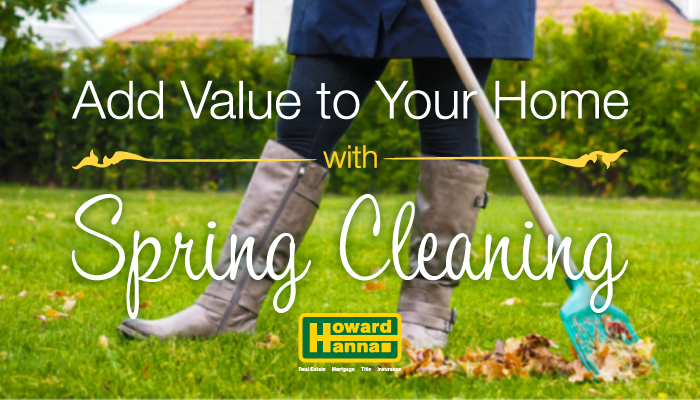 In our blog post 4 Projects to Increase the Value of Your Home blog, we went over four different projects that could increase the value of your home—one of which was cleaning!
It may be surprising, but a clean and decluttered home can have a huge impact on a potential buyer's impression of the home and help them envision it as their own. In addition, a clean home improves your mood and helps you feel more productive.
Clean Up the Yard
You never get a second chance to make a great first impression, so make the most of your home's first impression by cleaning up the yard.
Clear away fall and winter debris such as fallen branches and leaves.
Pick up and put away toys and other items that are not lawn ornaments.
Be sure that all walkways are clear and easy to navigate. If you have broken or misaligned steps, consider hiring a professional to fix them.
Clean the gutters, or hire a professional to clean them. When gutters are clogged, they can overflow and cause water damage to the exterior of your home. If they overflow into a window, the water damage can extend into the interior, as well.
Treat your lawn to a spa day: feed it, weed it, give it moss treatment, and mow it on a dry day. When you know it's going to rain, or shortly after rain, apply fertilizers for best results.
Clean Up the Exterior Walls of the House
Over the course of a year, a lot of dirt, muck, and grit can collect on the exterior walls of a home—not to mention moss, mold, and mildew growth along brick walls.
On a warm, dry day, wash away the dirt on the exterior walls of your home. Take care not to damage any surfaces, let water get underneath the siding, or dislodge any bricks.
If it looks like there is water damage on the outside of your home, call a professional.
Take the chance to clean the outside of your windows as well, and check for any damage to them. Cracked panes should be replaced and peeling windowsills should be tended to, as well. Once you're back inside, wipe the inside of the windows down and clear away any cobwebs.
Peeling windowsills are a great opportunity (after removing the old paint) to repaint them with a refreshing new color. Not sure what color to pick? Our Painting Joy Into Your Home: How Colors Influence Your Mood blog post can give you an idea on what might be the best color, depending on what effect you want to achieve.
Clean Up the Garden
If you have a garden with clearly defined borders, be sure to freshen those borders up. In addition, give your garden some attention and care:
Fork the soil around plants to introduce fresh air and reveal any pests or weeds.
Remove weeds and other unwanted plants.
Add mulch to control additional weeds or refresh existing mulch.
Check to see if any bricks or stones have become misaligned and realign them.
To help your plants grow and add nutrients to the soil, add compost or other organic matter.
If you don't have a garden but would like to increase the curb appeal of your home by adding some plants, try adding flower pots or hanging plants outside!
Check that the flowers and plants won't be at risk of dying from a last frost before adding the pots or hanging plants outdoors.
If you want to grow the plants from seeds, consider starting them indoors to avoid losing them to hungry birds or animals before they've had the chance to sprout. Otherwise, pick potted flowers and plants you like from your local garden center.
Arrange the potted flowers and hanging plants how you like: on your front porch, flanking your front door, along your walkway, or even in your back garden. The options are endless!
Don't Forget the Fence!
Last but not least, if you have a fence, inspect it for any damage.
Ensure that all gates are properly attached and that locks function smoothly.
Fill in any holes animals may have dug underneath the fence. If you have a dog that keeps digging a hole to escape, bury a toy, or pursue some other destructive behavior, you may want to check with your local dog academy to see whether training can correct the behavior.
Check for loose boards, rusted wires, damaged bricks or stones, etc. and repair the fence accordingly. If you don't know how to maintain your fence and find that a section has decayed, call a professional.
If you want to give your yard a fresh look, consider painting your fence a new color, adding flowers along the boundaries, or adding climbing plants to transform your fence into a garden wonderland. Check with your local garden center first on which climbing plants would be best.

Beware: climbing plants require a certain amount of maintenance and care to keep them from becoming unruly and overtaking your yard. If they attach to a tree, they can cause serious damage.
Enjoy the fruits of your hard work!
If you still have energy left over to do additional cleaning inside of your home, check out our blog post Tips from Howard Hanna: How to Keep Your Home Sparkling Clean. For especially adventurous individuals, our blog Simple Home Repairs For the Spring Seller offers advice on how to stay ahead of the curve with spring repairs.