Best Amusement Parks in Our Eight States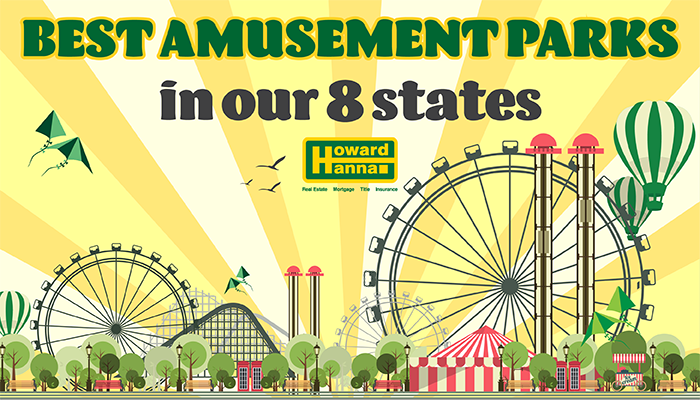 12 Reasons to Live in These 8 States
Do you love the feeling of your stomach flying up into your throat? Do you live for the thrill of defying gravity at excruciatingly inhuman speeds? Or do you prefer to gently glide down a water slide? In either case, we've got you covered!
These 12 amusement parks in the areas where Howard Hanna lives and works were designed to satisfy the masses with wild rollercoaster rides, delightful carousels, haunted houses, live entertainment, historic landmarks, and relaxing waterparks. If you've been looking for a reason to move to Pennsylvania, Ohio, New York, Virginia, Michigan, West Virginia, North Carolina, or Maryland, here are 12 great reasons: amusement parks galore!
Pennsylvania Amusement Parks
Kennywood (Pittsburgh, PA)
Encompasses 80 acres and features 46 rides
Founded in 1898, Kennywood is among the oldest amusement parks in the United States and has even been designated a National Historic Landmark. Kennywood began as a trolley park attraction in its early years, but quickly expanded and morphed into a popular thrill ride destination. In 1902, Kennywood got its first rollercoaster: the Figure Eight Toboggan. Today, Kennywood offers 6 rollercoasters, the oldest being the Jack Rabbit (opened in 1920), which is also one of the oldest wooden rollercoasters still running in the world.
Kennywood features more than just rollercoasters, though: with a 14-ride Kiddieland, the Lost Kennywood section showcasing historic landmarks, a variety of dark rides, water rides, flat rides, carousels, and annual Phantom Fright Nights with haunted houses, there is plenty to see and do besides just rollercoasters.
Darkride And Funhouse Enthusiasts (DAFE) rated Kennywood the "Favorite Dark Attraction Park" in (years), and in Theme Park magazine's 2004 Reader's Choice Awards, Kennywood was ranked the #2 "Favorite Park," beating all but Cedar Point.
Dorney Park & Wildwater Kingdom (Allentown, PA)
Encompasses 200 acres and features 47 rides and a waterpark
Opened in 1884 by Solomon Dorney, this 200-acre amusement park has undergone a series of renovations and additions throughout the years. In the 1980s, a road that had divided Dorney Park, the amusement park, and Wildwater Kingdom, the water park, was officially closed to public use and converted into a local street. This enabled the two parks to be completely fenced in and a new, single-price admission ticketing system to be enacted, allowing people access to both parks. A single-day ticket for one person to both parks is as low as $39.
Dorney Park currently hosts 8 rollercoaster rides, 5 thrill rides, 3 water rides, and 17 family rides, including an antique carousel and the oldest ride at the park, the Whip (opened 1920). Among the rollercoasters is the Steel Force, listed as the 9th longest steel rollercoaster ride in the world at over a mile long and rated 5 for "aggressive intensity" (out of a scale of 1 to 5).
For water fanatics, Wildwater Kingdom (one of the biggest water parks found in an amusement park) offers 22 water slides, 3 aquatic playgrounds for children, 2 tubing rivers, 2 wave pools, a water funhouse, and more.
Ohio Amusement Parks
Cedar Point (Sandusky, OH)
Encompasses 364 acres and features 71 rides
Self-dubbed the "roller coaster capital of the world," Cedar Point offers a record-breaking 71 rides, 16 of which are rollercoasters (second only to Six Flags Magic Mountain, which offers 19 rollercoasters). That's not the only milestone Cedar Point has reached. Others include:
Only amusement park in the world with 5 rollercoasters over 200 feet in height
Only amusement park in the world with rollercoasters in all 4 height classifications
Honored with the Golden Ticket Award from Amusement Today for "Best Amusement Park in the World" for 16 consecutive years (1997 to 2013)
Most-visited "seasonal amusement park in the United States" with roughly 3.6 million visitors in 2016
Having one of the last three operating Daniel Muller Carousels in the world (built in 1912 and moved to Cedar Point in 1946; it is the oldest operating ride at the park)
In addition, several buildings and rides at Cedar Point are listed on the National Register of Historic Places. As the second-oldest operating amusement park in the country, Cedar Point has a lot to offer.
Kings Island (Mason, OH)
Encompasses 364 acres and features 48 rides
The largest amusement and water park in the Midwest, Kings Island has a little bit of something for everyone. Perhaps the most iconic part of Kings Island is its dramatic entrance, featuring a one-third scale replica of the Eiffel Tower that offers panoramic views of the entire park. In addition to the remarkable entrance, International Street is an astounding architectural feat designed by a former Walt Disney Imagineering layout design artist, Bruce Bushman. International Street features designs and themed areas representing Spain, Italy, Germany, and Switzerland.
The park also contains 15 rollercoasters, a 33-acre water park, the Royal Fountain, and shows. The Racer, a wooden rollercoaster opened in 1972, is frequently cited as having revived "worldwide interest in roller coasters during the 1970s."
New York Amusement Parks
Darien Lake Amusement Park (near Buffalo, NY)
Encompasses 1,200 acres and features 40-45 rides
The largest water and theme park in New York, Darien Lake offers rides, thrills, rollercoasters, a resort, campground, water park, and more. In the 1950s, Darien Lake was a popular local swimming destination and in 1964, Paul Snyder, an investor, opened a 23-site campground and picnic area next to the lake. He expanded the 164-acre parcel and added more features to the campground, including a small petting zoo. In the 1980s, he made a deal with HUSS Park Attractions to make Darien Lake Amusement Park a "North American showcase for the German manufacturer's new rides." Because of this deal, he was able to acquire a variety of rides for the park.
Today, the amusement park contains 7 rollercoasters, 3 water rides, 14 flat and vertical rides, 12 kiddie rides, and 4 upcharge attractions. The upcharge attractions include Midway Marina (the opportunity for guests to paddle across Fun Lake), Red Hawk (a sky coaster), Slingshot, and the go-kart track Grand Prix Speedway.
Playland (Rye, NY)
Encompasses 272 acres and features 5 rollercoasters
Playland, also known as both Rye Playland and Playland Amusement Park, was officially designated a National Historic Landmark in February of 1987. The amusement park hosts a free concert series every summer, along with entertainment performances ranging from dance shows to magic acts. Strolling entertainment occurs throughout the day in the park and includes costumed characters, kid's dancing and singing shows, and drum acts. On Friday nights, Playland even offers fireworks.
Virginia Amusement Parks
Kings Dominion (Doswell, VA)
Encompasses 395 acres and features 60 rides and a water park
The sister park to Kings Island, King's Dominion opened in 1975 with only 15 attractions, but today offers 60 different rides: 13 rollercoasters, 2 water rides, shows, and more. Included in the admission price is a pass to the 20-acre water park portion of the amusement park, called Soak City. Soak City contains 3 pools, a quarter-mile lazy river that winds through geysers and waterfalls, and a variety of water slides.
Like Kings Island, Kings Dominion houses International Street with a replica of the Eiffel Tower. Old Virginia is another themed area of the park with Colonial style props, music, and architecture, and even a replica of the Liberty Bell.
Kings Dominion hosts an annual Halloween Haunt that features 17 additional attractions (among which are 9 mazes and 6 scare zones). As a Kings Dominion tagline says, "It's like having two parks for the price of one!"
Busch Gardens Williamsburg (James City County, VA)
Encompasses 383 acres and features 8 rollercoasters and 3 water rides
Self-titled the "World's Most Beautiful Theme Park," and with good reason, Busch Gardens Williamsburg is a European-themed park developed by Anheuser-Busch, with different areas for the following countries: Britain (greeting park guests with a simulacrum Big Ben clock tower), Scotland, Ireland, France, Italy, Spain, Germany, and Canada (called New France), along with The Land of the Dragons and Sesame Street.
Because the park encompasses 383 acres, walking the entire area can be challenging. Fortunately, the park includes a train and a skyride, making navigating from the entrance to the far corners of the park much easier.
Aside from rollercoasters and virtual reality rides, Busch Gardens offers a wildlife reserve (features eagles, other birds, wolves) and a highland stables (with horses, sheep, border collies, and owls), both with the opportunity for animal encounters at an extra cost.
In 2012, Busch Gardens won #4 "Best Steel Coaster" from the Golden Ticket Awards. In 2015, Busch Gardens had an estimated 2.78 million visitors, making the amusement park the 20th most-visited park in the country.
Michigan Amusement Park
Michigan's Adventure (Muskegon County, MI)
Encompasses 247 acres and features 53 rides and a water park
The largest amusement and water park in Michigan, Michigan's Adventure offers 53 rides, more than any other park in the state. The outdoor water park at Michigan's Adventure, called WildWater Adventure, additionally houses 3 pools, 6 water slides, and a variety of other attractions.
When the park was founded in 1956, it included a petting zoo with monkeys, llamas, deer, chickens, and ducks. Since then, the park has been expanded to feature 7 rollercoasters, 4 thrill rides, 15 family rides, 6 children's rides, and 4 water rides. The park also offers Rocky Point Mini Golf as an upcharge attraction.
Some awards that Michigan's Adventure has received with include:
In 2017, the Tourist Attraction Of The Year Award for Michigan
Since its debut in the annual Golden Ticket Awards, Shivering Timbers (one of the rollercoasters) has been rated among the Top 10 Wooden Rollercoasters by Amusement Today
Both Shivering Timbers and Thunderhawk (another rollercoaster) have been listed among the Top 50 Rollercoasters in the World on Coasterforce
West Virginia Amusement Parks
Camden Park (Wayne County, WV)
Encompasses 26 acres and features 25 rides
Founded in 1902 as a picnic spot for drivers traveling between Huntington and nearby cities, Camden Park quickly acquired some roadside attractions, along with a carousel. Today, Camden Park is the only amusement park in West Virginia and offers over 25 rides, from vintage rides to a full-size traditional wooden rollercoaster (the Big Dipper) and more. The amusement park additionally hosts events throughout the year, including live musical performances, Halloween-themed events, and a children's festival.
In the past, Camden Park has offered a swimming pool, small zoo, and roller rink, among other features.
North Carolina Amusement Parks
Carowinds (Charlotte, NC)
Encompasses 398 acres and features 64 rides
Situated on the border between North and South Carolina, Carowinds was the result of businessman Earl Patterson Hall's four-year plan and dream to bring the two states closer together. The park cost $70 million to open in March 1973. Now owned and operated by Cedar Fair, the park includes 13 rollercoasters, a 20-acre water park called Carolina Harbor, and an annual Halloween event called SCarowinds. All rides at Carowinds are loosely based on the themed areas the park offers: Celebration Plaza, Crossroads, Carolina Boardwalk, Carolina Showplace, County Fair, Thrill Zone, and Planet Snoopy.
Carowinds also features Paladium, an outdoor amphitheater. Carolina Harbor additionally provides 6 pools, 31 slides, and 6 children's play areas.
Maryland Amusement Parks
Jolly Roger Amusement Park (Ocean City, MD)
Encompasses 284 acres and features 43 rides
The Jolly Roger Amusement Park combines all the thrills of an amusement park with all the fun of a carnival by featuring not just rides, games, and rollercoasters, but a Ferris wheel, go-karts, miniature golf, zip lines, and event water slides.
Jolly Roger Amusement Park has two locations in Ocean City: the pier and 30th Street. Both provide thrill rides, bumper cars, a Ferris wheel, carousel, kiddie rides, and more. The 30th Street location offers the additional delights of two 18-hole mini golf courses, a full-service water park (Splash Mountain), and a 10-track go-kart facility called SpeedWorld. SpeedWorld also has one of the park's newest features, a zip line and adventure course. For a little taste of almost every adventure available, the Jolly Roger 30th Street Amusement Park is the best place to go.
Best of all, Howard Hanna offers real estate services in Pennsylvania, Ohio, New York, Virginia, Michigan, West Virginia, North Carolina, and Maryland! With our one-stop shopping, we offer real estate services, mortgage services, title services, and insurance services, taking the worry out of moving by being able to walk you through your entire home buying or selling experience. For available homes in any of these states, check out the listings on our website at HowardHanna.com.