Best Fall Farms In Our Eight States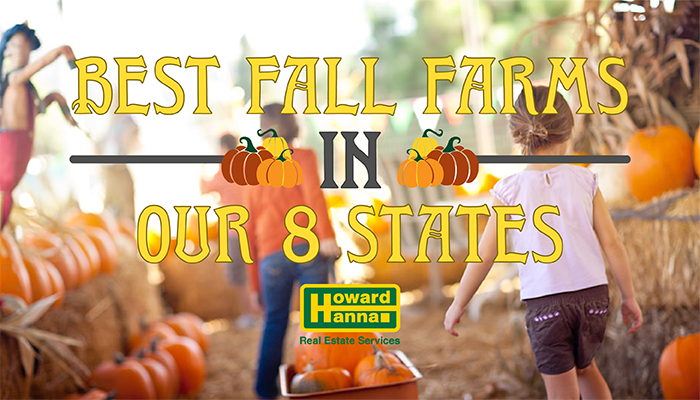 The weather is getting colder, the leaves are changing, and pumpkins are invading the porches of many homes. Fall is finally here! We've compiled a list of the best farms to visit in our eight states so you can start the season right.
Pennsylvania
Pittsburgh
Soergel Orchards
Soergel Orchards' yearly Fall Festival is a fantastic family tradition 40 years in the making. The festival is free to enter, but activities games have varying costs. Take a hayride to the pumpkin patch, roam the apple orchards and pick your favorites, taste test various ciders, or do one of the many other activities Soergel Orchards has to offer! The Fall Festival is 11am-5pm every weekend through the end of October.
Harrisburg
Barefoot Farm
Barefoot Farm is located 30 minutes south of Harrisburg and offers families the chance to pick their own pumpkins. Barefoot Farm provides visitors with clippers for the stalks and small wagons for pumpkins (or tired children). 50% of all profits from the pumpkin season will be donated to the St. Jude's Children's Hospital! Barefoot Farms is open Monday-Friday from 10am-dusk and Saturdays from 9am-5pm, and is closed on Sundays.
Ohio
Cleveland
Rockin'-R-Ranch
Rockin'-R-Ranch is hosting an "Old West Pumpkin Fest" throughout the month of October. Every weekend from 12pm-5pm, families can enjoy an array of activities. Jump on the wagon and take a hayride to the pumpkin patch, explore the Old West Town, paint a masterpiece on a pumpkin, and partake in the other activities that Rockin'-R-Ranch has to offer in their Old West Pumpkin Fest!
Columbus
Pigeon Roost Farm
Pigeon Roost Farm is a 30-minute drive east of Columbus and the perfect afternoon getaway. Their "PumpkinFest" is open Tuesday through Sunday, 10am-7pm, until the end of October. Pigeon Roost Farm has a Great Pumpkin Fun Center with slides, games, a corn maze, and more. The pumpkin patch holds a variety of squash, gourds, and pumpkins in many sizes, making it all the more fun to find the perfect one.
Toledo
Country Lane Tree Farm
The Farm Festival at Country Lane Tree Farm is home to the largest Toledo-area pumpkin patch! Pick your own pumpkin fresh from the vine or head over to the pre-picked pumpkin area with plenty of decorations like corn stalks, gourds, and straw bales. Games and activities like a petting zoo and an animal feeding station will provide hours of entertainment! The Fall Festival at Country Lane Tree Farm is open every Saturday and Sunday in October from 11am-4pm.
New York
Buffalo
Becker Farms and Vizcarra Vineyards
Becker Farms' "Pumpkin Fiesta" is one of Buffalo's most popular fall attractions. Families can tackle the Corn Maze or the Grape Maze, take on the Obstacle Course Bounce House, enjoy a hayride through the forest, play in the playground, and pick apples and pumpkins. The "Pumpkin Fiesta" is every weekend through October from 12pm-5pm.
Rochester
Wickham Farms
Less than 20 minutes outside of Rochester lies Wickham Farms. Their Fall Festival has over 20 attractions for families to partake in. An apple orchard and a pumpkin patch plus hayrides and farm animals make for an all-around great time. Wickham Farms is open Monday-Thursday from 10am to 7pm and Friday-Sunday from 10am to 8pm.
Syracuse
Tim's Pumpkin Patch
Tim's Pumpkin Patch began in 1986 when Tim Leubner decided to grow about 200 pumpkin seeds on his parents' farm. The patch has now expanded to include a corn maze, an animal barn, tractor rides, a hay fort, and much more. Tim's Pumpkin Patch also grows specialty pumpkins in varying sizes! Tim's Pumpkin Patch is open every day of the week from 9am-6pm.
Albany
Engelke Farm
Ever wanted to ride a zip line to a pumpkin patch? At Engelke Farm you can! Enjoy the trip of over 2000 feet to the pumpkin patch or take a simple hayride and find your pumpkin. Get lost in the corn maze or stop by the greenhouse to browse the mums and grab a cider donut! Engelke Farm is open daily from 10am-6pm.
Virginia
Virginia Beach
Hunt Club Farm
Open every day from 10am-6pm through October 31st, the Hunt Club Farm Fall Harvest Fair is one of Virginia Beach's biggest and best fall fairs. Take a tour of the farm on a hayride, pet farm animals, find the perfect pumpkin in the patch, and more during the weekday. Weekend events also include carnival rides, vendors, inflatables, and a DJ.
Michigan
Ann Arbor
Plymouth Orchards and Cider Mill
Only a 20-minute drive northeast of Ann Arbor, Plymouth Orchards and Cider Mill is the perfect place to visit this fall. Watch apple cider being made, take a tractor ride and stop at the pumpkin patch, or grab some fresh-made donuts. Plymouth Orchards is open through November 5th and charges no admission or parking fee.
West Virginia
Morgantown
Weaver's Orchard
Weaver's Orchard offers apples, berries, and pumpkins for picking all season long! Head out into the orchards and fields and pick your own. Certain apples are available at certain times during the season, so be sure to check and see what's available. Weaver's Orchard is open Monday-Friday from 8am-6pm and Saturday from 7am-5pm.
North Carolina
Currituck
Grandy Greenhouse and Farm Market
One of the last few farms to offer a fun fall activity in northeastern North Carolina, Grandy Greenhouse and Farm Market is located 17 minutes away from Currituck. Take a relaxing hayride through Grandy's grounds and pick pumpkins for carving or even pumpkins perfect for pie-making! The Pumpkin Maze shows off all kinds of pumpkins available for picking surrounded by haystacks and fun Halloween decorations. Grandy Greenhouse and Farm Market is open weekdays from 8am to 6pm and weekends from 7am to 7pm.
Maryland
Manchester
Showvaker's Quality Evergreens
Showvaker's Cornfusion, a hybrid between a scavenger hunt and corn maze, is the main attraction, with the chance to win a free Christmas Tree upon completion. A pumpkin patch, apple cannons, games, play areas, and other fun activities make Showvaker's a must-see for all Marylanders. Cornfusion is open every weekend thru November 5th from 10am to 6pm.