Creating a Five-Star Guest Room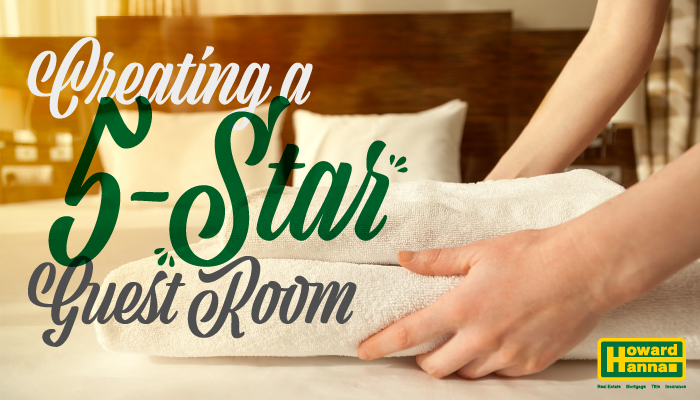 The best guest is a comfortable one! Here are some ways to turn your guest room into a cozy oasis for any visitor.
A relaxing bed is the most important piece of the guest room. If you wouldn't want to sleep on the guest room bed, why would your guests want to? Invest in a high-quality, king- or queen-sized mattress. Single guests will love the ability to spread out, while couples can still enjoy having ample room. Crisp, clean sheets should always be placed on the bed before guests arrive and plenty of blankets and extra sheets made readily available.
It's okay to use your guest room as additional storage for yourself, but make sure your guests have space as well! De-clutter the area, especially the closet and tabletop spaces. Add at the foot of the bed for guests to keep suitcases and bags within reach without having them in the way. Provide hangers and shelving for guests who have items that need to be hung up or put away.
A guest might be a night owl or an early riser. Add a bedside lamp for those who like to read or write before bed. For those who want to sleep in, make sure windows are covered with drapes or blinds that can block out the light. Early risers might enjoy an alarm clock to help them wake up on time if they are on a schedule. If an early riser is up before dawn, make sure the room has ample lighting so they don't need to stumble around in the dark.
Sometimes guests forget things at home or leave them behind without realizing they'll need them. Welcome your visitors with some mini-essentials! You can leave an extra toothbrush in the bathroom and a clean robe. Travel-sized soaps, deodorants, sprays, and other things are easy to keep on hand, and any guest will appreciate having them! Leave snacks and beverages in the room in case guests get peckish or thirsty before bed. If you have an extra phone charger, consider keeping it in the guest room in case they forget theirs.
Simple fixes or updates to your guest room can make a world of difference, especially to your guests. By having a comfortable guest room, you'll make their stay a wonderful experience!