Decorating For The 4th of July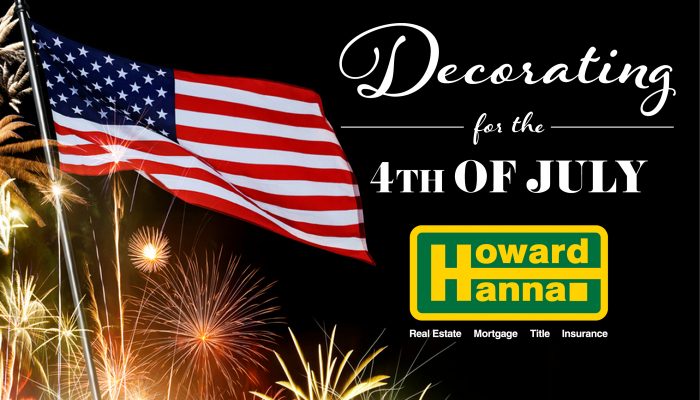 It's time to say "Happy Birthday America!" by decking your home in red, white and blue. Make your 4th of July celebration fun and festive with these simple décor suggestions from Howard Hanna.
Outside the Home
If you're celebrating old glory outdoors, there are plenty of ways to make your porch patriotic, your deck dynamite and your yard worthy of the holiday. Now is the time to get creative! Use bold, assorted graphic patterns with a punch in 4th of July colors. Place flags in potted plants, purchase or make a themed tablecloth or table runner, create a festive garland or wreath, hang red white and blue lights, and make your own fun pinwheels or painted rocks. With the addition of decorations like these, your backyard barbeque will be the envy of all your neighbors!
Themed Food
Food and drink is also an excellent opportunity to deliciously decorate! Ice-filled tubes with red berry-flavored drinks can help keep your guests cool. It will also give you the chance to sneak in some extra red, white and blue accents! You can serve beverages in themed glassware or even have colored ice cubes. Think outside the box with themed refreshments: strawberry popsicles, Jell-O, patriotic candy, star-shaped fruit, flag cupcakes and even pies. Remember, the sky's the limit!
Inside the Home
Create your own spin on traditional Americana when you decorate your home's interior. Liven up your living areas and get your guests in the mood by spreading patriotic pride! Dress up your home with fun pillows, bold blankets, door hangers, red-white-and-blue floral arrangements, and festive coasters, hang up an American flag or give your imagination a workout by creating your own decorative mason jars or candles.
There are plenty of ways to let freedom ring this 4th of July, and don't forget that one of the best decorations for any holiday is a Howard Hanna "For Sale" sign!