Dos and Don'ts for Staging Your Home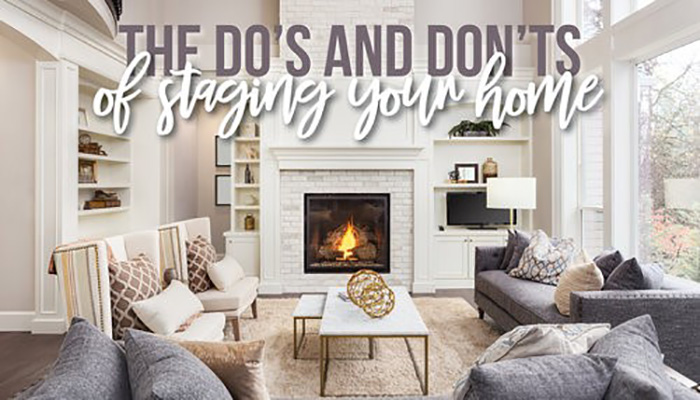 When it comes to selling your home, one trend that's increasingly becoming a must-do is staging! Staging a home for sale doesn't have to be complex or cost a lot of money. In fact, when it comes to staging, it's all about creating a big impact with little changes! By making free or low-cost changes to your home, you can help it sell faster and for more money. Here's how:
DON'T do any major renovations.
Major renovations right before selling a home won't give you a return on your investment, more often than not. That's because expensive changes to your home may not be to the new owner's taste, and so you are unlikely to recoup the costs of a renovation.
Instead, spend your time (and money!) on updating what's already there and making small tweaks. Here are a few things to consider:
Remove wallpaper
Touch up old paint
Get rid of old or dated carpets
Swap out dim lightbulbs for brighter ones
If you opt to go for a larger project, we recommend changes like replacing countertops or painting in neutral colors over renovating a kitchen or bathroom. Instead, save your pennies to spend on renovations in your new home!
Our rule of thumb is, if it costs more than $100, ask you real estate agent if it's worth the expense! They will be able to guide you toward cost-effective updates that will help your home sell.
DON'T purchase all new furniture.
Now isn't the time to spring for new couches or chairs! In fact, whether or not your home sells usually has very little to do with the actual furniture. Think about doing things like removing cluttered pieces, cleaning existing upholstery, or polishing/reupholstering pieces to make it more appealing to potential homebuyers. Even smaller changes like a new comforter, fresh bathroom towels, or crisp linens can help.
DON'T take it personally!
When the time comes to transition from "homeowner" to "homeseller," you may have to make a mental shift in order to make the most of the selling process. Rather than thinking of your home as the place you raised your kids or where you lived when you got married, think of your home as a product. Criticisms of your house can be seen as "free advice" that will help you make your product (your house) sell for as much money as possible.
When you hear critiques from your agent or a potential buyer's agent, remember that it isn't personal. They just want to help you make your home as appealing as possible.
DO spruce up your curb appeal.
Curb appeal is your best chance to make a first impression. Oftentimes, a lovely lawn or gorgeous garden will help sell a home as much as a brightly-lit living room or swanky master bath will. Make sure your curb appeal is on point to appeal to potential buyers. They'll feel that your home is welcoming and gracious from the moment they drive up. Consider making small landscaping tweaks such as:
Planting flowers
Mowing the lawn
Putting out a welcome mat
Trimming bushes
Pulling weeds
Sweeping walkways
If you're selling your home in the winter, remember that just because it's snowy out doesn't mean you can't create curb appeal! Here are our top tips for creating curb appeal in the winter.
DO make it sparkle.
Now's the time to clean, clean, clean! Whether you're a neat freak or you prefer to keep things feeling a bit more lived in, it's critical that you restore your home to its cleanest possible state when it's on the market. You'll want to do all the chores you put off…and possibly even some extra ones! Hire help if you can, or enlist the whole family. You'll want to dust, vacuum, mop, clean the windows inside and out, mop the floors, etc. Consider areas that collect grime, such as light switch covers, outlet plates, and doorknobs.
If you have to live in your home while it's for sale, try to stay on top of daily cleaning. Make it easy to keep clean by taking small shortcuts, such as having kids sleep in sleeping bags on top of nicely-made beds, or storing toiletries in plastic bins, ready to be swept away just before your home is being shown.
DO declutter.
There's no better time to declutter than when you're selling your home. Since you have to pack your things away to move, you might as well use this time to remove superfluous items from your life. When staging a home, "less is more" – removing extra items and family photos may seem like a hardship, but it will help you sell your home and make moving easier. Remember: Buyers want to imagine how they would live in your home. They're not there to see your beautiful collectables or family photos!
DO have a game plan.
You may not always have a ton of time to stage your home before a showing. Make sure you're ready at any time, because you never know when a potential buyer will want to see your house. Be ready with plastic bins and suitcases to throw any clutter or mess into. Simply toss it all in the back of your car, to be dealt with later. Here's our best advice for staging your home quickly, whether you have 2 hours or 20 minutes.
DO make the most of each room.
When staging your home yourself, you need to ask yourself what the best points of each room in your house are. Then, figure out a strategy to highlight each room's selling points. Large rooms can look extra-spacious with great furniture arrangements, and smaller rooms can be made to look bright and airy with mirrors and other staging tricks. When in doubt, enlist your real estate agent to help you make each room in your home look special.
DO ask for help!
If you're stuck when it comes to staging, don't be afraid to call in reinforcements! Howard Hanna real estate agents are well-connected and can help you find a great professional stager if needed. Get in touch with your agent today to see how they can help you sell your home.