Everything You Need to Know About HannaCon 2019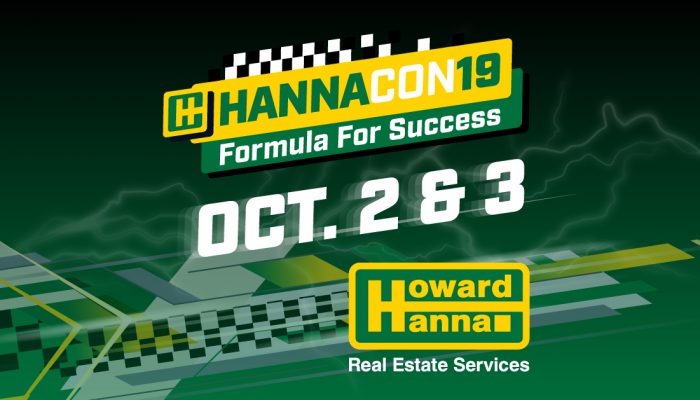 Every two years, thousands of Howard Hanna agents, cutting-edge real estate technology vendors, and dozens of inspirational and educational speakers gather together for two amazing days. This year, we're giving our agents the "Formula for Success" at HannaCon 2019 in Pittsburgh, PA. This racing-inspired event will have agents starting their engines and ending up in the winner's circle!
Before the big event this October 2-3, we wanted to give you a guide to real estate's biggest event! 
The Best Speakers in Real Estate
We're pleased to present more than a dozen of the top inspirational and educational speakers in the country. This year, our keynote speaker is the magnificent Debra Searle. In addition to spending 3½  months rowing solo across the Atlantic Ocean, she won Gold World Championship medals for Great Britain, presented more than 40 programs for the BBC, had two books published, launched four companies, and more. She has spoken at over 1000 events worldwide, and we're thrilled to have her with us for HannaCon19!
Our other speakers run the gamut from experts in online communication and negotiation to strategic marketing for luxury properties. You're sure to come away inspired and ready to tackle your real estate career with new gusto!
Learn more about the speakers at HannaCon 19 here.
Panels, Breakout Sessions, and More
At every HannaCon, we invite our top managers, real estate agents, and more to participate in panels and breakout sessions designed to help you learn from the very best! Whether you want to learn more about building a real estate team or get top tips for marketing your listings, we've got a session for that!
Vendor Village
We bring in dozens of real estate vendors, ranging from cutting-edge real estate technology companies to top headshot photographers and more! Our Vendor Village features curated partners and vendors that we know you'll love. This year, we're also bringing in our Agent Media Marketplace vendors to exhibit so you can explore their offerings firsthand! 
Vendor Village is also home to the HannaFinancial area, where you can play fun carnival-style games and speak with representatives from each HannaFinancial company. Be sure to stop by – we're featuring the infamous money machine yet again, and giving away thousands of dollars! 
Plus, we're bringing back the Greenius Bar! We'll be running mini educational sessions throughout the day on Howard Hanna's marketing differentiators, digital marketing strategies, and social media promotional tactics. If you have questions about technology or marketing tools, this is the place to be! 
Bop Shop
One special place in Vendor Village deserves special recognition: The Bop Shop! Your favorite venue for Howard Hanna-branded gear to promote yourself and your business is back again! Be sure you stop by to check out the latest in gear and garments to show your Hanna pride. We'll also be featuring new merchandise specifically designed for the Convention! 
Celebrations, Parties, and Giveaways
We throw the biggest Hanna party of the year at HannaCon! This year's cocktail party is sure to surprise and delight you – it's the culmination and celebration of a great year for our agents! We want to celebrate YOU and your hard work. This year's cocktail party features No Bad Juju, a dynamic 8-piece ensemble that combines a diverse blend of classic R&B, soul, rock, pop, and top 40 music in a signature style that's all their own.
There are also plenty of giveaways throughout the weekend! From the money machine in the HannaFinancial area in Vendor Village to a Hannamobile giveaway, we give away thousands of dollars in cash and prizes during the entire event. You have to be present to win, so don't miss out! 
Networking
Of course, it's not just about the events at HannaCon – it's also about the chance to meet and network with thousands of fellow Howard Hanna agents! From sharing best practices to learning more about other regions' marketing efforts, meeting other agents is a great way to pick up new tips and ideas for your own real estate career.
HannaCon19 is happening in Pittsburgh, PA on October 2-3. If you're a Howard Hanna real estate agent, the convention is FREE for you to attend! Learn more about HannaCon here, or register today!