Four Easy Kitchen Updates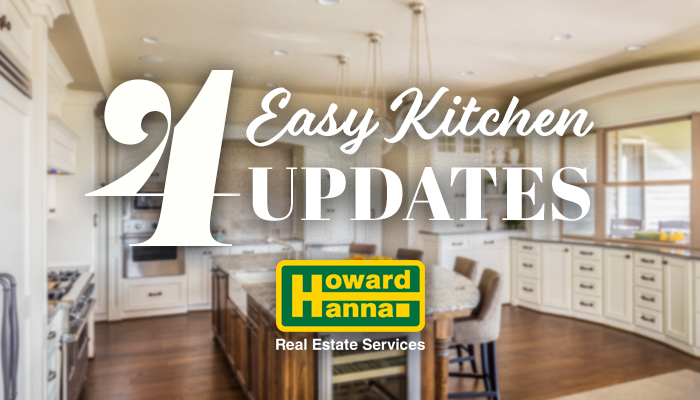 The kitchen is the heart of the home: It gives friends and family a special place to gather and converse while delicious food is cooking. It's also a cozy place to enjoy a morning cup of coffee, or chamomile tea at bedtime. It's even a place for celebrations such as birthdays or holidays!
But, after five or ten years, your style may have gone stale. Have no fear! Giving your favorite space a facelift is easier than you think. We've gathered a short list of four simple ways you can boost your style and change things up.
Go for a new shade of paint. Repainting the kitchen is one of the most cost-effective ways of taking your space from drab to dreamy. There are so many different options, and each is as unique as you are. Use chalkboard paint, bold contrasting colors, or add drama with black and white. While you're at it, you may even want to paint your cabinets!
Update your lighting. If you're sick of looking at that old chandelier from a bygone era, we have a solution for you: Change it out! It's easy to spruce up your kitchen with new, modern, elegant lighting. Or, if you still like your lighting but want to modernize that brass, get creative with a can of spray paint. You can remove the old fixture and paint it with a fun and funky color!
Show the floor some love. It's easy to give your boring floor some personality with either a rug or some paint. A colorful patterned rug can create a warm, welcoming, inviting feeling in your kitchen. If you're more adventurous, you may want to paint the floor! Just remember, you'll need to choose a durable paint that is created specifically to endure years of foot traffic.
Spruce up the walls. Just one splashy artwork adds instant character to the kitchen. Framed and lighted, any piece of art can bring a chic feeling to your space. You may even be able to use that painting, collage or print from your grandmother that's stashed away in a closet and just gathering dust: Let it shine! Or, you can create a fun family feel with a gallery wall filled with framed memories and mementos.
You don't have to do a complete remodel to have a new kitchen in just a weekend. Pick one of the above or tackle them all!