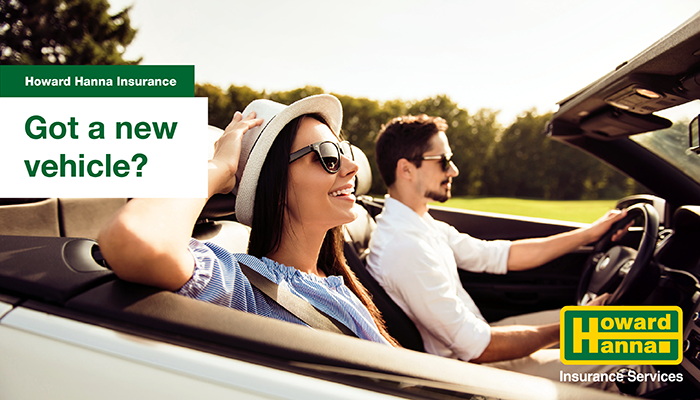 As we welcome a new year, we want to take this opportunity to thank you for your continued relationship with Howard Hanna Insurance Services. We also want to remind you that now is a good time to review your insurance needs. Consider any changes that have occurred in the past year or over the past several years, and make sure your auto insurance policy is still providing the proper protection.
Here's a checklist to consider:
Did your teenager get a driver's license? Once a teen moves from a permit to a license, they need to be listed on your auto policy. Discounts are available for those inexperienced drivers. Also, now would be a good time to discuss additional liability coverage with our Account Management team, such as an umbrella policy, to protect your assets. Having an inexperienced driver operating your vehicle(s) does increase your exposure to possible accidents and lawsuits.
Have you acquired any recreational vehicles? We can provide coverage for boats, RVs, motorcycles, and ATVs.
Have you looked at your medical coverage under your auto policy? Review your health coverage versus your medical coverage limit on your auto policy. Medical coverage under the auto policy pays out medical expenses regardless of fault in an automobile accident. Medical coverage also carries no deductible.
Have you changed bank accounts or credit cards? If you're set up on automatic payments, don't forget to let us know so we can update your billing information.
Have you retired? If you're no longer driving back and forth to work, we can update the usage on your auto policy.
Have you had a baby? It may be a good idea to look at life insurance as an investment in the future. Or, you may decide your current auto coverage protection needs to be re-evaluated now that you are looking to protect that precious cargo.
We are committed to offering our clients outstanding service and comprehensive insurance coverage. We look forward to helping you review all of your coverage needs and providing you with coverage options that are new to the market, deductible options to help manage premium, and coverage that is there when you need it most.