Greens for the Winter Blues: Part Two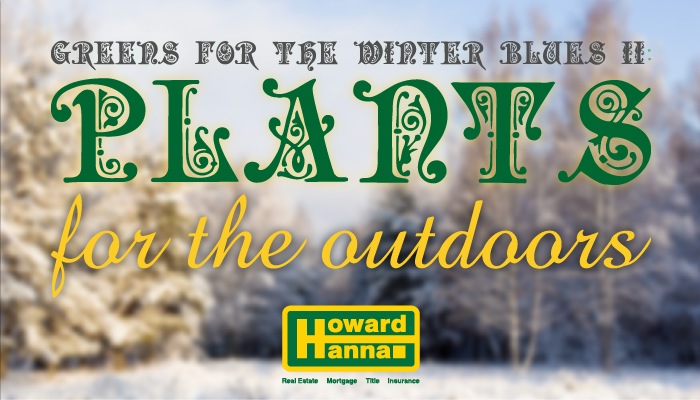 In our previous blog, Greens for the Winter Blues, we suggested some great plants to add to your indoor décor and help combat the winter blues! However, greenery doesn't have to be limited to the inside of your home. In our Part Two blog about winter plants, we decided to take the fun outdoors! Here are some awesome outdoor plants that are perfect for winter weather!
Cabbages and Kales
Ornamental cabbage and kale plants are a popular choice for winter annual plants, as they can survive cold winters once hardened by cooler night temperatures. The chunky leaves come in many shades ranging from pink, purple and green to white.
Camellias
Camellias flower in both the fall and winter and come in shades of red, pink, coral, white, and bicolor. They prefer highly organic soil that is acidic and moist. The flowers are surrounded by waxy leaves and the colors linger for a long time. Once the plant is established, camellias are tolerant of droughts. The plant is evergreen and can form into shrubs or small trees.
Cotoneaster
This fast-growing plant is packed with powerful colors. Cotoneaster has leaves in bold greens and a bright red winter berry favored by birds. In the summer, this plant also blooms with delicate, white flowers. Cotoneaster is a perfect plant for groundcover but needs upkeep so it does not become unmanageable.
Hellebore
Hellebore, or also known as the Christmas rose, is a popular winter flower due to its ability to bloom even in the darkest of months. The rose-like flowers bloom in shades of pink, red, maroon, chartreuse, and white. Look for these plants in early winter for warmer climates and late winter for colder climates.
Holly Bush
When you think of winter, you think of holly. The signature plant is easily spotted with dark green, pointed leaves and clusters of bright red berries. Holly bushes take well to pruning, so feel free to clip off some to spread around the house! The berries can be toxic to both humans and certain animals, so keep them away from children and pets.
Sweet Alyssum
This dainty flowering plant is perfect for winter in temperate climates. Sweet alyssum can take a light frost and will bloom year-round. The rounded petals of the flower bloom in colors of white, pink, rose-red, violet, and lilac. The more darkly colored the flower is, the better it does in cooler temperatures! Sweet alyssum grows close to the ground.
Winter Jasmine
Native to China, winter jasmine flowers from November to March in the Northern Hemisphere. The flower has six petals that are either white or bright yellow in color. Winter jasmine is great for ground cover and will also grow on walls.
Witch Hazel
While the name reminds you of fall and Halloween, witch hazel is a winter plant! The bright, spidery flower blooms in shades of yellow or orange, offering a bright contrast to the bleak winter weather. The plant is hardy and emits a sweet fragrance reminiscent of spring.
Colorful outdoor greenery during winter sounds like a far-fetched dream, but with planning and care, you, too, can have a bright winter wonderland!