Halloween Home Safety Tips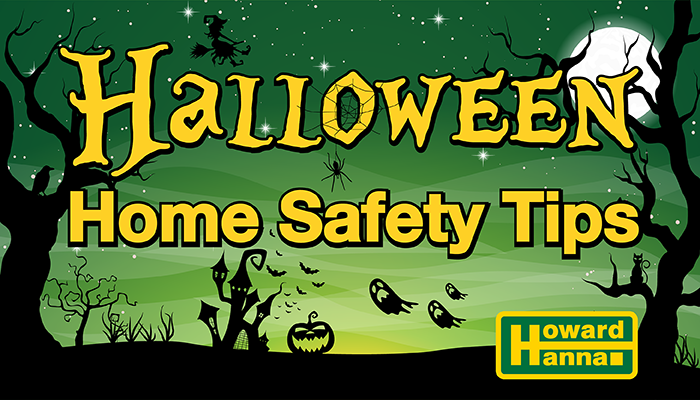 Happy Halloween from Howard Hanna Real Estate Services!
Although a naturally frightful holiday full of tricks and treats, Halloween shouldn't be a nightmare waiting to happen for homeowners. To help give you some peace of mind during the coming spooky holiday, we've prepared the following Halloween home safety tips. Whether you're out trick-or-treating, hosting a haunted house, handing out candy, or enjoying some downtime, it is essential to consider and prepare for any potential risks in order to minimize the possibility of unwanted damage to your home and possessions, as well as injury to yourself or others.
1. Protect Your Car
Halloween may be a festive holiday filled with candy and enjoyed by many, but it is also a holiday that criminals take advantage of.
Keep your car from being stolen or vandalized by parking it in the garage.
If you don't have a garage, make sure to remove all important and valuable belongings, and lock your car.
Keep your car keys close by and your phone fully charged in case of an emergency.
2. Turn Your Inside & Outside Lights On
If you're passing out candy or hosting a haunted house, be sure to turn on your outside lights, such as porch lights and flood lights, so that people know you're participating in Halloween. Flood lights, which are usually motion-activated, are especially helpful for you and your neighbors: for you, the suddenly bright yard indicates a new trick-or-treater before they've rung the doorbell or knocked on your front door – it also warns you if any suspicious characters have entered your yard; for neighbors and trick-or-treaters, the additional light helps them see and find the sidewalk or other clear paths to your front door.
If you're out trick-or-treating with your children, turn on your inside lights to deter potential burglars and maintain the impression that you are still home. As during vacation season, burglars will look for a completely dark house, which indicates no one is home, for an easy Halloween break-in. If your home is located in the middle of the street, as opposed to on a corner, it is especially susceptible to break-ins as burglars don't have to worry as much about people driving by, witnessing a break-in, and reporting it to the police.
3. Clear Debris From Your Sidewalk & Front Yard
Children, in their excited haste and quest for candy, are known to dart haphazardly across lawns, picking the most direct, if not entirely practical, route to your front door. With this in mind, it's best to clear away debris, such as wet and fallen leaves, toys, and other hazards, from your sidewalks and front yard.
Go over your yard during daylight to spot all potential trip-hazards .
Clear away wet and fallen leaves from sidewalks and as much of your front yard as possible.

If making a leaf pile, do so in a level, grassy spot and prevent rocks from accumulating in the pile. Children may try to jump into the leaves; if they do, these steps will help minimize potential harm. (Alternatively: consider putting up a "DO NOT JUMP IN THIS LEAF PILE" sign.)

Clear away twigs and fallen branches from your yard and sidewalks.
Put away all toys, bikes, rakes, and other lawn-care and gardening equipment.
Ensure Halloween decorations are clearly visible (at night!) and do not obscure traffic flow to your front door.
4. Decorate Your Yard Wisely
In the same vein as above, decorate your yard with small children and various trick-or-treaters in mind.
Arrange decorations around the direct and indirect routes to your front door: keep these routes clear and free of trip-hazards.
Ensure decorations cannot tip over, blow away, or start a small fire.
Avoid flammable decorations such as dried leaves or flowers, crêpe paper, cornstalks, and keep flammable decorations away from sources of heat such as lightbulbs.
Keep escape routes and exits clear of decorations in the event of a fire or other hazardous situation.
5. Avoid Open Flames & Fire Hazards
According to the 2009-2013 NFPA study, 38% of home fires were caused by candles. Instead of using real candles inside of pumpkins, torches, or any other kind of open flame, consider the following:
Use LED lighting, orange Christmas lights, string lights, and other safe, electrical lighting.
Put battery-operated candles inside of pumpkins.
Paint pumpkins with glow paint.
Always check the voltage and wiring of your lighting, keep flammable fabrics away from lights (they can overheat and start a fire!), and avoid overloading a single outlet with too many electrical gadgets.
6. Keep Your Pets Inside
To prevent cats and dogs from darting off into the night or being frightened by children and biting them, keep your beloved animals inside the house. If your pets are master escape artists, consider keeping them in their favorite room whenever you answer the front door. Remember your pets when decorating, and ensure cords are well out of chewing range. Our blog on how to make your home pet-friendly covers other helpful tips on what to factor into when furnishing your home with your pet in mind.
7. Lock Your Windows (& Door!)
According to SafeWise, 34% of burglars gained access to the home through an unlocked front door or window, and the average property dollar loss per burglary is an estimated $2,251. That's over two-thousand-dollars-worth of priceless possessions that could be protected by locking your doors and windows.
Lock all doors and windows to prevent burglars from breaking in.
Lock your door when not in use and when answering trick-or-treaters, always check first to see who is at the door before unlocking it.
8. Double-check Your Security System & Fire Alarms
Before Halloween night, be sure to check your home security system, fire alarms, carbon monoxide detectors, and any other security or health systems to see if they work and if their batteries need to be replaced. If you have a home security system that automatically calls your security provider or the police, check that the call function works, as well.
9. Ensure Your Home Is Properly Covered
For extra peace of mind, talk to your insurance agent (or if you're with Howard Hanna, call Howard Hanna Insurance Services) to see if your home is properly covered. If you want extra coverage, ask about an umbrella policy, as it provides additional liability protection and helps you to protect your assets. If you're with Howard Hanna Insurance Services, we cover more than just real estate – we even offer auto, business, and life insurance! For additional information on homeowner's insurance, our helpful Q&A blog First Time Homebuyer Tips: Navigating the World of Homeowner's Insurance goes over what homeowner's insurance typically covers and what factors could affect your premium.
Most of all, have a Happy Halloween!