Hanna Cares: Cleaning Up Lake Erie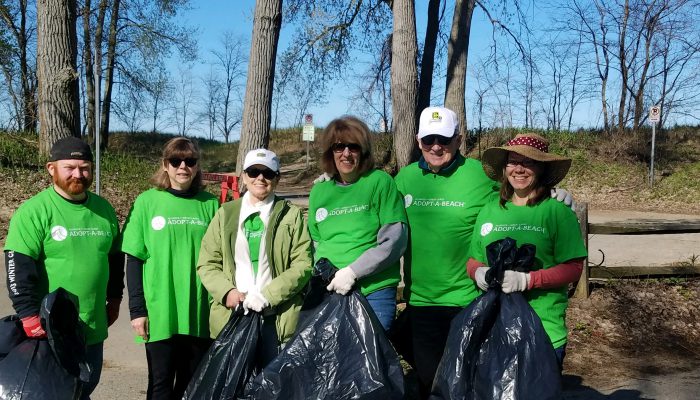 Most people love hitting the beach in the summer, but our real estate agents at the Howard Hanna Erie, PA Airport office have a special relationship with the beach at Presque Isle. Every spring and summer, they visit the Unguarded Beach to clean up litter and collect data. The team of real estate agents has been volunteering for the last 8 years!
Patty George, managing broker at the Erie Airport office, explains how they got involved: "My father was a high school science teacher, organic gardener, and ecologist. We recycled when I was growing up, when you had to drive it to recycling centers for drop off! So I grew up with a strong duty to preserve nature where I could."
Patty's background specializing in lakefront properties as an agent gave her a special connection to Lake Erie's waterfront as well. She explains, "I loved the science involved in selling on the lake!  So when I heard about an informational meeting for the formation of an Adopt-a-Beach Group at Presque Isle State Park in Erie, I had to attend. I signed Howard Hanna up for the "Unguarded Beach" and we've never looked back!"
Ever since that fateful meeting, a group of Howard Hanna agents has gotten together once a month on Saturdays from May through October. The group picks up litter, sorts it, weighs it, and reports on what they've picked up. Data that the Adopt-a-Beach volunteers provide helps scientists understand the most common and problematic types of litter. In 2018, 87% of the litter that groups collected was plastic, which can harm the lakes and animals that live in them. Plastic breaks down over time and is accidentally eaten by birds, fish, and other wildlife. Tiny plastic pieces called "microplastics" have been found in bottled water, beer, and even tap water in the region. 
Over 10,000 pounds of trash were picked up from beaches on the Great Lakes by volunteers last year. As Patty explains, "Hopefully we are helping to raise awareness of the problem of plastics. We feel it's our duty to be good caretakers of our gorgeous beaches here in Erie."
Thank you to Patty George and the team at Howard Hanna Erie Airport office for your dedication and hard work!