HannaFinancial Series: Trending Real-Time Rates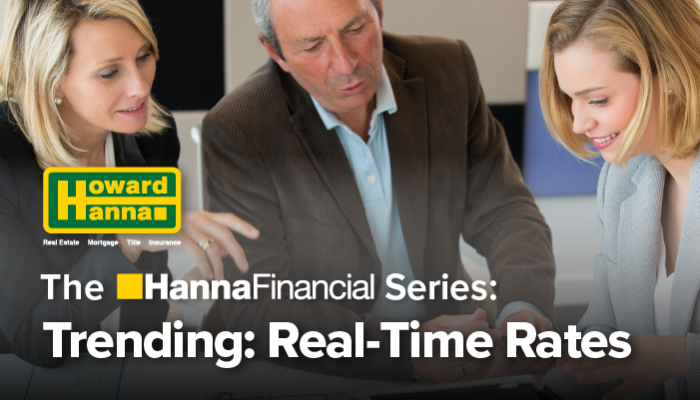 Up-to-Date Mortgage Rates at Your Fingertips
Unlike many other mortgage lenders, Howard Hanna Mortgage is not afraid to post our mortgage rates on our website, on a daily basis. We feel it is of the utmost importance to be forthright with our borrowers. In contrast to a great number of our competitors, we are not trying to capture your email address, name, or phone number so we can contact you. We believe that our rates speak for themselves. We spell out our rates on our website because we believe we have nothing to hide. We believe we put our best foot forward every day. The posting of mortgage rates is a difficult matter because each individual loan has its own characteristics. Credit history, down payment, the size of your loan and other factors ultimately influence the rate quote we can furnish to you. However, our website offers you an idea of what your starting point will be. You are encouraged to contact one of our loan originators to obtain full pricing details. Each day, our rates are updated here. There are a great number of factors that affect rates and the pricing of your loan. As a result, rates fluctuate daily. In more volatile markets, rates can even change throughout the day. Economic factors such as unemployment, Federal rate policy and the stock market are among the many components that cause rates to rise or decrease.
Setting us apart from many of our competitors, Howard Hanna Mortgage is approved by both the Federal National Mortgage Association (Fannie Mae) and the Federal Home Loan Mortgage Corporation (Freddie Mac) who are the Agencies who set national standards for mortgage loans. We use those Fannie Mae or Freddie Mac standards to approve our loans. As a result, our loans are broadly accepted and we can sell our loans to a large selection of investors. Our investors compete for our loans; attracting top dollar from our investors allows us to pass the savings on to our borrowers.
Howard Hanna Mortgage offers a wide variety of programs. Borrowers can obtain 100% financing if they qualify for a loan through the Veteran's Administration*. Our FHA program offers borrowers financing opportunities with low down payment options. In 2016, Howard Hanna Mortgage closed the greatest number of loans through the Pennsylvania Housing Finance Agency (PHFA), helping many first-time homebuyers achieve their goal of owning a home. Additionally, we have conventional loan programs and 'jumbo' loan programs (loans higher than $424,100) with a variety of down payment options.
Based upon statements made by the Federal Reserve Bank rates are expected to increase this year. As a result, borrowers who are considering a new home are encouraged to act sooner rather than later. With mortgage rates hovering in the four to four and one-half percent range, rates are still very historically attractive.
The goal of Howard Hanna Mortgage is to make your home buying or refinancing transaction a positive and pleasurable experience – an experience that you will feel comfortable repeating or recommending to others. Whether you are a first-time home buyer or you have experienced the process a number of times, we make every effort to provide the level of service you deserve. If you are buying or building your dream home or perhaps using the equity accumulated in an existing home, Howard Hanna Mortgage representatives will provide extraordinary service at a competitive price. Over the internet, by phone or in person, we are here to serve you.
Any questions?  Please feel free to reach out to one of our mortgage loan originators, for whom you can search here.
*Restrictions apply. Contact Howard Hanna Mortgage Services for mortgage products & eligibility. Terms and conditions apply. Offer of credit is subject to credit approval. Howard Hanna Mortgage Services is licensed by: The Pennsylvania Department of Banking and Securities. The Ohio Department of Commerce – Division of Financial Institutions. The Michigan Department of Licensing and Regulatory Affairs, Office of Financial and Insurance Regulation. Contact a Howard Hanna Mortgage Loan Originator for full details.  PA (800) 474-4437, 1000 Gamma Drive – Pittsburgh, PA 15238. OH and MI – (800) 589-1118, 6000 Parkland Blvd. – Mayfield Hts, OH 44124. mortgage@howardhanna.com.