HannaFinancial: What Can I Expect to Pay in Closing Costs When Selling My Home?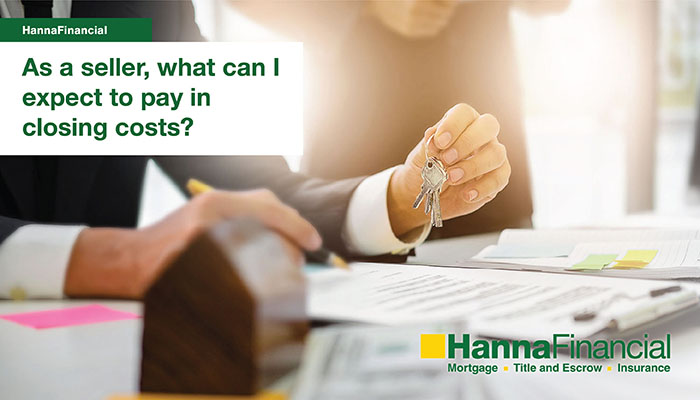 Closing costs have a bad reputation of being "hidden costs" in a real estate transaction. However, with a little knowledge (and the help of an expert mortgage lender), you can develop a better understanding of what costs you might expect to pay during your closing.
In general, closing costs can range from 1% to 10% of the total sale price. That doesn't necessarily mean you'll have to open up your wallet and fork over your credit card during the closing.
Common closing costs when selling your house include:
Your real estate agent's commission or fee
Transfer taxes
Title insurance
Loan payoff interest & fees
Buyer credit or seller assist

Escrow fees

Homeowners' Association (HOA) fees

Attorney fees

Other taxes and fees based on your municipality
Oftentimes, a home seller's costs when selling a home will come out of their profit on the home. While this isn't always the case – for example, you may not have enough equity in the home – generally, you won't actually owe money in closing costs.
We always recommend talking to your mortgage professional if you'd like to understand more about which closing costs you'll have to pay, specifically. That's because closing costs can vary from state to state and may even depend on your particular transaction. Understanding how much closing costs are when buying a home will vary, so make sure you're speaking with the pros. 
However, the closing costs we've outlined below are fairly common and are worth asking about.
Your Real Estate Agent's Commission
Generally speaking, the seller pays the commission, or fee, for real estate agents involved in the transaction. This could include their own listing agent, as well as the buyer's agent. In some cases, sellers ask buyers to pay this commission, but it could potentially reduce the number of offers you receive on your home. The real estate agent or REALTOR® fee for selling your home can vary depending on where you live and what the going rate is for real estate agent commissions. The fee for a real estate agent when selling your home is typically expressed as a percentage of the total sale. In order to learn more about how real estate agent fees can impact your closing costs, speak with an agent near you! 
You may think, "What about the closing costs without a REALTOR® or real estate agent?" Regardless of whether you use a real estate professional, chances are, your buyers are working with an agent when buying a home. That means that you'll very likely be on the hook for the cost of their commission. And before you think about selling your home yourself as a "FSBO", make sure you know the facts about FSBO listings (did you know that FSBO listings sold for $60,000 less in 2018?). 
Transfer Taxes
This tax covers the money you pay when transferring a title for a home from you to the buyer. This can vary widely based on where you live and may also be called a title fee, a government transfer tax, or a recording fee.
Title Insurance
Title insurance provides buyers with protection against future losses that might result from a variety of possible title defects, liens, or encumbrances. Sellers may pay this insurance premium on behalf of their buyer, depending on what's negotiated as part of the sale contract.
Loan Payoff Interest & Fees
In some cases, when you try to pay off your home loan, you may need to pay prorated interest and principal for your mortgage. That's because mortgages aren't paid in advance, and so any time you spent owning the home without having made a mortgage payment may increase the amount you owe.
Depending on your lender, you may also owe a prepayment penalty for paying off your loan early. Check with your mortgage lender to see if you may owe a fee.
Buyer Credits or Sellers Assist
In some cases, you may offer to pay part of your buyer's closing costs for various reasons. You may wish to expedite selling your home, or you may offer the buyer money for repairs rather than having the repairs made yourself. The specifics will vary based on your negotiations with the buyer.
Other Closing Costs for Sellers
Selling a home is rarely simple, and so the particulars of which closing costs you'll have to pay and the total amounts will vary widely. This can depend on a lot of factors, from where you live to how you prefer to negotiate with buyers when selling your home.
Other closing costs that may come into play are:
Escrow fees

Homeowners' Association (HOA) fees

Attorney fees

Other taxes and fees based on your municipality
If you want to have a better idea of the closing costs you may have to pay when selling your home, you can talk to your real estate agent and your Barristers representative. They will help you better understand what to expect.
Just investigating your options for selling your house? Here's what you need to do next.