HannaFinancial: What To Know When Buying A New Home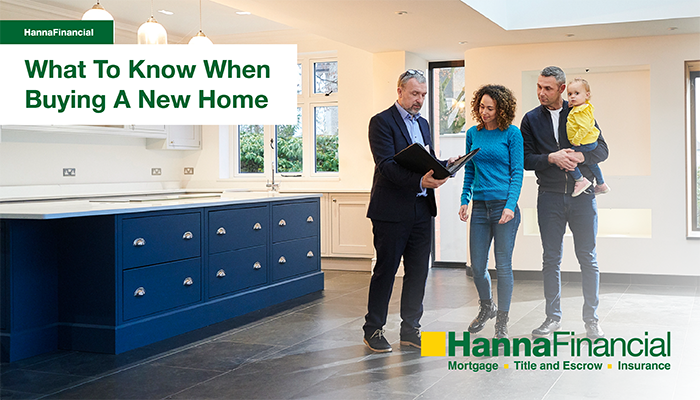 Buying a new home can be a thrilling, stressful, and overwhelming experience that leaves you remembering the tip your grandmother gave you about testing the toilets before buying the house, but forgetting the important details such as being sure you're pre-approved or checking out all of your loan options before settling on a mortgage.
At Howard Hanna Real Estate Services, we aim to help make the home buying and selling process simpler for you, and to help you with your new home hunt, we've compiled the following list of things to know when buying a new home!
Looks Can Be Deceiving
There's a big business for buying run-down houses and flipping them to make a profit. A flipped house is one that has undergone a series of renovations to improve its curb appeal and, ideally, fix essential construction flaws in the home to increase its market value. Although they can look like brand-new constructions, they can hide a series of problematic failures, such as an old termite infestation, hasty and faulty wiring, minor roof leaks that can become major problems in the rainy season, and more.
Any home can be hiding serious flaws, which is why it's important to get a home inspection before officially closing the deal. And when you're touring the house, don't be afraid to employ all of grandmother's tips: flush the toilets, open the cabinets to check for leaks underneath the sinks, use your sense of smell, and test each light switch.
You May Need To Be Pre-Approved To Look At That House
That's right: some real estate agents or home sellers will require that you be pre-approved to verify that you can afford a loan for the home before permitting you to tour it.
In addition, getting pre-approved lets you know how much home you can comfortably afford, enabling you to more accurately search for a home that meets your requirements and price range. When you've found a home you'd like to buy, being pre-approved speeds the process up, as you've already finished some of the paperwork, and also shows that you're a serious and reliable buyer.
There Are More Financial Responsibilities Than Just A Mortgage (Rent) Check
It may seem like owning a home is no different than renting one, but aside from not having a pesky landlord to deal with and being able to decorate your home however you want, there are a lot of financial differences. If anything in the house breaks, such as the dishwasher, you are responsible for calling the appropriate people to fix it. If you don't have an HSA Home Warranty, then you are also responsible for paying out-of-pocket to fix those appliances.
Aside from the cost of common household repairs, there are property taxes to pay, insurance costs to protect your home from catastrophic events such as fires, floods, earthquakes, and more, and sometimes even homeowners' association fees.
It's a good idea to sit down with your mortgage representative before buying a home to get a complete picture of all the financial responsibilities you'll be taking on.
You Don't Need A Perfect Credit Score To Get A Loan
The financial costs associated with homeownership may seem daunting, but never fear, many different mortgage loan programs are available to cater to your specific needs, from VA Loans for military veterans to FHA Loans for individuals with less-than-perfect credit scores. The options are nearly endless.
Be sure to check out our blog posts Howard Hanna Mortgage Services: When do I qualify for home financing again? and 1st Priority: When do I qualify for home financing again? for more on different loan options that might suit your needs.
Contracts Can Be Negotiated
Nothing is set in stone until you sign the paperwork for it. If the house has a set of four steps that need a railing for you to be able to purchase the home with a VA Loan, you can always negotiate with the seller to have them put up the railing and pay for it so you can buy the home. This is just one example of something that can be negotiated; others include asking for specific appliances to stay with the home, or seeing if the home seller will cover the buyer closing costs.
If it's something you're concerned about, don't be afraid to ask your real estate agent! Remember that your real estate agent is your advocate and there to help.
You Can Buy Before You Sell
If you already own a home, you don't have to wait until you sell it to buy your next one! With the Howard Hanna Buy Before You Sell program, you can take the equity in your current home and apply it towards the down payment of a new home.
For more information about our Buy Before You Sell program, check out our blog post How the Howard Hanna "Buy Before You Sell" Program Helps Cover the Gap or visit our Buy Before You Sell overview.
Howard Hanna Is A One-Stop Shop For Home Buying & Selling
At Howard Hanna Real Estate Services, our goal is to help you make Home Happen Here. With our one-stop shopping, we offer real estate services, mortgage services, title and escrow services, and insurance services, taking the worry out of moving by guiding you through your entire home buying or selling experience.
Let the best in the business help you today! To get started, find a Howard Hanna sales associate near you!
---
Be sure to check out these blog posts on what else to know when buying a new home!
A Guide to Buying Your First Home
Guide to Buying Your First Home
15 Questions Every Home Buyer Should Ask
14 Things To Do When You Move Into A New Home