Highlights from HannaCon: Day 2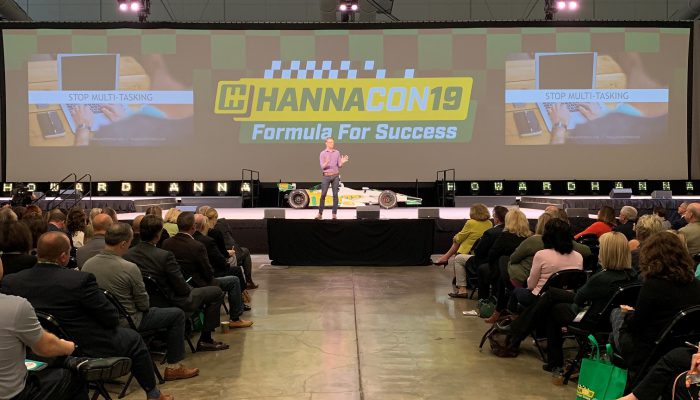 Day 2 at Howard Hanna Convention ("HannaCon," as we call it) started off with a bang! Thousands of agents formed a sea of gold and green as they swarmed the David L. Lawrence Convention Center in Pittsburgh, PA on Thursday, October 3rd. Howard Hanna managers started the day with a motivational session with Ryan Avery, and our agents kicked the day off with sessions, panels, visits to the Vendor Track, and more!
The event was capped with another astonishing General Rally full of performances, inspiring speakers, and everyone's favorite – PRIZES! $10,000 and a Jeep Grand Cherokee were given out during the event to lucky Howard Hanna agents in attendance. Plus, we were proud to reveal the new Howard Hanna Mission & Vision statement to our excited agents.
Here are just a few of our favorite moments:
Helen Hanna: Racing Into 2020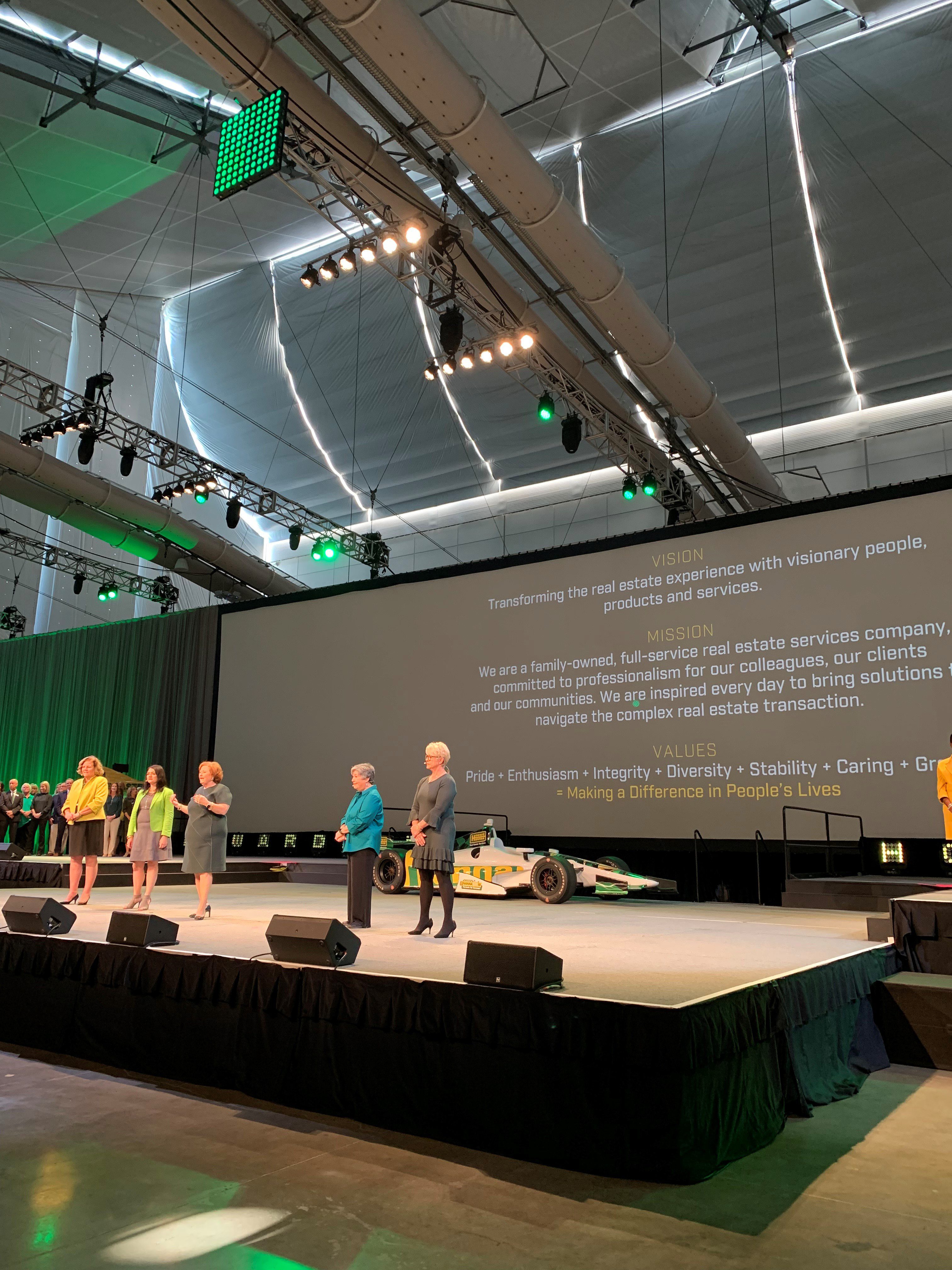 Helen Hanna Casey, Chief Executive Officer of Howard Hanna Real Estate Services, presented a new and updated Mission & Vision Statement during the Main Session on the second day of HannaCon19.
She was accompanied on stage by members of the Mission & Vision Steering Committee: Vice President of Education Jackie Cassara, Senior Vice President of Relocation and Business Development Susan Sadowski, Executive Vice President of Marketing Kelly Silver, and Vice President of Human Resources Meredith Stephenson. Together, these five outlined the process behind the development of the new Mission & Vision Statement, characterizing it as "an effort with many different moving parts".
The previous statement had been written in 2005, and given the numerous additions to the Hanna company since that time, it seemed important to ensure that a new statement would reflect the beliefs of all members of Howard Hanna. Accordingly, the Steering Committee wrote a survey and sent it to every sales associate and staff member, a total of 9,568. They received 3,976 responses, a 41% response rate, as well as 1,800 pieces of written feedback. These were compiled into a word cloud, which the Steering Committee analyzed when deciding on the new statement. 746 respondents also volunteered to provide additional support, and the members of this group provided video statements and volunteered to perform in the Mission & Vision Choir.
The group then unveiled the new Mission & Vision statement on the big screen, to the approval of the crowd. Helen Hanna Casey concludes the presentation by expressing the wish that HannaCon19 attendees continue to embody these shared values and "make a difference in each other's lives."
Mike Staver: Winning Is No Accident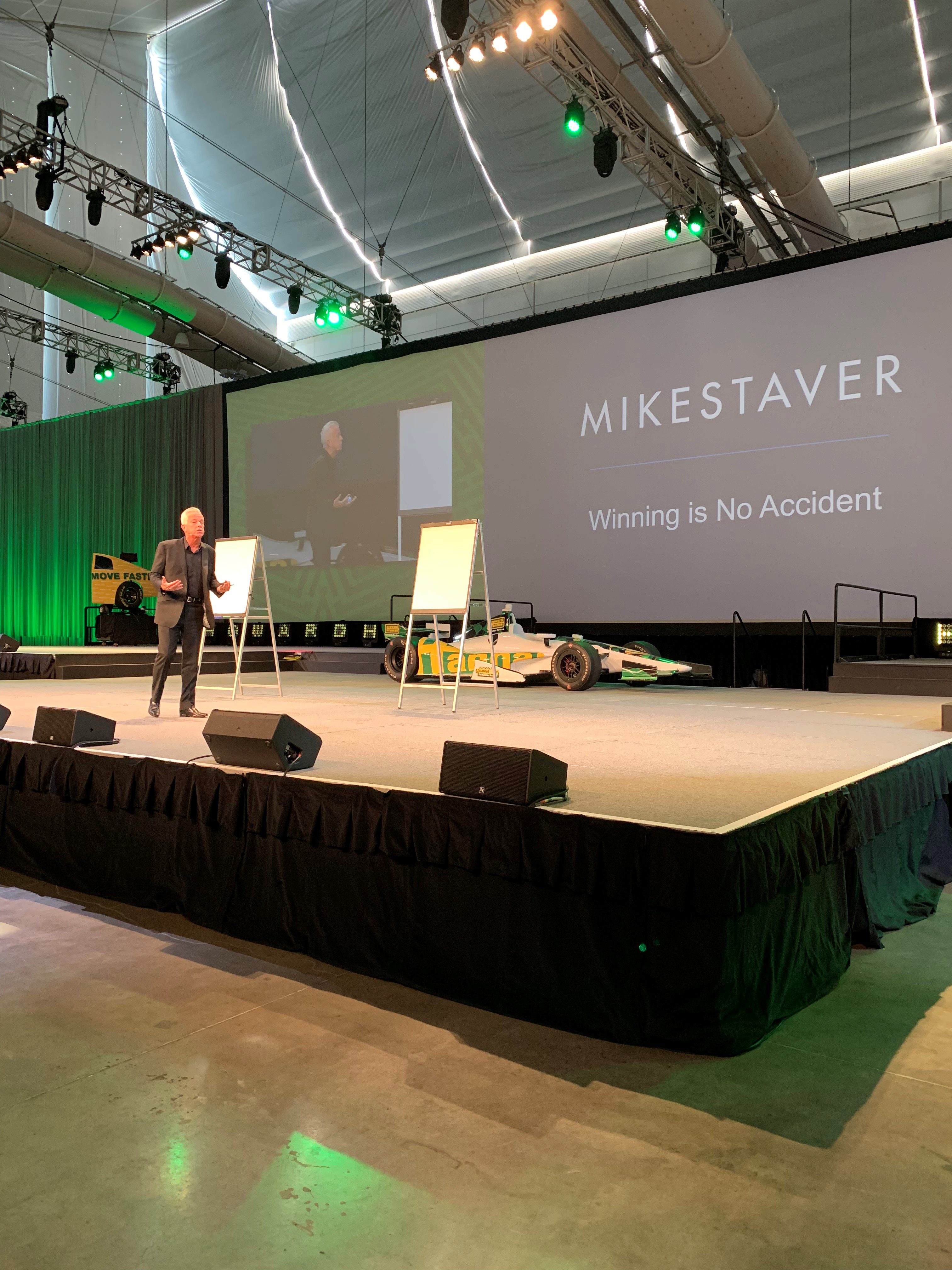 Mike's innate way of combining humor, satire and effective motivational strategies entertained the Hanna crowd the last day of the convention. He asked self-reflecting questions of the crowd only to turn around with wit and "matter of fact" responses. For instance, "Where is your rough water?" He challenged the audience to think hard about what obstacles were in their way on the path to achieving success. The answers shouted from the crowd were consistent, he then helped them understand these words were mere excuses and not necessarily obstacles. He summarized with a powerful message, "Never stop playing." There will be days you just want to throw in the towel, don't. Believe in yourself! Have the tenacity and passion in all you do every day. Appreciating his engaging message, the crowd rose to deliver a standing ovation for our last keynote speaker of HannaCon19!
Charlie Oppler: National Advocacy & Local Support
Charlie Oppler, incumbent President of the National Association of Realtors, took the stage at HannaCon19 to speak with Howard Hanna agents about issues facing real estate agents at the national level. He explained that their focus on advocacy extends all the way down to the local and office level. Issues that individual real estate professionals are facing are often reflected in the broader market. He brought up the example of rent control in the Bay Area, New York City, and the Pacific Northwest as a local issue that is becoming a national issue. He ended by recognizing the more than 90 Howard Hanna agents who serve as representatives for their state or region.
Hannamobile Giveaway
Congratulations to our Hannamobile winner, Desiree Ladyman from Laskin, Virginia.
We would like to give a special thank you to our partner, Krebs Chrysler Dodge Jeep Ram for donating a 2019 Jeep Cherokee Latitude.
Desiree won the Hannamobile during the highlight of HannaCon, the General Rally! Representatives were drawn from each Howard Hanna region by the Presidents, and all finalists went on stage, where they were each given an envelope – one of which was for the car winner! Fortunately, no finalists went home emptyhanded – envelopes that weren't the winner each contained at least $100!
See You at HannaCon21!
A HUGE thanks to all the agents, speakers, and vendors who joined as at HannaCon19! We can't wait to see you again in 2021! To view a recap of the whole event, visit HowardHanna.com/HannaCon19