Hoby's Town Halls: Calling All Howard Hanna Agents!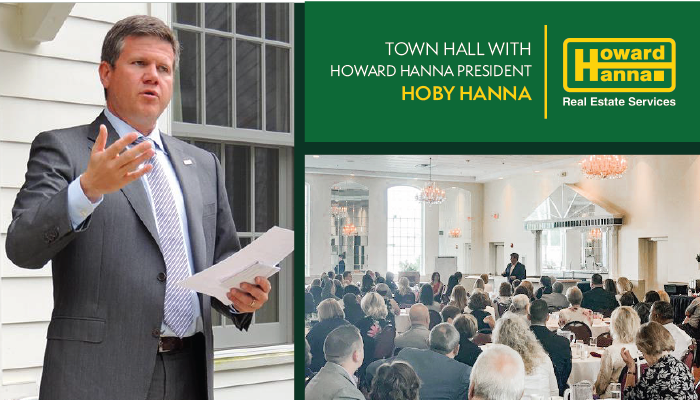 We pride ourselves on hiring the very best agents and offering industry-leading real estate training and market differentiators to make sure they have what they need to succeed. But beyond simply ensuring that our agents have (and are!) the best, we want to make sure we take the time to listen to what Howard Hanna agents need to perform at the highest levels.
This fall, the President of Howard Hanna Real Estate Services, Hoby Hanna, is hitting the road to speak with agents across our company about issues that are important to them. From uncovering additional uses for our market differentiators to sharing best practices for promoting Find It First™ listings, our Town Halls with Hoby Hanna have been a great venue for agents to discuss key issues in real estate amongst themselves and with our top leadership. 
Here are what attendees are saying about these events:
---
"A note of thanks for coming to the Capital District and addressing some challenges. 
That will make us all more productive. The agents in the Queensbury office really liked the Town Hall meeting setup and were glad they attended." – John Linehan, Queensbury Office
---
"Thank you so much for holding the Town Hall meeting in Clifton Park, NY yesterday! It was a great event! 
As I mentioned, I am so glad that we have such a wonderful dashboard! (I am so happy to have all the wonderful programs that Howard Hanna provides and am thrilled to be part of such a great company!!)" – Christina Papadopoulos, Saratoga Springs Office
---
"I'm so glad I attended this gathering yesterday to go over issues to help each other better our business. Knowing that you listen and address things that may come up is priceless in my book! I'm proud to work for Howard Hanna!!" – Kim-Marie Winchip, Queensbury Office
---
"I wanted to thank you for coming out and giving the Capital Region your time.  It is awesome to see a company (family) emphasize how much they care…for that, I thank you and commend the Howard Hanna family I'm happy to feel a part of." – Darren DeMarco, Saratoga Springs Office
---
"Thanks so much for coming today and for clarifying a lot of the questions I had were cleared up and I again am so glad to be working for the Howard Hanna family…. it means so much that you're doing this and to know I have your support is so much appreciated!" – Kristi Hensley, Macedonia Office
---
"Thank you for the meeting today. We call it HOBYTHON!!  We love the communication and the inspiration." – Janet & Tom Biel, Macedonia Office
---
"Julie and I want to thank you for sharing your knowledge and insight into the ever-changing world of the real estate industry. The new tools Howard Hanna provides for us agents are greatly appreciated." – Richard & Julie Sarkis, Rochester Main Office
---
"Thanks for coming! It was great to have the agents hear the 'Why" right from you." – Cathy Bianchi, Irondequoit Office
---
"Thank you for the informative Town Hall meeting today!  It was a great conversation and valuable material to bring back to the office. " – Sandy Goode, Ellicotville Office
---
"Thank you for taking the time to travel to Buffalo. I always enjoy your take on things. Looking forward to HannaCon!" – Susan Harrington, Hamburg Office
---
"Thanks for sharing with us all! Lots of good stuff today!" – Kathy Crissy, Lockport Office
---
"Thank you for your time. The meeting was very informative and you do a great job running Howard Hanna. I am glad to be on the team." – Kevin Cullen, Hamburg Office
---
"Thank you for your time yesterday. I think the event was well received.
The agents who attended from my office said it was informative and well worth their time. I wanted to share the positive feedback !" – Brenda Bacon, Arcade Office
---
If you're a Howard Hanna agent, make sure you keep an eye out for a Town Hall near YOU! Hoby is traveling throughout all our market areas to speak with Howard Hanna real estate agents. See below for a schedule of events throughout September and October:
9/10/2019 – Ohio – Howland/Poland/Canfield
9/23/2019 – Pennsylvania – East
9/24/2019 – Ohio – Mentor/Willoughby/Madison/Mayfield
10/7/2019 – Pennsylvania – Southwest
10/21/2019 – Pennsylvania – North/Northwest
10/29/2019 – Ohio – Toledo
*Dates & locations subject to change – please check with your manager!