First Time Home-buyer's Tips: Home Loans, Explained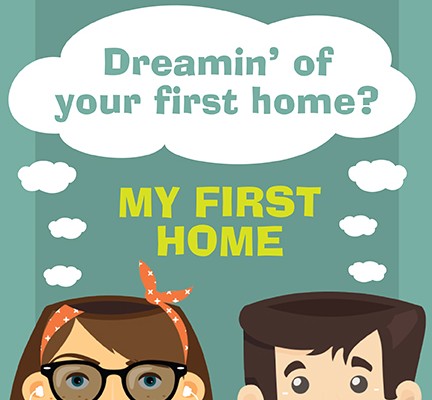 Congratulations! You've used the Howard Hanna My First Home program to find the home of your dreams, and now you're ready to begin the process of applying for a home loan. There are different types of mortgage loans available to you, and the one that you end up choosing will be just as unique as your new home.
Attempting to demystify the varying kinds of loans that are available to you can be confusing, so we're going to clarify some basics about the options that will be available as you move forward in this exciting process.
Fixed-rate loans:
These loans are among the most popular options, especially since interest rates are still so affordable. The interest rate remains the same throughout the ten, fifteen or thirty year life of the loan. Interest and principal payments never change, allowing for easy budgeting throughout the duration of the loan.
Adjustable rate loans:
In contrast with the fixed-rate home loan, an adjustable rate loan can change from year to year. The most common t kind of adjustable rate loan is a hybrid wherein the interest rate will be fixed for a certain period of time and then will adjust afterward. For instance, there may be a fixed rate of 3.5% for 10 years, and once that time is up, the loan will adjust annually for the remaining term of the loan.
Conventional loans:
For first time home buyers who have good credit, a conventional loan is an option to explore. This kind of loan is not guaranteed by a government organization such as the Federal Housing Administration. While they aren't very much different from government-backed loans, they do tend to be more difficult to get because of the stricter qualifications.
Government insured loans:
There are two common types of government loans. The first is an FHA loan, which is insured by the Federal Housing Administration and features a low down payment, the option of financing a portion of the closing costs, and relaxed credit guidelines. The second is a VA loan, which is guaranteed by the Veterans Administration. As you may have guessed, these loans are available to current and past members of the armed forces, reservists, National Guard members, and in some cases, surviving spouses.
State Bond Money:
These loans are provided through State Housing Finance Agencies. The focus of the state agencies is to help meet the affordable finance needs of a first time buyer. Many times, these kinds of loans can offer down payment assistance and rates that are below the market. There may be income and price limits, so you'll want to work with your mortgage loan originator to find out about the restrictions in your local area.
United States Department of Agriculture Loans:
If you're thinking of purchasing your first home in a rural area, a USDA loan might be a good fit. They help low to moderate income people purchase, repair or renovate a home in a rural area. These loans permit a low down payment and allow the seller to pay 6% of the sales price towards their cost. They also allow low monthly payments, and as is the case with many kinds of loans, certain income and geographic restrictions do apply.
Education is key to making the best decision on your mortgage loan, and home financing is ultimately a very personal decision. There are many different loans available to suit many different homeowner needs, and this is just a rundown of some of the most common types of loans.
Remember, if you have questions, speaking directly with your mortgage loan originator or Realtor will help to clear up any confusion. They're excellent resources!