Home Selling FAQ: What Happens If My Listing Expires?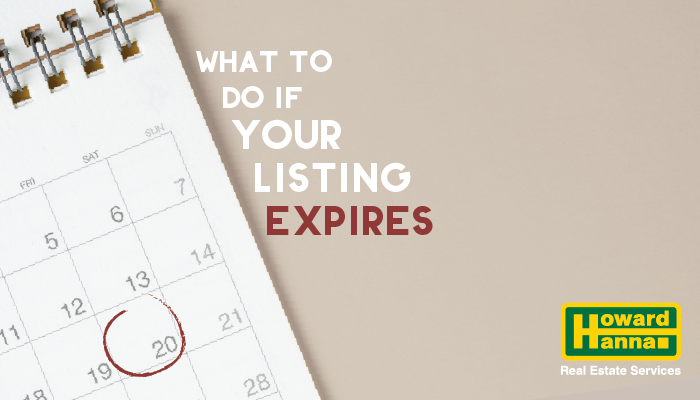 It can happen despite your best efforts and those of your real estate agent: Your listing contract expires, putting your home "off the market" and leaving you without representation. While you never want this to happen, when your real estate contract expires, you'll need to make lemonade and use this time to uncover what happened – and decide what to do next.
Here's what to do now that your listing is expired:
Review Your Home Listing With Your Agent
Before you panic, it's worth taking time to sit down with your real estate agent to discover why your home didn't sell. They are the ones best positioned to help you understand how the current housing market in your area is affecting the selling process.
At this meeting, make sure you review…
The current real estate market for your neighborhood

Why they believe your home didn't sell

The marketing plan they implemented

Any feedback they received about your home
Your agent should have a good idea of the specific reason(s) your home didn't sell. Perhaps it was priced too high, or interest rates impacted the number of homebuyers, or the unrenovated kitchen is too outdated for today's buyers.
If your agent is able to give you clear and concrete reasons why your home isn't selling, and is able to give you a plan of attack for relisting your home, you may not want to switch agents. However, if your agent can't explain why your home didn't sell, you may wish to consider working with another agent.
Explore Other Real Estate Agents
When you lose confidence in your real estate agent, it can be hard to recover that trust. An expired listing can be an opportunity to find a great real estate agent near you to help sell your home.
To decide if you should work with a new agent, use the information you gathered from meeting with your current one about your expired listing. Did they do their best to sell your home? Have they put time and money into marketing your property? If you genuinely liked working with your agent and think they did their best, relist with them. If not, it may be time to move on.
But before you jump into a relationship with another real estate agent, make sure you interview a few! In addition to asking questions about their real estate expertise, be sure to find out what their plan would be to get your home sold.
For example, Howard Hanna agents have a whole suite of real estate market differentiators that help them reach interested, qualified buyers. Programs like Buy Before You Sell can even help you move before relisting your home. And our 100% Money Back Guarantee gives homebuyers confidence in your property. This, in turn, can help you sell your home faster, easier, and for more money.
Consider Making Changes to Your Home…Or Your Price
If you have some idea of what dealbreakers potential buyers are finding, then do what you can to fix them! Or, you may decide that making changes is too challenging, in which case, you may need to consider lowering your price. Remember: When buyers see flaws in your home, they are mentally calculating the price tag to fix it.
This is where your real estate agent's feedback is invaluable. They can help point you toward specific issues you can fix, such as outdated light fixtures or unappealing wall colors, or explain unsolvable issues that buyers are balking at, such as a bad location.
When it comes to relisting your home, you have a great opportunity to reevaluate the particular calculus behind changes you're willing to make. Staging your home might have seemed like a huge hassle before, but when your listing expires, it might suddenly seem like a great option to quickly raise the value of your property.
Decide Whether You Will Relist Your Home
Finally, it's time to make the big decision: Will you relist? If your reasons for selling your home still stand, you may opt to make some changes, relist your home, and try again.
If you do decide to list your home for sale a second time, talk to your real estate agent. You will need a new listing agreement and will have to determine how long your real estate contract will be valid. You might opt to list for a longer time period to give your home a better chance to find a buyer.
Remember, homes are never relisted without your permission, so you do ultimately have to decide if you will list your home again or not. But by treating an expired listing as an opportunity, you may find that the second time's the charm when it comes to selling your home.