How Can Real Estate Agents Make the Most of the Find It First™ Program?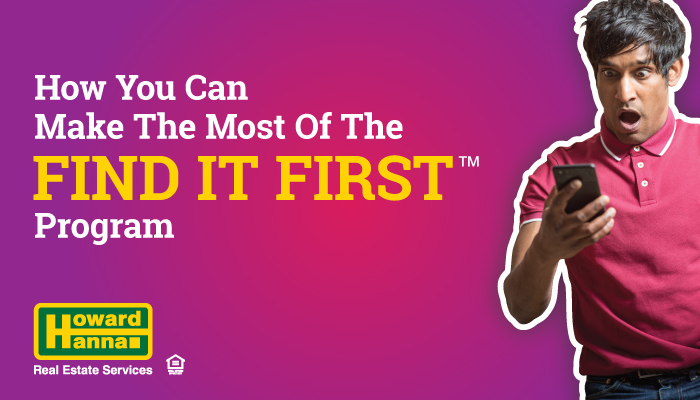 Recently, we introduced our brand new Find It First™ program, now available in Ohio, Pennsylvania, Michigan, and New York and rolling out soon to all our markets, which allows home sellers to advertise their upcoming home for sale before it actually hits the market!
These Find It First™ properties are exclusively available at Howard Hanna and on our website, HowardHanna.com – you won't find them anywhere else. They're not available in the MLS nor on national real estate websites. 
Wondering how you can help buyers and sellers make the most of the Find It First™ program? We have a few tips for real estate agents working with buyers and sellers:
Create Excitement Around Exclusive Real Estate Listings
There are a lot of ways to generate interest in a property, but regardless of how you're bringing in potential buyers, it's critical to have a great marketing plan. Find It First™ is an excellent fit with a tiered marketing strategy. Sellers benefit from having serious buyers see their home first, and buyers win by gaining access to homes that aren't yet widely available. 
This excitement can help offers come in sooner, which can help create a smooth transaction for both buyers and sellers.
Make Sure You've Seen
All
the Listings
Want to make sure you're seeing every available home in the area? It's simple – just visit HowardHanna.com, which includes not only listings from the MLS, but also Find It First™ properties exclusive to Howard Hanna. Sellers benefit because their home will show up first on HowardHanna.com, while buyers can rest assured knowing they have one convenient place to see every listing that's available.
Agents, make sure you're visiting HowardHanna.com regularly to explore all listings, including Find It First™!
Join an Exclusive Club
When you connect buyers and sellers with the Find It First™ program, you're helping them join an exclusive club. Buyers can get a "sneak peek" at these homes for sale, while sellers benefit from marketing directly to motivated buyers. 
By helping buyers and sellers understand the advantage that comes along with being part of this select group, they'll feel great about buying or selling with the Find It First™ program. 
Explore the Benefits for Homebuyers and Sellers
In order to best understand and explain Find It First™ to your buyers and sellers, it helps to be familiar with the benefits for each group! Make sure you've read our blog on Find It First™ real estate listings for sellers, and our piece on benefits to buyers using Find It First™ to find their dream home. 
Excited about Find It First™? So are we! Join us on social media using hashtag #finditfirst, or explore the landing page for the Find It First™ campaign on our website.