How the 1st Priority "Buy Before You Sell" Program Helps Cover the Gap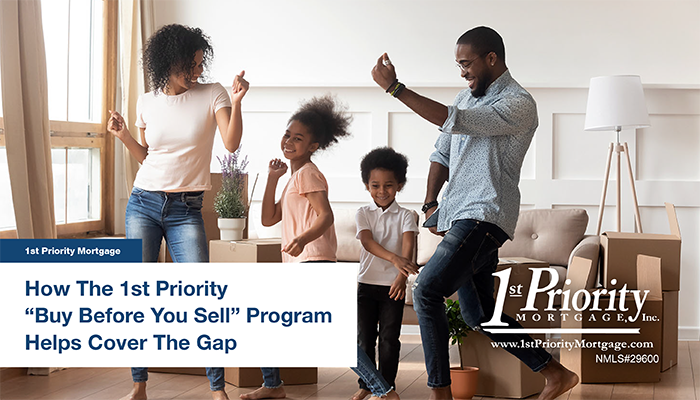 In today's competitive real estate market, you may be worried about listing your home. You may be thinking; if it sells quickly, you won't have enough time to find and buy the perfect next home.
At 1st Priority, we strive to make the home buying and selling process simple and hassle-free for you. Our one-stop shopping is convenient for everyone, including sellers who are also looking to buy.
Buy Before You Sell
One of our exclusive one-stop shopping programs available is "Buy Before You Sell," which lets you take the equity in your current home and apply it towards the down payment of a new home. It's among our most popular programs because enrollment can be renewed if needed and includes deferred interest payments. By using the "Buy Before You Sell" program, you can use the value of your current home to invest in your dream home!
Advantages of our Buy Before You Sell program:
You can purchase a home without having to wait until your present property is sold.
You can take advantage of today's low mortgage interest rates and potentially get better terms for the home you are buying.
You can move without worrying about the logistical issues of moving out of one property and into the new one on the same day.
Once you've found your new home, the home you are selling can be staged without having to overly disrupt your life.
We can also more easily show potential buyers your home, allowing more buyers to see your home than if you were still living in it.
Our program produces more buyers who can buy your home by removing the sales contingency.
Buy with confidence.
It's important to be able to buy with confidence, even before a current home is sold. It doesn't matter if you're looking to upgrade, right-size, switch school districts, or just enjoy a change of scenery, our "Buy Before You Sell" program covers it all!
Our program provides down payment funds for your next home purchase
Our program eliminates home sale contingency
Payments can be deferred for qualified buyers
We've been taking the hassle out of the home buying and selling process for decades, and our mortgage experts are here to help explain our loan programs. We make home ownership accessible and affordable, allowing you to take advantage of today's low interest rates.
Don't wait to act on your dream home, buy before you sell!

Howard Hanna Real Estate Services is not a mortgage lender. Contact 1st Priority Mortgage, Inc. for mortgage products and eligibility. 1st Priority Mortgage Inc., NMLS #29600, is a Licensed Mortgage Banker, New York State Department of Financial Services. All lending products are subject to credit and property approval. Terms, conditions, and certain restrictions may apply on all programs. Advanced Equity Loan must be in 1st or 2nd lien position. Interest rate and program terms are subject to change without notice. This is not a commitment to lend. (888)-500-9733 or 1stprioritymortgage.com