How to Sell Your Luxury Home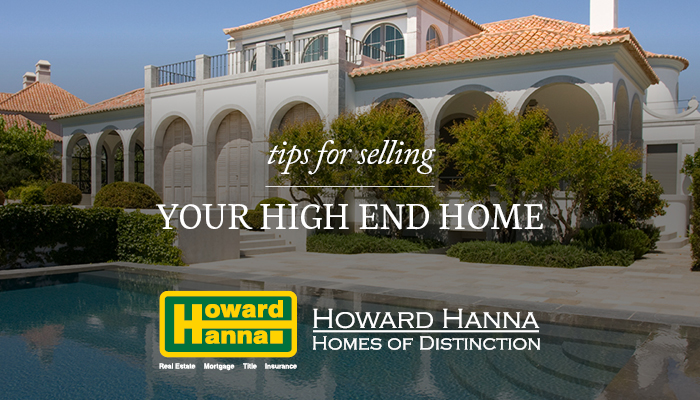 Listing and ultimately selling an upscale home requires a unique approach, one that's very different from marketing a more typically priced home. After there's been a thorough cleaning, a stager has been hired, and there are amazing pictures that showcase the property to full advantage, there's still work to be done.
Here are a few tips from Howard Hanna to help sell your exceptional, luxury property:
Hire a luxury real estate expert. It's key that you find an agent who truly understands the current high-end market, the unique features of your property, and how to leverage them so that you can get the best price for your home.
Enter the Howard Hanna Homes of Distinction Specialist… We have a qualified team of agents who are specifically trained in the art of selling upscale properties. Through their Homes of Distinction designation, they acquire the necessary resources and knowledge to best market your property.
Not only will your Homes of Distinction Specialist bring qualified buyers right to your doorstep, they will also handle the day-to-day aspects of selling your high-end property. From private showings and invitation-only events to any issues that may arise during the home selling process, your agent will accompany you each step of the way.
Price to sell. Once you have hired your Howard Hanna Homes of Distinction specialist, it's important to recognize the value of your home; if you overprice or underprice, you could lose money. Working with a skilled agent will help you set the correct price for your Home of Distinction.
Your agent will know the local market as well as the particulars of pricing high-end homes. Because your property is special, your agent may want to do an appraisal to guide the pricing process. Remember, working with a real estate expert will help you to avoid wasting time, energy, and money by pricing your luxury home to sell in the current competitive real estate market.
Niche marketing. Having an open house is likely not the best way to attract a high-end buyer, which is why the Howard Hanna Homes of Distinction program offers marketing that is specifically geared towards the discerning buyer. By listing a home with us, you'll have the backing of the third largest real estate company in the nation, as well as unmatched marketing power.
We present your property to the right buyers at the right time. Through our affiliation with Luxury Portfolio, Sunday Showcase of Homes television show, and online digital magazine, your property will capture the attention of potential buyers.
We make it easy to surround yourself with a team that will help you sell your home, while making the process simple and worry-free. With the right mix of marketing, expertise and creativity, your luxury listing will shine!