How to Settle Into Your New Home Before Back-to-School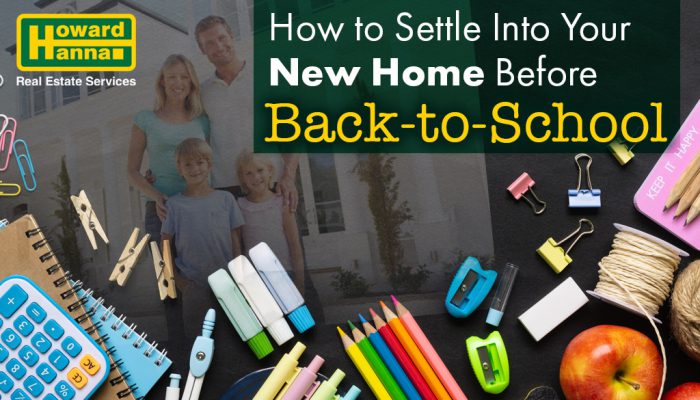 Moving can be a difficult time for everybody, especially children and teenagers. Saying goodbye to their old friends, memories, and familiar neighborhoods can be intimidating, especially if they are starting at a new school. Howard Hanna has some tips to make the transition easier.
Unpack the kids' rooms first 
Children love the chance to be creative. Giving them the opportunity to get excited about decorating their new rooms will help ease their anxiety about the move. The sooner they unpack their new rooms, the sooner they will adjust to their new home!
Get back into a routine ASAP
Routine and stability are incredibly important to children and teens, allowing them to feel settled and comfortable. A move can hinder your daily routine, but once you unpack, it is important to establish the routine you had before. Maintain mealtimes, bedtimes, playtimes, etc. Continuing their regular routine will make the move easier on your kids, making it easier on you!
Know your neighborhood
Walking around your new neighborhood will not only put you and your children at ease, it may spark some excitement in your kids! Besides, it's a great way for you to meet neighbors. A child starting school will be a lot less anxious if they see a familiar face – or two!
Plan some fun activities as soon as you arrive
Go to the neighborhood playground or pool.
Find the best pizza. (What child doesn't love pizza?)
Take them to their new library and let them pick out their own books.
Let them build a fort out of your leftover boxes.
Download our free Howard Hanna Children's Moving Coloring Book.
Give them a tour
Take your children to their new school prior to their first day. Giving them a tour, showing them their new classroom, cafeteria, playground, etc. will not only excite them but may help to calm their nerves, as well as yours!
Get involved in your community
Getting involved in neighborhood activities is a great way to meet your new neighbors. You can join civic leagues, book clubs, or the local swim team. We also recommend volunteering at your child's new school. This will help both you and your children. Joining the PTA is a great way to accomplish this.
Buying a new home is a very exciting time, but the transition can often be stressful. Let a knowledgeable Howard Hanna agent take the stress off you and your family, while you focus on settling your kids into their new home before school starts. Happy moving!