Howard Hanna Fox Chapel – Where Dreams Begin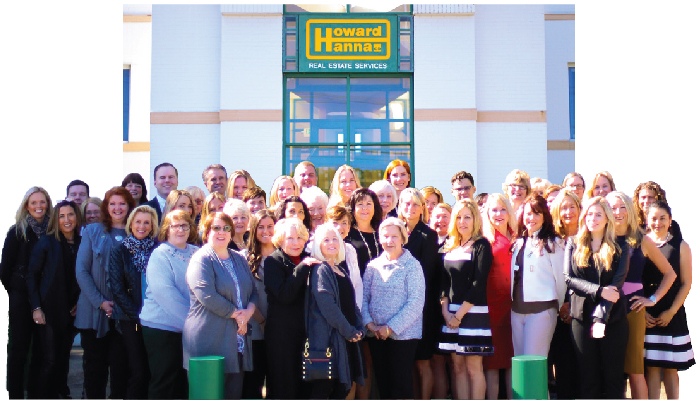 If you're looking for your dream home, the Fox Chapel office of Howard Hanna is the best place to start. Under the management of Vice President, Associate Broker and Manager Michelle Lantz-Echnat, the office has been completely renovated for today's modern working environment, meaning more convenience and state-of-the-art features for clients as well as agents. But an inviting office is just the icing on the cake—the talent contained within the walls of the Howard Hanna Fox Chapel office is what truly makes the difference for home buyers and home sellers.
"With 64 agents, we are one of the largest Howard Hanna offices and some of our agents have been in the business for nearly 40 years. It's a great working team, and Howard Hanna's philosophy is different from other companies. Everyone is open to sharing ideas, sharing experiences that worked for them, sharing marketing, social media, and goal setting," Lantz-Echnat says. "All of our initiatives are regularly revised to better suit our clients' needs. We continually offer programs that are more buyer and seller-friendly. We even have a Howard Hanna Financial loan originator in our office, so agents and clients can finalize deals right here. We are one-stop shopping for home buying and selling, and handle everything from start to finish: listing, selling, mortgages, title, and insurance process. All of that happens here, in-house, and it makes so much sense."
The Howard Hanna Fox Chapel office is also the number one office in Homes of Distinction real estate listings, with 45 homes listed at $750,000 and above on the market at any given time. Homes of Distinction is an exclusive Howard Hanna program for luxury listings. But the Fox Chapel office isn't just for high-end buyers: it also caters to first-time home buyers working on a budget with an innovative "My First Home" program that enables buyers to purchase their first home with as little as 3.5% down payment.
"People would be surprised to know that our lowest priced listing last year was just $35,000, which was listed by one of my top agents," Lantz-Echnat notes. "Because of where we are and how well we do, we come across people who think we only sell the high-end Homes of Distinction, but we're here to assist every client in the 'American Dream' of home ownership."
Regardless of budget, Lantz-Echnat says the Howard Hanna Fox Chapel office's agents give 110% to each and every client—an effort reflected in the office's market share and accolades. "We consistently run over 65% market share in the Fox Chapel area, and that's why we remain number one," explains Lantz-Echnat. "We were named Top North Office; One Team, One Dream Office; Top Howard Hanna Mortgage Office; Top Title Office Barrister's Land Abstract; and Top Howard Hanna Insurance Office. We have a very diverse group of agents coming from different career paths and they all become top producers."
Part of that may be Lantz-Echnat's leadership skills. Born and raised in Fox Chapel, with three children in the school district, Lantz-Echnat started working for Howard Hanna right out of college as a sales associate. Today, she's selflessly leading her team to success after success, and has been named Howard Hanna's One Team, One Dream Top Manager for Pennsylvania in 2014 and 2016.
For more information on how this "dream team" can help you buy or sell your next home, visit the Fox Chapel website here.  You can also call directly at 412.963.6300, or stop into the renovated office at 1090 Freeport Road.