Howard Hanna Insurance Services Hosts 4th Annual Book Drive for Children's Hospital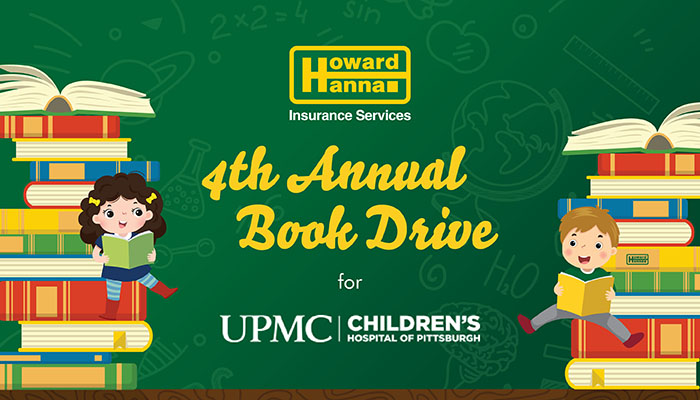 Howard Hanna Insurance Services is conducting its 4th Annual Book Drive for UPMC Children's Hospital of Pittsburgh! Throughout May, both new and gently used books will be accepted at the Howard Hanna Insurance Services office (1000 Gamma Drive, 4th Floor, Pittsburgh, PA 15238) and the Corporate Office (119 Gamma Drive).
Children's picture books, board books, and coloring books are all being accepted. By donating these books, you're helping children undergoing hospital care experience the joy of reading!
The annual book drive first kicked off in 2016. When asked what prompted Howard Hanna Insurance Services to host a book drive, Danielle Shearer, General Manager of the agency, said, "As a group of individuals helping out clients every day, we felt inspired to expand upon that outside of our agency's walls. We wanted to make a difference in the community and be a part of a project that provided joy to others."
Although it's only been three years, they have already collected over 5,200 books for children.
"Once we experienced the gift of giving just one book – although our donation total was over 1,400 the first year – we haven't looked back," Shearer added.
All donated books are given to Children's Hospital of Pittsburgh and satellite buildings. With this success and your continued help, Howard Hanna Insurance Services looks forward to reaching even more children through this year's Annual Book Drive.
For questions about the 4th Annual Book Drive, contact Howard Hanna Insurance Services at 412-696-0310 or Insurance@HowardHanna.com.