Howard Hanna Lists Exclusive Antarctic Property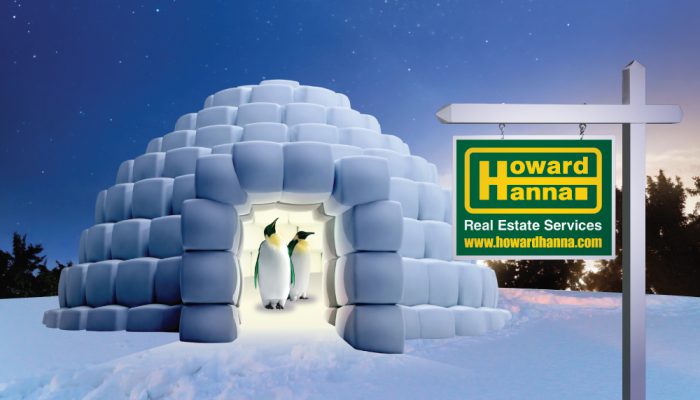 Pittsburgh, PA (April 1, 2019) – Occupying a commanding position atop one of the Antarctic's premier glaciers, the single-story dwelling fondly known as The Igloo offers expansive views of the snow and ice of the South Pole and is listed for sale exclusively by Howard Hanna Real Estate Services.
"You really can't beat the views," says Iggy, green penguin and ice home salesperson. "Plus, it's perfectly situated for families, provided your family can tolerate -23° weather."
The 49-square-foot domicile features one single, icy room with slick glacial walls and glazed ice flooring. Built of eco-friendly compressed snow bricks comprised of the finest organic snowflakes, this artisanal home offers exceptional body heat retention and exquisite, unobstructed views.
The open-concept floor plan is designed for the truly daring, with living room, kitchen, and bedroom flowing elegantly within a single space. The icebound home is climate-controlled, with an option of one climate.
Outdoor lovers will adore the home's proximity to wintry activities, including snowshoeing, sledding, and anthropomorphic snow sculpture, as well as convenient access to McMurdo Station.
"This is a home fit for any green penguin," said Howard W. 'Hoby' Hanna, IV, President of Howard Hanna Real Estate Services and noted green penguin expert. "Its flawless structure and private, scenic setting make it just perfect for the discerning flightless aquatic bird."
Howard Hanna Real Estate Services is the 3rd largest real estate company in the United States, the #1 privately owned broker in the nation, and the largest home seller in Pennsylvania, Ohio, and New York. The family-owned and operated real estate company specializes in residential and commercial brokerage service, mortgages, closing and title insurance, land development, appraisal services, insurance services, corporate relocation, and property management. With 312 offices across PA, OH, NY, VA, MI, WV, NC, SC and MD, more than 11,000 sales associates and staff are guided by a spirit of integrity in all aspects of the real estate process. For more information, visit www.howardhanna.com, or www.facebook.com/howardhanna
(Happy April Fools' Day!)