Is Now the Best Time to Sell Your House?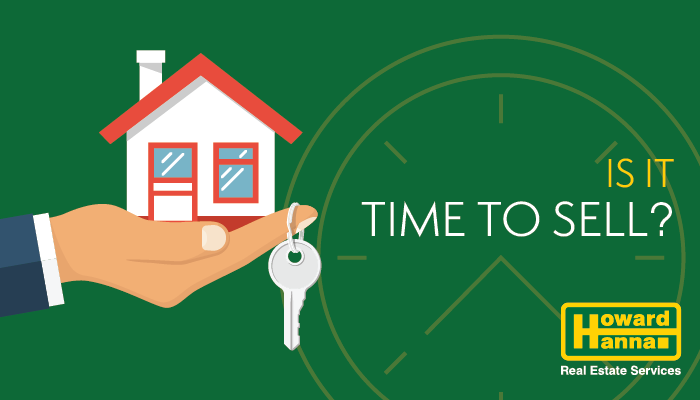 Determining the best time to sell a house isn't a science – it's an art. That's because there are so many things to consider when it comes to timing a sale appropriately, from the real estate market in your neighborhood to your emotional investment in your home. You can't just take one factor in isolation. It's important to explore all the different facets of selling a home to ensure you're making the right choice for your unique needs.
Here are some of the factors you may wish to consider if you've been thinking about selling your home: 
Do I need to move quickly?
Sometimes, life presents an urgent situation and you simply have to move – it's not really much of a choice. Whether it's a job in another state or an ailing family member who's going to need you nearby, it's possible that you will need to make a quick decision about your home, rather than waiting on the "right" month or year to sell.
While it's not a certainty that you'll sell your home – for example, you may choose to rent it or let the house sit vacant if you expect you'll return – it may benefit you to speak with a local real estate agent to understand your home's value and decide if selling is right for you. 
Does my house fit my current lifestyle?
Even if a home is your "dream home," after spending years living there, it may no longer suit your needs perfectly! Whether you've started a new relationship, added new members to your family, or are simply fed up with maintaining a larger property, there are lots of lifestyle reasons you may want to sell your home.
In this case, you might wish to explore the Howard Hanna Buy Before You Sell program. It can help you purchase a new home before you sell your current house. It's a great fit if you want to purchase your next home before worrying about selling your current home.
What is the housing market like near me?
Maybe you've never really considered whether or not you should sell your home, but you're hearing amazing things about the local market for real estate. When your neighbors are selling their homes for significantly more than they paid for them, it can be tempting to sell! 
If this is your situation, getting a comparative market analysis (CMA) can help you better understand what your home is worth in today's real estate market. Then, you can make the decision whether or not to sell based on information about your home's value. 
How much equity do I have in my home?
Whether or not you opt to sell your home may depend on how much equity you have in the property. To figure out roughly how much equity you have, you simply subtract the amount you owe on your home from the overall value of the property (to learn how much your home may be worth, see the previous section). If the number is positive, then congratulations! You have equity in your home, and depending on closing costs and moving expenses, may wind up with cash in your pocket after a successful sale.
If you're interested in learning more about how much equity you may have, you'll want to talk to a Howard Hanna real estate agent near you. They can help you understand how much your home might be worth, and can help you learn how to sell your home for the most money. 
Can I afford to sell my home and move right now?
Selling your home can mean spending money out of pocket on things like home repairs and upgrades. In an ideal situation, you'll recover those costs when you sell your home, but you will still have to pay for things up front. Expenses involved in listing your house include things like home repairs, repainting, and creating curb appeal. And of course, you'll likely have to pay for moving expenses out of pocket, too.
Before you list your home, make sure you understand what goes into selling a home. Your real estate agent will also be able to explain more about what costs you may be responsible for when selling a home. 
Am I emotionally prepared to move? 
While we've listed this last, emotions can be a huge concern for anybody considering selling their property! A home can be very personal. It's where you make lots of the memories you'll carry with you forever. So, you'll want to make sure you're prepared to sell your house, emotionally!
Here are some questions you can ask yourself:
How do I feel about decluttering and depersonalizing my space to get ready for open houses and tours?

Am I ready and willing to paint and stage rooms to sell my house?

Does the prospect of living in a new home excite me? 
If you can do what it takes to get your home on the market, and you're looking forward to the next chapter of your life, then it may be time to sell! 
Talk to a Howard Hanna agent near you.
There's one common thread linking each of these factors when it comes to deciding if it's time to sell: Talking to a real estate agent can help make your decision easier. They have the neighborhood expertise and selling savvy that you need to be able to make a smart decision regarding your property. Consulting with a real estate agent doesn't obligate you to work with them, but it will help you have the information you need. 
If you're interested in speaking with one of our Howard Hanna neighborhood home selling experts, use our agent search today to find the right real estate agent for you!