Moving Tips: Helping Teens Cope With Moving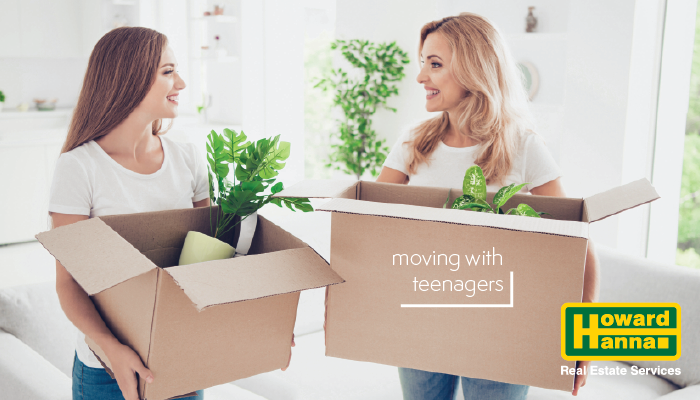 It's challenging to be a teen today. From cyberbullying to college admissions pressures, there are more issues facing today's teens than ever before. Throw a move into the mix, and you have a potentially unhappy kid on top of the other complications of coordinating a move.
While we've talked about moving tips for kids, and some of those will still apply when it comes to teens, there's the potential for a lot more nuance and emotion from older kids than those under 13. Here's how you can help your teen during the moving process:
Enlist Your Teen's Help
While a younger child may have impractical ideas about their new home, a teenager may be a great companion when visiting new neighborhoods and going to open houses. While the ultimate decision is yours, consider bringing your teenage child(ren) house hunting with you!
If you need to shop for a new home without them, there are other ways they can be involved. A few options might be…
If your moving date is flexible, can your teen help pick when you move?

Can they pick their own room and

select new decor

for it?

Would they be willing to organize a garage sale? (Offer to split the profits!)

Could they take responsibility for helping younger children during the move?

Do they have a choice of schools? If so, can they research their options and help make the selection?
Giving them a discrete role to take on during the move can help keep them occupied. Plus, giving teens control over an aspect of the move can help create buy-in for the situation.
Help Frame the Move
Older teens may be closer to independence and moving out, whether to go on to school or to join the workforce or military. It may help to frame the move as being beneficial practice for independence. They'll get the chance to explore what it feels like to move from a community, but still have the support of their family.
Younger teens may also benefit from framing the move as something that will ultimately help them down the road. Though they may be upset or angry right now, moving can be a valuable way to develop the coping skills they'll need as an adult.
Explain the Benefits of Moving
Teenagers can sometimes get so focused on the negative aspects of moving, such as being farther from friends, that they can lose sight of positive aspects of moving. Benefits such as a "fresh start" from past bullies or unreasonable teachers may be welcome. Other elements of your new community could also be appealing, such as proximity to shopping or other features of your new home.
Give Teens an Outlet for Moving Emotions
It's only natural to be emotional about a move. Even if your teenager is excited about it, they'll likely still have some fears and anxieties. It's important to remain in touch with your teen throughout the process. Actively offer to discuss the move and any worries they may have.
If your kid is having trouble communicating with you, a scrapbook or journal can be a great place to both work out anxieties surrounding the move and collect memories of their current hometown.
Stay Connected
While it may seem like teens' phones are attached to their hands, they may not immediately see that they can stay connected to their friends and family even after moving. Today's teenagers may scoff at Facebook, but helping them set up an account can help them stay connected to family members after moving. Likewise, explore social networks and communication tools like Snapchat, Facetime, and Skype for their potential use as ways to keep in touch.
They may even wish to start a blog or other online log of their journey. Instagramming photos of the move can help them stay in touch with friends back home while showing off their journey.
Settle In & Get Acquainted
Anything you can do to get acquainted with your new neighborhood will be helpful. Finding a local ice cream place, a coffee shop, or another hangout will give your kid some familiarity with the neighborhood. Signing up for clubs, teams, or other activities can do double-duty by helping your teen make friends.
Make sure you give them the time they need to become acclimated. Don't force the issue – let them move at their own pace.
Helping a teen cope during a move can be a challenge. After all, it's already an emotional time in life – and moving can be stressful for the best of us. But keep citing the benefits of your gorgeous new home, and do what you can to help your teen during the process.
Ready to start the hunt for your new home? Find a local real estate agent near you!
If you have younger children, make sure you read our guide to moving with kids and our guide to moving with babies and toddlers!