Moving Tips: Moving Elderly Parents Into Your Home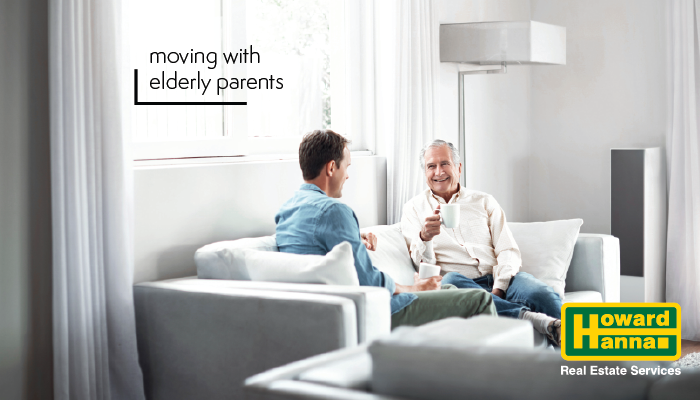 There are lots of different factors that come into play when deciding how to care for aging parents, from sibling disagreements to objections from your parents. However, if you've made it through these conversations and have decided that your parent(s) will be moving in with you…you still have plenty of work ahead of you!
Moving elderly parents into your home comes with a host of other complications. You have all the challenges of organizing a move, along with some extra considerations that come along with helping somebody who's not a direct part of your household integrate themselves and their belongings into your home.
While there are plenty of other places that address the emotional concerns of moving aging parents, we wanted to tackle the practical worries of the move itself – just in time for National Moving Month!
Declutter With Care
As you begin the moving process, you'll naturally want to declutter to move fewer items – and your parent(s) may be moving into a smaller space and need help with downsizing. Unlike decluttering your own home, you'll want to proceed with care. The items you may see as useless junk could hold memories for your loved ones.
Here are a few tips to help an aging parent with downsizing:
Start the process early to give everyone involved plenty of time.

Declutter together! Give your loved one a chance to share with you special memories related to items in their home.

Knowing that items will continue to be useful can be comforting. Consider gifting items to family members or donating to charities.

Sentimental items that aren't useful and have been boxed up for years may still be hard to part with. Encourage your loved one to take photos of these items before donating or giving them away.
Prepare Your Home
Readying a space for your older parent(s) could be as simple as removing decor from a guest suite or as complex as building an addition onto your home. Regardless of how complex the task is, there are some factors you'll always want to consider:
Does the space suit their needs? Will it continue to meet their needs as they age?

How accessible is the space? Will your parent need accommodations for a walker, wheelchair, or other health apparatus?

What changes do you need to make to reduce the risk of falls and make your parent(s) more comfortable? Do you need to install railings, add extra lighting, or put anti-skid treads in the shower?
Planning the changes you'll need to make in your own home can help make the moving process easier. You'll be better able to move your loved one(s) in and get them settled if the space is ready for them.
Create a Moving Day Checklist
The day of the move will be exciting, stressful, nervewracking, and more – for you and your family. It helps to have a solid checklist in place for moving your elderly parents and helping your loved ones settled into your home.
First, consider what they will need for the first several days that they'll be in your home and prepare in advance. If possible, you should have toiletries, bedding and towels, and kitchen necessities (if applicable) ready to go in advance of the big day.
Then, think about an unpacking plan once their items arrive. If Dad needs his comfortable chair in place to feel at home, make sure it gets packed last so it can be out of the moving truck sooner!
It can be useful to have friends or family members help on the day of the move. Having a younger sibling take your parent(s) out to lunch and for an afternoon of shopping can let you focus on the move. Younger children can be enlisted to make "Welcome Home" decor for your loved one(s).
Hire Movers or Plan the Move
While hiring movers can help spare you the stress and burden of moving your parents' belongings, that's not an option for everybody. Regardless of whether you hire movers or opt to move everything yourself, make sure you plan the move! Labeling boxes, wrapping furniture, and safely packing delicate items can contribute to a stress-free day.
Any valuables, important documents, checkbooks, etc., should be packed early and moved by you or a family member to your home. Older relatives may have jewelry, antiques, and other family heirlooms that need to be treated with special care.
Finalize Plans for Their Home
You may have plans for what you will do with your parent's home after they move. Perhaps it will stay in the family, or you may be planning to sell their home. Regardless of next steps, you can use the time that the home is unoccupied to take care of any maintenance and updates that are needed.
Here are 7 things you need to do before listing a home for sale.
If you do plan to sell their home, enlisting the help of a real estate agent sooner rather than later can give you guidance on any updates or renovations the home may need. An agent can also help you set a fair price for the home, develop a marketing plan, and hold showings while you focus on helping your loved one(s) settle into your home.
While there are a host of issues that can arise when you suggest relocating aging parents into your home, the moving process doesn't have to be one of them. Follow these tips to make the most of the situation and help your parent(s) make a successful transition into the next stage of their lives.