Moving Tips: Moving With a Baby or Toddler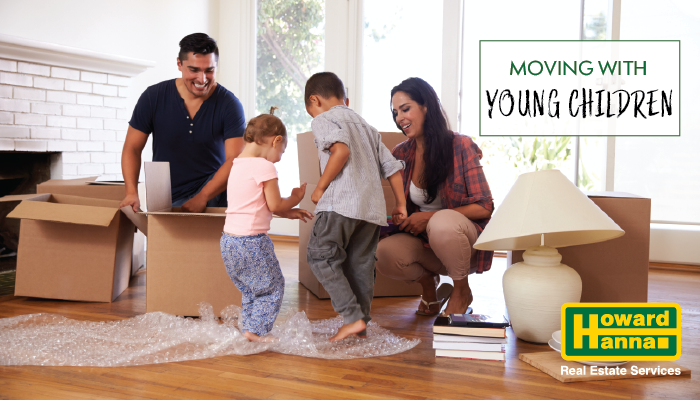 Moving into a new home can be one of the most stressful situations you'll face. Between decluttering everything you own, packing it all up so it doesn't break, and trusting your friends or even perfect strangers not to break it all, it's amazing that 40 million Americans move every year!
Add a baby into the mix, and the whole thing can become downright traumatic. Moving with a baby can be even more stressful than moving with older children.
While the outcome – a beautiful, safe home where you and your family can live and grow – is absolutely worth it, it can feel awfully distressing at the time. That's why we've put together these tips for moving with a baby or toddler to help you get through it all in one piece.

Before the Move
What to Pack
The first thing on everyone's mind when it comes to moving is packing! But packing for a baby presents different challenges than for an adult. There are the toys and stuffed animals and clothes and daily supplies to contend with. Let's face it: Babies come with a whole lot of stuff.
We recommend packing your baby's non-essential items separately, clearly labeling each box so that you know exactly where it is. Anything you can't live without can get packed up the day before or day of the move, and should be kept with you so that you don't have to go hunting for a pacifier when you arrive in your new home. For cross-country moves, consider packing two weeks of supplies – the last thing you want is for all the items you need to be stuck on a truck.
How to Pack
Okay, okay. You know that you need diapers and bottles and all that jazz. But how are you supposed to pack with a crying baby or shrieking toddler? Try these tips to get everything packed up:
Start early, knowing that it will take you longer to pack

Pack during naptime and in the evenings after the baby is asleep

Ask (or bribe with baked goods) your friends and family to either spend time with the baby or help you pack

Set up "baby zones," such as a portable play yard (or, for very small babies, a bassinet) where you can safely leave your baby while you pack on the other side of the room
Babyproof Your New Home
If you can, babyproof your home before you move. It will be easier to spot all the electrical outlets, cords on window treatments, and other household hazards before the space is filled with your items. Here are a few things to consider:
Purchase and install electrical outlet covers

Check that all smoke and carbon monoxide detectors have batteries and are functioning

Place childproof locks on drawers and cabinets that will contain hazardous materials

Install baby gates in key locations, including at the top and bottom of stairs

When installing furniture in your new home, secure it to the walls to prevent tip-over
Stick to a Schedule
Babies and toddlers need to keep consistent schedules to feel secure and stay healthy. During the moving process, do what you can to make sure naps, mealtimes, and bedtimes don't get disrupted. If you are moving between time zones, make sure to give everyone in your family time to adjust – especially your baby.

During the Move
Use a babysitter
On the day of the move, you'll need to be everywhere all at once. Plus, moving furniture and curious babies is a terrible combination! If you have friends, family, or a trusted babysitter who can assist with childcare, we recommend getting your child out of the house entirely. Having your new baby spend the day with Grandma and Grandpa also frees you up to move boxes, give directions, and pack up the last few lingering items.
Say Goodbye
Moving with a toddler can come with a few additional concerns. You may want to help them process the move by helping them say goodbye to your home and their friends. Toddlers can understand quite a lot of what's happening, so explaining that you're moving and helping them get excited about the process can ease everyone's transition.

After the Move
Unpack Baby First
When you're moving with a toddler or a baby, you'll want to make sure that their space gets addressed first. You'll want to unpack their items and get everything settled early so that they have a space that feels familiar. If you can, try to set up their new room similarly to their old room. This will help them feel secure in your new home.
Hire Help
In many cases, you need to leave your old home in good condition, which involves doing a deep clean after you've moved. Hiring a cleaner can give you time to unpack in your new place, rather than worrying about bringing back cleaning supplies and tackling it yourself.
Similarly, you can find helpers via task apps to conquer essential post-moving chores like:
Walk the dog

Deliver meals

Purchase and deliver groceries

Assemble furniture

Mount or install televisions and other electronics
Anything you can do to regain precious time to spend with your baby or toddler will be welcome when you're moving into a new home.
Welcome Home, Baby
While yes, moving into a new house with a baby or toddler can add an extra layer of challenge, it's usually well worth it. Finding exactly the right home to raise your family can help you get through the short-term pain of moving.
Are you ready to find your new place? Find a Howard Hanna real estate agent near you today!