New Year's Goal: Saving Up To Buy Your New Home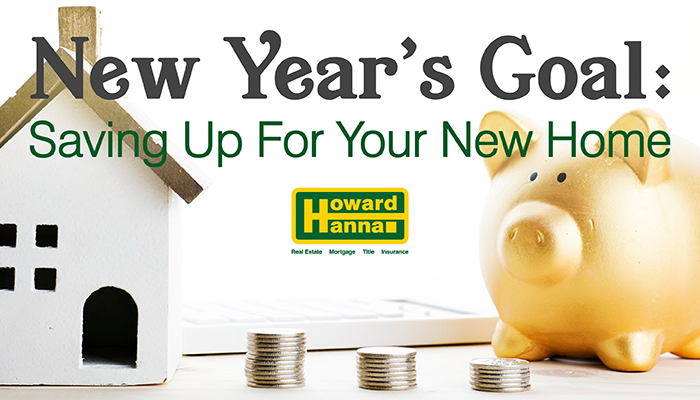 With the new year comes a great opportunity to establish new goals, such as buying a new home! While saving for such a big financial investment can appear daunting and implausible, with the right planning and preparations, you'll find yourself in a new home in no time.
Here are some things to keep in mind when saving up for your new home, and some ways you can save up the money more quickly!
1. How Much Do You Really Need To Save?
Before planning to save money up in order to buy your first or second or tenth home, do your research: figure out how much you really need to save, and not just with an online calculator.
Based on your income, credit score, and a variety of other factors, you could be eligible for loans that require less than a 20% down payment. If you're a first-time home buyer, you could also be eligible for the Howard Hanna First-Time Home Buyer program, which helps cut down on the cash needed at closing by financing many of the closing costs associated with purchasing a home.
Speaking of closing costs: those numbers can add up quickly, so it's important to keep them in mind.
How big of a down payment you'll need and how much the closing costs will add up to is only half the math; the other half is how big a loan you can afford.
You'll need to consult with a mortgage lender to see how much you'll be able to borrow. Maybe you're thinking of buying a home that's $450,000, but in reality you can only afford to borrow up to $250,000. That's a huge savings difference! A 20% down payment on $450,000 would require $90,000, but for $250,000 you would only need to save $50,000. So instead of trying to save money for forever and a day, you could save up in a couple years!
2. Track Your Existing Expenses
A) Create A Spreadsheet
If you're a detail-oriented person who loves spreadsheets, making one that breaks down all of your spending from the last month (from utilities and rent to groceries, coffee runs, movies, and doggy treats) is a great way to analyze your existing expenses.
B) Use Your Bank's Built-In Expense Tracker
But if you're looking for a faster, more accurate way to track your expenses, then a better option is to use your bank account's pre-existing ability to break down costs into categories. PNC does this, detecting that you purchased something from a GetGo and therefore that must be gas for your car, but it can make mistakes and so whenever you get home, you should be sure to check through your purchases and correct any errors your bank may have made.
C) Use An Application Or Software That Consolidates Your Expenses Into Quick-To-View Charts
There are plenty of applications that will consolidate your expenses and income from all credit cards, loans, banks, and investments, and keep track of how much you spend. Many of them will even display bar charts that tell you how much you tend to spend on coffee versus gas each month. Some of them have built-in features to help you establish and keep track of your goals. It's motivational to see the green bar getting fuller and fuller each time you save!
Be sure to carefully research whatever application you use for safety and security.
3. Analyze Your Existing Expenses
Once you've figured out the best way to track your existing expenses, analyze them for where you could be spending your money more smartly and where you could save money.
For example, if you purchase hamburger buns regularly, they might cost $1.29 at one grocery store, $1.35 at another, and $0.88 at a discount store. Shop around to see where you can get better deals for the same products, and consider getting cheaper brands of products in order to cut down on existing expenses.
4. Stay Motivated!
However, if you have a favorite product by a particular company or brand, don't sacrifice it! Giving up your favorite brands and products will de-motivate you in the long-run, as you get tired of eating over-sugared cereal that tastes like cardboard and having bad hair days from using the wrong shampoo.
It's crucial to stay motivated throughout saving towards your goal, as it will increase your likelihood of sticking to your goal and decrease the chances of accidentally splurging just to get back in a good mood.
Another way to stay motivated is to set up milestones. When you hit each milestone, reward yourself with your favorite snack, a dinner out with family, a movie night, a stay-cation, etc.
In that vein: don't cut out vacations. Instead, get inventive with your vacations. Explore your local neighborhood. Discover camping spots that you never knew existed, or museums that you haven't visited.
5. Save First, Spend Second
You know how the government automatically deducts your taxes from your paycheck, or how your 401(k) company automatically withdraws the amount you've decided to save from your paycheck? If those things didn't happen automatically, you would have more deposited directly into your bank account, you would feel as though you had more money to spend, and you would spend it.
Use this same psychology to help you save towards buying your first home. As soon as your paycheck hits your account (or hands!), move however much you intend to save to a different account, one that you do not use for spending money.
Check that account periodically just to see how much you've managed to save up. The growing balance will help motivate you!
6. Consider A Second Income
If you're tight on cash but big on free time, consider taking on a part-time job or doing the random odd job around the area. If you already own a home, consider adding passive income by renting out a room or your garage.
If you have a lot of stuff, save yourself a bit of a headache when moving by proactively cleaning your place, figuring out what you still use or need, and selling whatever you don't need or use anymore.
Most importantly, take a look at your savings account: how much does your bank give you in savings interest? Shop around for a better savings account with a greater interest return rate.
7. Reduce Existing Debt
There are multiple benefits to paying off your existing loans in advance:
Once they are paid off, you have additional money to save towards your first home.
In the case of student loans, you pay less interest the sooner you pay the loans off, which is more money saved for you.
By having less debt, you can increase your borrowing power.
8. Little Ways You Can Save Now
Pack a lunch instead of buying lunch
Make coffee at home and keep it warm in an insulated bottle instead of going to a coffee shop
Switch to cheaper brands where you can
Live with family or rent somewhere cheaper
Turn off the lights, heater, and A/C when you don't need them
Plan meals for the week, prepare an appropriate shopping list, and stick to it.

Pro Tip: when you go to the grocery store, go straight to the back of the store and work your way to the front. The front is where they display candied goodies and costly baked goods, to try to entice your sweet tooth and get you to buy them. If you start from the back of the store, where the basic everyday necessities like dairy and eggs are, then by the time you get to the front, you'll have a full enough cart of food, and won't feel as inclined to splurge on unnecessary goods.
Additionally, go to the store after you've eaten. When you go to the store hungry, you're more likely to break away from your shopping list and splurge on things you may not actually eat.

Bring your own water or other cold beverage to work instead of relying on the vending machines; drink less alcohol
Pay your bills on time and avoid late fees
Take advantage of the discounts and cash rewards that your credit cards or other subscriptions provide. Example: if you have an American Express card, only buy groceries and gas with it as you'll get a discount on those items.
Cancel any membership you haven't used in the last three months
Avoid ATM fees by withdrawing only from your bank's ATM, or withdrawing larger sums of money so you won't need to make withdrawals as frequently.
For birthday or holiday gifts, ask for contributions to your first home; alternatively, agree to a budget for gifts so you don't spend as much on them
Attend free local events instead of pay-to-enter events
Buy clothes at the end of the season, when they're heavily discounted, instead of when they've just been introduced at the beginning of the season, when they're most expensive
Plan your big purchases in advance: watch for them to be discounted during the holidays, end of the season, and sales events such as Black Friday or Cyber Monday, then get them.
9. Save The Big Bucks
Speed up your goal by immediately saving bonus checks, income-tax refunds, big commissions, and that $50 your grandparents gave you for the holidays. It may be tempting to spend these windfalls when you receive them, but it'll be more advantageous in the long run to save them when you get them.
10. Ask For Help
Be it advice from friends and neighbors on how to save towards your first home, financial assistance from family, or guidance from your bank or a mortgage lender, don't be afraid to ask questions or seek help.
Saving towards a new home doesn't have to be stressful or headache-inducing. At Howard Hanna Real Estate Services, our goal is to help you make Home Happen Here.® With our one-stop shopping, we offer real estate services, mortgage services, title and escrow services, and insurance services, taking the worry out of moving by walking you through your entire home buying or selling experience. If you're moving to a new area, our global and local Howard Hanna Relocation Services can also assist you with the relocation process.
If you currently own a home, our Howard Hanna "Buy Before You Sell" Program can help cover the gap by letting you take the equity in your current home and apply it towards the down payment on a new home.
For more details about how to save up for a home, what a mortgage payment includes, and what type of loan is right for you, check out our past blog entries: