Nine Best Plants for Spring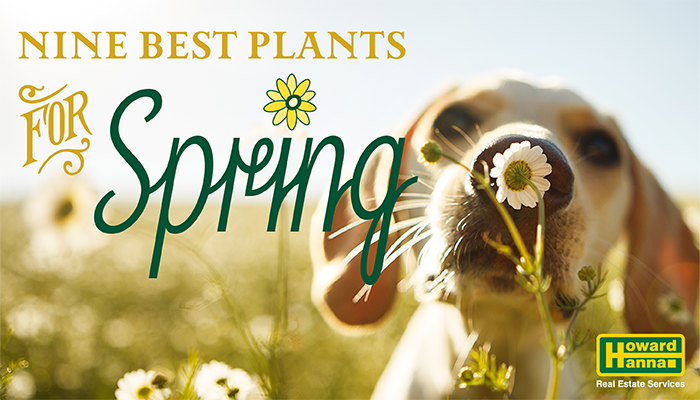 Spring is a welcome sight after winter. Explosions of plants and colors plus warmer weather not only brighten the surroundings but also brighten everyone's mood. We've come up with a list of flowers and plants to add to your home!
Bleeding Heart (Dicentra spectabilis)
This plant with heart-shaped flowers, usually pink, is perfect for the beginning days and weeks of the spring season. The flowers start to fade once the days lengthen and warmer temperatures move in. However, don't let that dissuade you! As long as you have plenty of plants that leaf out in mid- to late-spring, you'll be able to fill the void.
Pansies (Violax wittrockiana)
Pansies prefer the cooler weather of spring, making them a popular choice among gardeners. Plant in pots to place near your entrance or add to window boxes for a bright sight. Pansies come in a variety of colors and sizes. Due to their popularity, pansies can be found at most garden stores for a low price.
Hellebore (Helleborus)
Hellebore is a pricey and slow growing plant, but the payoff is a stunning flower in an array of colors. When planting hellebore seeds, you'll have to wait a few years for the plant to bloom, but once established, they are around for decades and slowly spread to other areas. Hellebore enjoys shady spots and looks great with other shade-loving garden plants like ferns and ginger.
Snowdrop Anemone (Anemone nemorosa)
This flower is not only great looking, it's extremely fragrant. The bright clusters of snowdrop anemone are versatile conditions but tend to prefer a slightly shaded area. Another perk of this flower is that it may put on a second bloom once fall's cooler temperatures arrive, giving you more chances to enjoy the sight and fragrance.
Twinleaf (Jeffersonia diphylla)
Named after Thomas Jefferson, the twinleaf offers a light flower to contrast with lush green leaves, creating a striking contrast. The flowers can sometimes bloom before the leaves unfurl and are fleeting, but the interesting leaves stick around through the summer. The plant is considered threatened or endangered in Georgia, Iowa, New York, and New Jersey.
Lilac (Syringa vulgaris)
Lilac is another fragrant flower that comes in all shapes and sizes. Plant in full sun and well-drained soil and watch this popular plant grow up to 20 feet tall. The lilac blooms on the old wood, so refrain from pruning until the year's flowering is complete.
Virginia Bluebells (Mertensia virginica)
Plenty of people ignore Punxsutawney Phil and rely on bluebells to announce when spring has arrived. The flower begins as a pink bud then reaches its namesake blue later. The flowers don't last long, but their beauty makes up for their early departure. Plant in moist, rich soil in the spring. Plant in partial shade to full shade unless your climate is cool and wet.
Daffodil (Narcissus)
Springtime means daffodils! This extremely recognizable and popular springtime flower is easy to plant and grow. Daffodils are incredibly versatile and can be planted anywhere from full sun to full shade. Deer and other creatures aren't attracted to daffodils so you won't go outside to find a headless plant. They come in a variety of colors and looks, so plant different types for an interesting arrangement.
Tulip (Tulipa)
The tulip is the signature flower of spring. These colorful and cheery blooms come in 150 species and over 3,000 variations, meaning there is a tulip for everyone to enjoy. Plant in formal rows or sporadic patterns for a casual effect, just make sure they are in full sun and well-drained soil.
Finding the perfect house is as easy as finding the perfect plant when you use www.howardhanna.com. Browse our inventory of listings, connect with an agent, view our programs for buyers and sellers, and more.