Pre-Approved vs. Pre-Qualified: What do I need to know?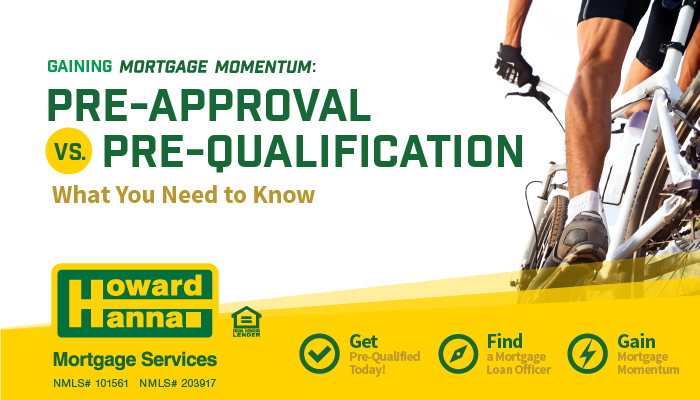 If you're thinking of purchasing a new home there are a few steps to consider before beginning your search. In order to make the process as smooth as possible, it is important to obtain both a pre-qualification and pre-approval before your home search begins.  While these may seem like similar things, in reality, they are two completely separate parts of the process that provide two separate results. Let's break it down!
Getting pre-qualified and pre-approved for a mortgage loan benefits all parties. As a buyer, you know from the beginning what you can afford, which helps narrow your search parameters.  It also helps you move into your home more quickly than if you wait until the end of the process.  The seller of the home will see you as a serious buyer and in a competitive market, this could better your chances of obtaining the home.
Part One: Getting Pre-Qualified
Getting pre-qualified is the first step in the process and is fairly simple. You meet with a Howard Hanna Mortgage Loan Originator and go over the basics such as: What is your income? What are your debts? Do you have any assets? The Loan Originator then gives you an idea about the amount of mortgage for which you qualify. While this is not a concrete number, it does give you a ballpark amount to consider during your home search. This step does not include checking your credit report.
Sometimes this step can happen over the phone or online, but it's easiest to meet in person. You can also discuss your needs and any goals you have regarding your mortgage with your Loan Originator. This conversation will help to better assist you in the future.
Part Two: Getting Pre-Approved
Becoming pre-approved is a more involved process but is important.   At this time, your income, assets and employment history will be more closely scrutinized.   A credit report will be pulled and analyzed this includes amount of debt, monthly payments and credit score.  This will ensure you receive the most appropriate mortgage loan for you. Howard Hanna will keep in contact with you throughout the process, letting you know of any updates or if any additional information is required.
Where Do I Sign Up?
At Howard Hanna, we strive to make the home buying process exciting and easy. We specialize in real estate, mortgage, title, and insurance, giving customers a one-stop shopping experience! With mortgage offices in Pennsylvania, Ohio, and Michigan, it's easy to connect with a Howard Hanna Loan Originator and start the process. Call Howard Hanna Mortgage at 800-474-4437 or inquire online.
Howard Hanna Mortgage Services is licensed by: The Pennsylvania Department of Banking and Securities. The Ohio Department of Commerce – Division of Financial Institutions – License # MB802719.000 and SM 501117.000. The Michigan Department of Licensing and Regulatory Affairs. NMLS # PA – 101561 and OH/MI – 203917