Preparing Your Home for the Summer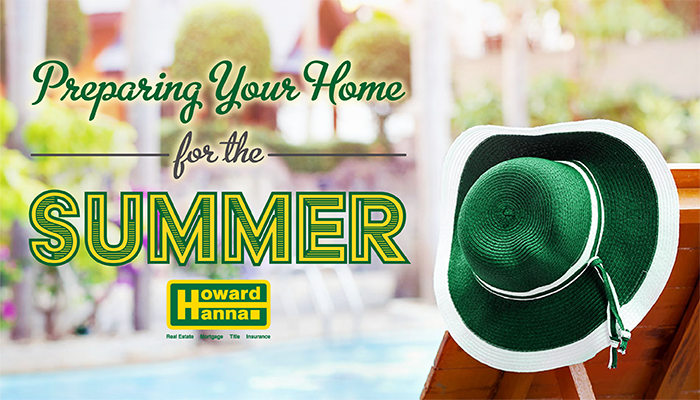 Prepare Your Home for Summer Weather, Insects, & Fun!
The sun is shining, the flowers are blooming, and the weather is just perfect for outdoor barbeques or lazy days by the pool. Summer has arrived!
To get your home ready for the best summer ever and minimize potential hot-weather catastrophes, we've compiled a brief guide on some essential summer home repairs and preventative measures, from setting up your home for extreme summer heat to mowing the lawn and prepping the deck for outdoor entertainment.
Prepare Your Home for Weather Catastrophes
Although summer is well known for pleasant weather, it's also the season of hurricanes, tornadoes, floods, droughts, sweltering heat, wildfires, and more. For this reason, it's important to keep your home up-to-date on repairs, maintenance, and insurance, or you might find yourself in a sticky situation.
Droughts & Wildfires: If you live in an area prone to wildfires, having an insurance policy to protect your home against fire damage is a must, but you can also protect your home by strategically landscaping and maintaining proper care of your property. Be sure to:
Remove dead or dying trees and shrubs.
Keep firewood and storage tanks at least 50 feet away from the house, and keep the immediate area around them (at least ten feet) clear of fire hazards.
Ensure no wood fencing is connected to your home.
Trim tree branches so they don't touch the house, connect to the roof, or extend over the chimney.
If you're particularly concerned, use landscaping materials that act as fuel breaks (spots of land that fire cannot burn and must go around in order to continue burning): pebbles or gravel in place of mulch; a concrete patio instead of a wood deck; and pavers or rock paths instead of grass paths.
Rampant Heat: Sweltering weather is great for a day at the beach, but not so great for a day indoors or for your cooling system. If it's in your budget or you're building a new home, install a light-colored cool roof. Traditionally dark-colored roofs can reach 190 degrees, while lighter-colored roofs tend to stay within 50 to 100 degrees. This is the same principle as with clothing: white (or other light colored) clothes reflect sunlight, thus deflecting heat, while black (or other dark colored) clothes take in sunlight, thus absorbing heat. So when you're out in the desert, wear white!
Some other tips to combat extreme heat are:
Change the filters on your HVAC regularly and ensure all the ducts are sealed, in order to minimize cold-air leaks.
Check to be sure all the windows and doors are sealed properly, as well, to minimize leaks.
Change the direction of your ceiling fan (counter-clockwise direction so the fan moves faster and can get a breeze going; in the winter, fans should rotate clockwise to evenly distribute rising heat).
Program your thermostat to ensure that you aren't overusing the A/C to cool the house when you're not home to enjoy the refreshing coolness.
Hurricanes/Tornadoes: According to the National Oceanic and Atmospheric Administration (NOAA), the Atlantic hurricane season runs from June 1 to November 30, or from summer to fall. Hurricanes and tornadoes can cause a variety of damage with strong winds, heavy rains, and flooding. In preparation for the hurricane season, be sure to:
Have an emergency kit and supplies handy in case of injuries, power outages, and other disastrous situations.
Know where you should take shelter, such as a tornado shelter (basement, cellar, etc.), and how to get there quickly and safely.
Ensure all windows are secured with storm shutters if you live in a hurricane-prone area, and that flashlights are in easy reach.
If you know a storm is coming tomorrow, bring in all lawn furniture to prevent it from flying away.
Flood Season: Depending on where you live, your home may also be at risk of flooding from spring to fall. During spring and early summer, seasonal thunderstorms create heavy rains and can result in flooding, while in summer and early fall, coastal hurricanes, tornadoes, monsoons, and other tropical storms can cause flooding. If you live in an area prone to floods, be sure to have flood insurance on your home. Note that flood insurance is different from homeowners insurance. Howard Hanna Insurance Services offers flood insurance, among other insurance products.
Some other ways you can prepare for flood season include:
If you have the budget for it, retrofitting your home for flooding based on FEMA and National Flood Insurance Program guidelines. Some ways you can retrofit your home include:

Ensure the lowest floor of your home is at or above flood level by elevating your home.
Ensure your home can withstand flooding for at least 72 hours by dry floodproofing it, making the parts of your home that will be underwater watertight with special materials.
Minimize potential floodwater damage by wet floodproofing your home (this allows floodwater into specific parts of the home)

Inspect the lowest levels of your home (basement, first floor) for cracks and areas where water can leak in, including doors and windows. Seal up these leaks.
Arrange the landscaping directly outside of your home such that water is directed away from the home's foundation (build up dirt or add sandbags, place grates where water tends to pool, etc.).
Get your gutters cleaned, and have a professional check to ensure they are all properly attached to the home and functional. When gutters aren't at their finest, water the overflows or runs down the side of the home can get inside through windows and cause all sorts of water damage.
Similarly, have your roof inspected to ensure there aren't any leaks that need to be fixed.
At Howard Hanna Insurance Services, we offer a comprehensive and customizable home insurance policy, along with flood insurance policies, umbrella policies, and more, to help give you peace of mind throughout all four seasons. To find out more, contact a Howard Hanna Insurance Agent.
Prepare Your Home for Insects & Other Pests
"We have ants!" Outside of a cool ant farm, this is one thing nobody wants to say. Unfortunately, if your home hasn't been bug-proofed, all sorts of unsightly critters awaken during the summer and take the opportunity to crawl inside.
Some ways to prepare for insects include:
Ensure your home is properly sealed. On top of preventing drafts, water leaks, and minimizing your cooling bill, checking that all windows, doors, moldings, corners, cracks, and crevices are properly sealed with caulking and weather strips will limit the number of entrances insects have to get inside your home.
Spray the outside perimeter of your home with a pesticide to deter insects from traveling that way.

If you have pets, be sure that the pesticide you use won't harm them or that the pets can't get into it. You can also make your own DIY natural repellant, just be sure to read up on all the ingredients you use.

As a preventative measure, also spray any areas you know are prone to insect or ant problems with a pesticide (the windowsill in the kitchen, the perimeter of your sinks, the bottom of your garage door, etc.).
Throw away any garbage, sweep the floors, clean the countertops, seal all the jars, and keep your sugar properly stored away. Keeping your house clean and food sealed will limit the chances of insects finding food to forage.
Prepare Your Home for Entertaining Guests
Summer isn't all disastrous weather and unwanted pests: it's also a great deal of outdoor entertainment and fun! Be sure your home and yard are ready to entertain guests, host barbeques, or simply provide a relaxing oasis with the following:
Prepare the deck: check for any rotting wood and have it replaced; sand any areas that have splinters; clean the deck of grime, dirt, fallen leaves, and twigs; seal the deck with outdoor wood stain, sealant, or paint to prevent additional damage; and provide other maintenance.
Tend to the lawn: re-seed any areas where grass has died off; mow the lawn; provide it with some fertilizer or weed-repellent; ensure it is up to your standards.
Weed the garden: if you have a garden, provide with it with some TLC as well; weed, add fertilizer and other nutrients; trim the shrubs and trees; add in any summer flowers and plants that you want for a bit of shine.
Fix-up the fence: repair any broken areas; ensure all hinges and latches are secure; for wood fences, give it a fresh coat of paint or wood stain if you want.
Add a tree swing or hammock! This one isn't a must, but it's always fun to have something to swing and lounge on outdoors. If tree swings or hammocks aren't your thing, that's perfectly okay. Add a special touch to your yard that you will enjoy instead!
Prepare Your Home for the Unexpected
In addition to all the insurance policies Howard Hanna Insurance Services offers, Howard Hanna also offers HSA Home Warranty: a renewable, one-year service contract that can help to protect your budget against the high cost of unexpected, covered repairs or replacements of major components of your home's systems and appliances. If your HVAC system breaks down suddenly, for example, it's great to have HSA Home Warranty as extra protection!
For more information on Howard Hanna's HSA Home Warranty protection plan, visit http://www.howardhanna.com/hsa-home-warranty.
Last but not least, enjoy the weather. Summer is only until September, so cherish it while it lasts!