Relax! April is Stress Awareness Month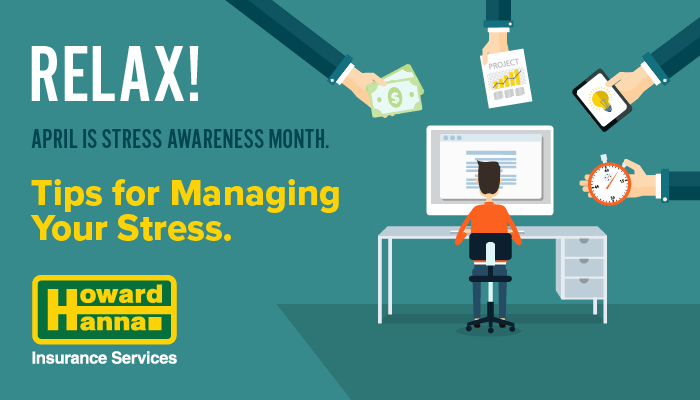 Believe it or not, the average stress level of Americans has dropped since 2007, according to the American Psychological Association (APA). But, we here at Howard Hanna Insurance Services understand if you don't exactly feel that way. It's a good thing, then, that Stress Awareness Month is here.
Reducing your stress is well worth your while. If you don't know where to start, tese tips from the Mayo Clinic and WebMD will get you headed in the right direction:
Make stress management a goal. Simply saying, "I want to reduce stress" isn't enough. You've got to learn to identify problems and implement solutions, which takes work.
Identify your triggers. What situations cause you to experience stress? Work? Relationships? Money? Don't overlook everyday tasks, such as commuting, or even positive events, such as starting a new job.
Consider strategies to deal with those specific triggers. For example, creating a budget plan or talking to a financial adviser could help ease your worries about finances. Changing your hours at work could potentially improve your commute.
Practice relaxation techniques and live a healthy lifestyle. Here are just a few tools that people use to help alleviate stress:
Deep breathing, yoga or tai chi
Meditation and guided imagery — imagining yourself in a place of relaxation
Writing or talking to someone about your feelings
Exercise (even simple stretching or housework) and outdoor recreation
Art and other creative projects
Ask for help. Many people you know have probably experienced similar stresses to your own. Find out how they have solved problems and relieved stress. And, if they are still having trouble, you can work on managing issues together.
April is a great time to try to reduce stress and live a healthier life. So, what are you waiting for? Remember, when you make stress management a bigger part of your life, you leave less room for the stress itself.