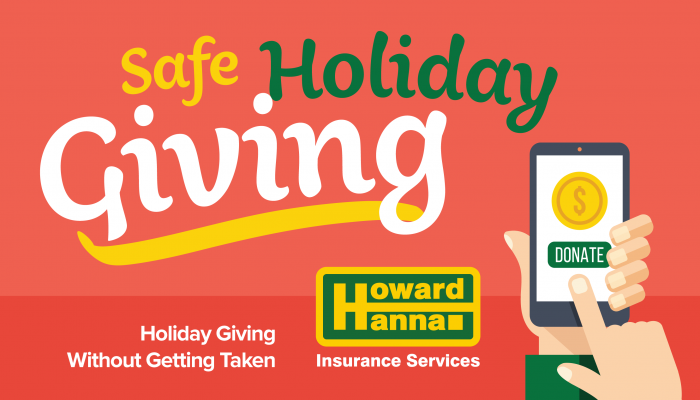 Holiday Giving Without Getting Taken
Every year during the holidays, people look for ways to give gifts, not just to family and friends but also to those less fortunate. It's the spirit of the season. Unfortunately, some of the charities out there don't help people as fully as they claim – or possibly not at all. It doesn't mean you can't be generous this holiday season. It just means a little extra caution is in order. Here are four tips for making smart and safe holiday donations:
1. Verify that the charity is legitimate.
Sure, the name sounds official and you think your friend mentioned what good work they do, but before you donate, do a little digging. Check for more information at the Better Business Bureau, Charity Navigator or GuideStar, and, if you feel comfortable after reading about the organization, go ahead and donate. If not, look for another charity that supports the same cause. A good rule of thumb is to look for organizations with 501(c)(3) status.
2. Steer clear of pop-up charities.
A pop-up charity is anything but charitable. These groups spring into action at opportune times, namely when people are feeling generous, such as during the holidays or following a disaster. The so-called charity is actually a scam designed to steal money, credit card numbers, bank account information and identities from unsuspecting donors. If, during your research, you come across an organization that seemingly appeared out of the blue, do not share any of your personal information with it.
3. Be careful with digital donations.
Now that you've researched the charity, how do you plan to donate? If it's online, be sure to type in the website address correctly. Fraudsters put up realistic-looking sites using a URL similar to a well-known charity's to trick people into donating, but they're not donating at all.
4. Avoid phone & door-to-door solicitors.
If people call or knock on your door out of the blue asking for a contribution to this or that organization, ask them for the charity's website or mailing address instead of donating right then and there. Even if it's a charity you've heard of, the operation may be a scam. It's always safer for you to initiate the donation by visiting the charity's website or mailing in a check. Plus, fundraising over the phone requires a middleman – that agent calling you – who must be paid, reducing the amount of your donation that goes to the charity.
It feels good to be in a giving mood during the holidays. With a little legwork to look into the legitimacy and practices of the charity, your donation will help others feel good to