Should You Right-Size Your Family Home?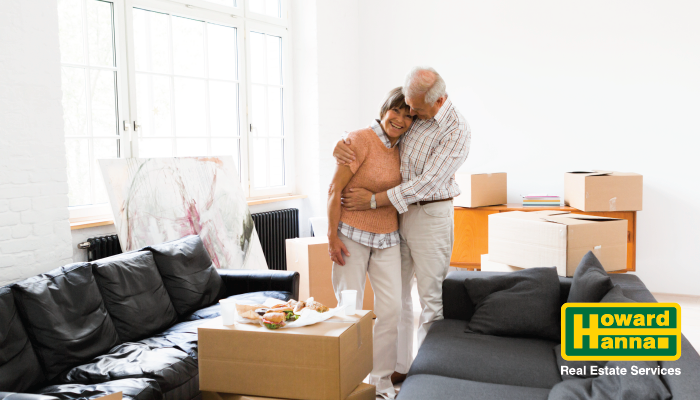 There comes a point in many peoples' lives when they need to make a big decision: Should they stay in their current home, or is it time to move on? If you're thinking about moving to be closer to family, or your children are all adults and have moved out of the home, you might be thinking about right-sizing your home and moving into a smaller place.
This can be a really difficult decision to make! After living in one place for awhile, the decision to move – especially into a smaller home – can be challenging. So, we wanted to help you work through the pros and cons of right-sizing your home.
Should you consider right-sizing your home?
There are a few different situations when you might consider moving to a smaller home, including…
When your children go off to college or move away from their hometown

When you are moving anyway, and want to consider a different type of living situation, such as a condo or townhouse

When a loved one passes

When you realize you are no longer making the best use of space in your home
Regardless of why you want to move to a different space, you should think about whether it's the right move for you. Here are a few questions to ask yourself before you make the call:
Is there a better use for space in my home, such as a hobby or exercise room?

Would it be possible to rent out the space? Would I enjoy having roommates?

What impact would right-sizing my house have on family dynamics?

How will my other family members feel about the new living situation?

What are the potential upsides and downsides of moving into a smaller home? 
What are the benefits of right-sizing my house?
If you're considering moving to a smaller space, there are plenty of positives to help make the decision easy! Here are a few possible upsides to picking a smaller home:
Debt Payoff
If your mortgage payment is larger than you'd like thanks to your bigger home, you may find that opting for a home that's smaller can help you pay off debts more quickly. People with significant equity in a house may find that they make money on the sale of their home, and may be able to pay off large debts even more quickly!
Wealth Accumulation
Beyond paying off debt, living in a smaller space may help you accumulate wealth faster. Whether you want to contribute more to your retirement fund or you're investing your extra money, paying less for a home can help you accomplish your goals.
Less Clutter
If you're the type of person who enjoys a calm and serene space, a smaller home may be just the ticket. With less room to stash belongings, you're less likely to create cluttered spaces. Here are a few tips to help you make decisions when downsizing your belongings!
Smaller Bills
Some housing options may come along with monthly savings. For example, a smaller space will likely cost less to cool and heat. Or, you may find that a smaller yard costs less to landscape. In some cases, you might pay less to maintain your home – for example, in a condo, you may not be responsible for replacing big-ticket items like water heaters or furnaces, though there may be a routine maintenance fee. 
What are the potential downsides of right-sizing a house?
Of course, there could be some pitfalls to moving into a smaller space. Before you consider selling your home and moving to a smaller one, consider the possible negatives:
Change Can Be Hard
If you love your current home and have built up years of memories, it can be hard to leave it behind! While you can preserve memories via photos, scrapbooks, and memorabilia, moving away from your family's long-time home can be difficult.
Selling Your Home
If you're moving into a new space, you'll probably want to sell your existing home. Using a real estate agent can make the process of selling a home significantly easier, but you will likely still need to spend time preparing your home for the sale. 
Not Enough Space
It's possible to overcorrect and wind up with less space than you need! When buying a house that's smaller than your current one, think ahead to the future: If you love hosting people for Thanksgiving or want to start a home business, you'll want a little extra space! A smaller home doesn't have to mean major sacrifices.
Making the Decision
Once you and your family have had time to talk about it, you may find that moving into a smaller home is the right choice for you. When that day comes, working with a compassionate real estate agent who knows your neighborhood can help you both with selling a home and with purchasing your new one. 
Then, it's time to start looking at properties! With Howard Hanna's advanced property search, you can sort homes by property type, number of bedrooms, lot size, and more. Good luck finding the perfectly sized home of your dreams!