Staging to Sell Your Home: Excellent Exteriors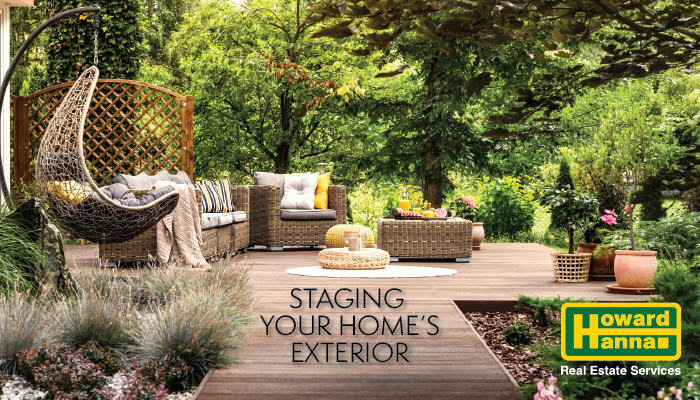 With warmer weather comes a desire to ditch the stuffy interior of your home and move into the great outdoors. But what if you want to keep all the comforts of "inside" – while still enjoying all Mother Nature has to offer? This dichotomy is behind the major explosion of the "outdoor living" trend, which marries the natural and earthy feeling of being outdoors with the convenience and comfort of being inside. 
If you're planning to sell your home during the spring or summer, you can take advantage of this trend while showing off your stellar deck or porch to its best advantage. All it takes is a bit of staging to highlight beautiful parts of your home's exterior. Here's how you can easily stage the outdoor living spaces of your home:
Fabulous Furnishings
You can create an inviting space by incorporating small outdoor furnishings beyond the typical plastic or canvas patio chairs. Try unusual or unexpected furniture combinations outside, things like:
A couch or futon for a covered space

Coffee tables or side tables

Shelving units and decorative items

Room dividers

Rugs, cushions, and other softer items
It's important to ensure that the materials you're selecting are appropriate for the space you're staging. A covered porch may be able to accommodate more delicate items, while a fully-exposed spot may benefit from sturdier choices. To be safe, use items that are rated for outdoor use or have weatherproof fabric. 
Perfect Plants
Just because you're staging an area that's already outside doesn't mean you can skimp on greenery! Potted plants, trees, and other natural items can help make the space feel fresh and "outdoorsy." Whether you opt for shrubbery or flowers, keep in mind that plants in containers can be taken with you when you move! If you enjoy plants but never got around to planting a garden before you decided to sell, this can be a great way to add plant life for staging, and bring some nature into your new place, too!
Luxurious Lighting
Lighting is a great way to dramatically change the look and feel of an outdoor space. An area that may seem a little lackluster by day can come alive with the right lighting. Consider both uplights, which project light upwards onto beautiful features, and softer string lights. Make the most of your exterior lighting by putting it on a timer while your home is on the market – it will draw the attention of those driving by at night, and many potential buyers also swing by to check out a home's exterior and the neighborhood at night. 
Outdoor Staging to Sell Your Home
So now that you've considered each of these items, what are you going to do with them? Pulling together your outdoor space is easy if you keep these tips in mind:
Consider the possible uses of the space. If your deck is perfect for grilling, opt for a dining set rather than a couch. A balcony or covered porch, meanwhile, could look just right staged for reading and relaxing.

Create distinct spaces and vignettes. Use furniture strategically to create a sense of space, while decorative objects and plants can draw the eye toward the best features of your home.

Give the whole space a once-over. You may opt to powerwash certain areas of your home's exterior, or you might need a new coat of stain or paint. Make sure the basics are covered and that everything is clean and sparkling.
We've talked about staging your house for a quick sale and how to make the most of small spaces with staging, but doesn't your home's exterior deserve a little staging love, too? While curb appeal focuses on semi-permanent upgrades, exterior staging can give your home some additional personality and help buyers envision their own dreams of outdoor living. If the weather's warm while you're selling your home, we recommend that you make the most of it with outdoor staging!